Nate's Worst Moments From Euphoria Season 2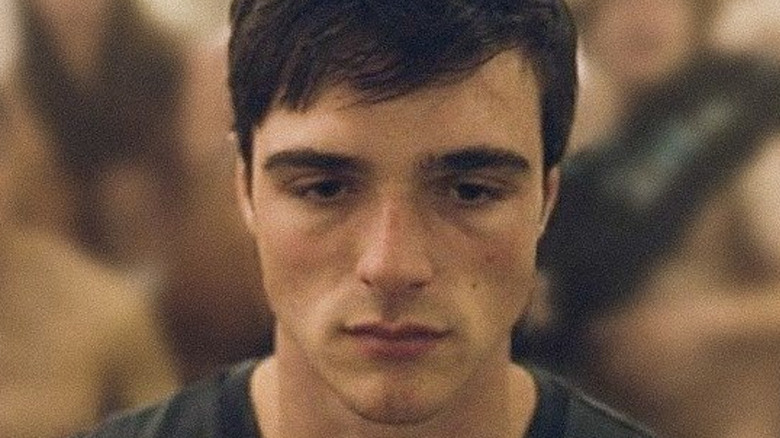 HBO
Season 2 of acclaimed HBO series "Euphoria" has come to a dramatic close, and viewers are still unpacking some of the moments from one of the most complex villains in television today: Nate Jacobs. Portrayed by Australian actor Jacob Elordi, Nate acts as the central antagonist in the world of "Euphoria," as he enjoys inflicting trauma on just about every character, including his own father. Nate occasionally is able to garner sympathy from viewers, who witness the damaging relationship he has with his dad. However, it is almost immediately outweighed by the terrible things he does to everyone in his life, which makes him a multi-layered character.
"Euphoria" writer and creator Sam Levinson has sculpted an image of a world where teenagers grapple with drug addiction, repressed trauma, and internalized homophobia. Aided by the toxicity and deception rooted in the foundation of his family, Nate has adopted an aggressive and hyper-masculine façade as the popular school quarterback. It's a coping mechanism to take back the control he lost when he was 11-years-old and found his father's secret stash of color-coded sex tapes. This discovery led Nate on a path of repressed sexuality, as he has constantly rejected the idea of being like his father.
Season 2 sees Nate and his father, Cal (Eric Dane), experience an entirely new level of vulnerability with each other, as Nate finally verbalizes his biggest fear: becoming like his father. However, Season 2 also sees Nate make some of the most staggering betrayals ever seen on "Euphoria" and do so with little to no consequences. Buckle in, because we are here to break down the worst moments of one of television's most calculating and unpredictable antagonists.
The Cassie affair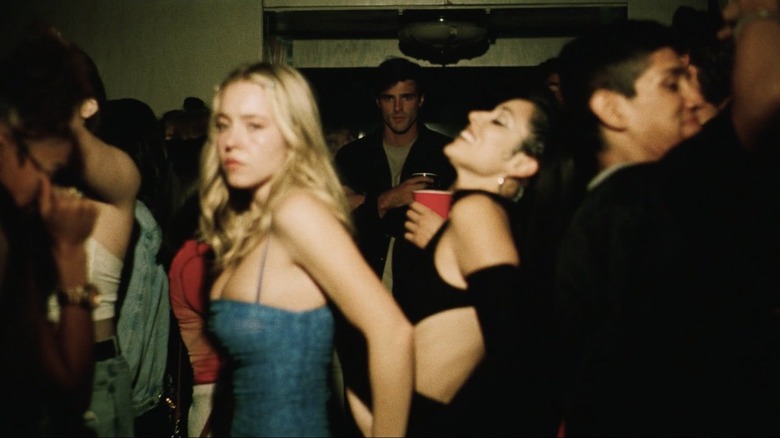 HBO
One of the major storylines of Season 2 of "Euphoria" is the tumultuous relationship between Nate and Cassie (Sydney Sweeney). Throughout Season 1, Nate is the longtime boyfriend of Maddy Perez (Alexa Demie). However, in the premiere episode of Season 2, Nate strikes up a secret relationship with Maddy's best friend, Cassie, in the bathroom at a New Year's Eve party — because, you know, romance. Not only does this mean that Nate is sleeping with his ex's best friend, but also with his best friend's ex, as Cassie has just gotten out of a relationship with fellow football player, McKay (Algee Smith).
Considering the years of severe emotional and physical abuse that Maddy has endured at the hands of Nate, this is the final twist of the knife. Not only does this affair destroy Maddy and Cassie's close friendship, but it also sends Cassie into an emotional spiral, as she alienates herself from her friends, family, and anyone who cares about her. In Episode 6, "A Thousand Little Trees of Blood," Cassie's sister, Lexi, has to remind her that this man she has destroyed her life for is the same man who spent years making fun of her and abusing her best friend. However, Nate obtains a level of control over Cassie that makes it possible for her to overlook this.
Holding Maddy at gunpoint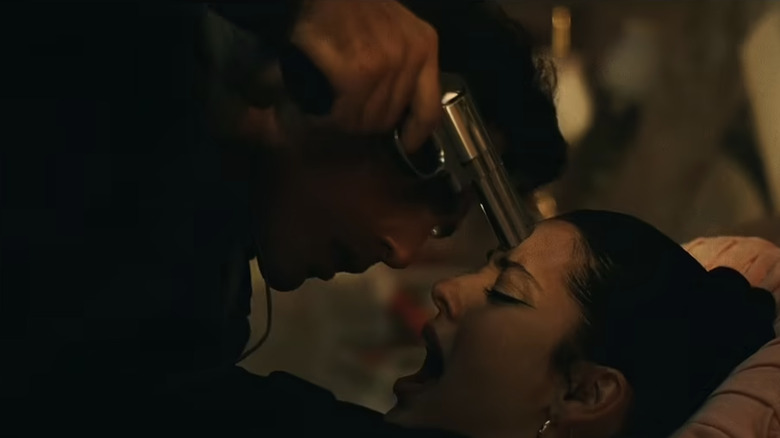 HBO
Episode 6 acts as a turning point for many of the characters in "Euphoria." Cassie and Nate's relationship is now public knowledge, Rue is beginning her difficult path to sobriety, and Nate's father has officially come out of the closet and flown the coop in search of happiness elsewhere. Viewers finally see Nate content, now that he has emerged as the victor in his competitive relationship with his father. However, there is one loose end that he needs to tie up: Maddy still has his dad's sex tape with Jules.
Nate has an unwavering need to protect his father, despite all of the things Cal has done to him. Following the reveal of his relationship with Cassie, Nate knows Maddy will retaliate by using his father's sex tape to ruin their family. So, Nate sneaks into Maddy's room to steal the tape back. In one of the most disturbing scenes of the show, he sits in complete silence for what feels like an eternity, holding his father's gun, as Maddy undresses in what she thinks is her empty room. 
Not only does he refuse to apologize for having an affair with her best friend, but he then proceeds to further traumatize her by holding her at gunpoint and eventually turning the gun on himself until she gives him the tape. In a recent interview with W Magazine, Jacob Elordi described his character as an "emotional terrorist, a narcissist, a sociopath, a freak." This distressing scene is extremely difficult to watch, but is ultimately what finally knocked Maddy out of Nate's spell forever.
If you or someone you know is dealing with domestic abuse, you can call the National Domestic Violence Hotline at 1−800−799−7233. You can also find more information, resources, and support at their website.
That conversation with McKay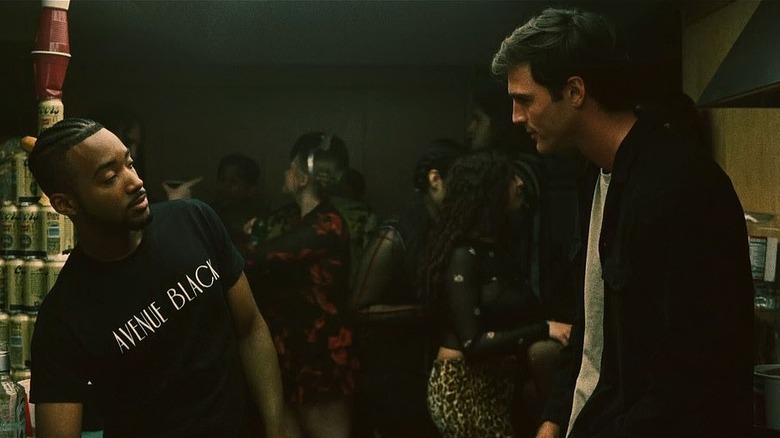 HBO
The first episode of Season 2 is set to the backdrop of a New Year's Eve party and revolves around all of the main characters of "Euphoria." Shortly after Nate and Cassie's first romantic encounter, he has a conversation with McKay, which foreshadows the possessive behavior he'll inflict upon Cassie for the season. Season 2 picks up just after Cassie and McKay's recent breakup, and, after they discuss the state of their relationship during this New Year's party, Nate corners McKay and becomes increasingly more aggressive and explicit.
Major credit to Jacob Elordi on his acting in this scene that is almost too real, as this conversation is extremely uncomfortable to watch and hard to forget. Nate dips in and out of humor and rage as he pokes at McKay and asks in graphic detail if he and Cassie just had sex at the party. McKay tries to keep his cool for as long as he can, but the more intrusive questions Nate asks and the more he invades his personal space, the more visibly uncomfortable McKay grows. This scene shows how Nate looks down on Cassie as just a sexual object, while also displaying his chilling possessive nature.
Manipulating Cassie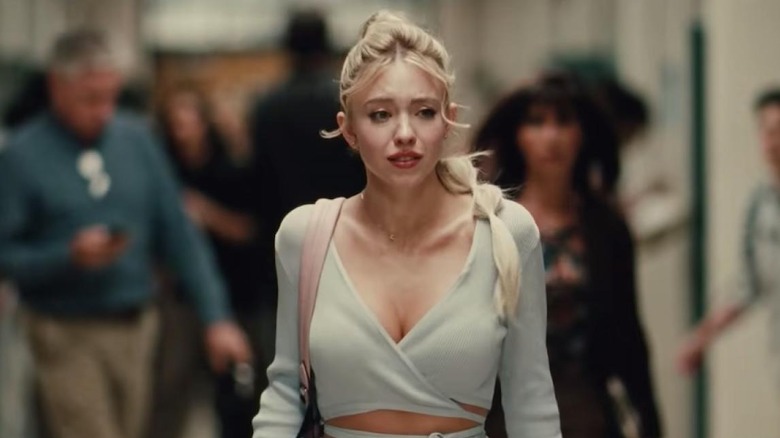 HBO
Nate and Cassie's relationship has been rooted in unhealthy behavior since the very beginning. In Episode 1, when Nate finds Cassie outside of a convenience store on New Year's Eve, she is already drunk and reeling from her recent abortion and split from McKay. He takes advantage of her vulnerable state and gives her just the right attention, at exactly the wrong time. From the moment he offers her a ride, it is clear that this will not end well. He continuously tries to break things off with her after their first encounter, but always ends up giving in, feeding into the notion that this is all Cassie's doing.
Throughout their entire relationship, it is clear that Nate is aware of Cassie's need for male validation, so he uses the words "I love you" as a way to coax her into submission. In Episode 4, "You Who Cannot See, Think of Those Who Can," we get a look at the manipulative conversations that the couple have behind closed doors. Not only does he blame Cassie for their entire affair, but Nate consistently gaslights her into being okay with him rekindling things with Maddy, and he even stands her up on multiple occasions to go see Maddy. So, Cassie begins waking up at 4 a.m. every day to do a multi-step skincare routine, followed by full hair and makeup, just to impress Nate, who completely ignores her.
Turning Cassie into Maddy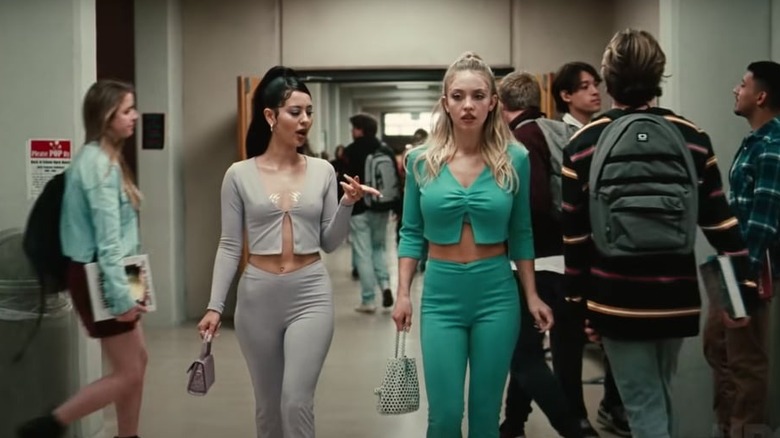 HBO
A major spotlight in Season 1 is Nate's very specific taste in women, and which is what ultimately draws him to Maddy: her outwardly feminine characteristics, style, and general hairlessness. To this effect, it seems as if Maddy is not so much a person he wants, but rather is an idea of a person he thinks he should be associated with. Nate projects this fantasy onto Cassie as well, and sculpts her into the person he believes he should be seen with.
In Episode 7, "The Theater and Its Double," Cassie relinquishes complete control to Nate: He can decide who she talks to, what she wears, and what she eats. This scene shows viewers just how controlling Nate is and how submissive Cassie can be. It makes them a perfect match because, as Cassie says, at least she's loved. Nate uses this power to dress Cassie exactly like Maddy from head to toe. It is painfully obvious to everyone, including Maddy, who sees them walking hand-in-hand and scoffs, "well, she certainly looks the part."
The necklace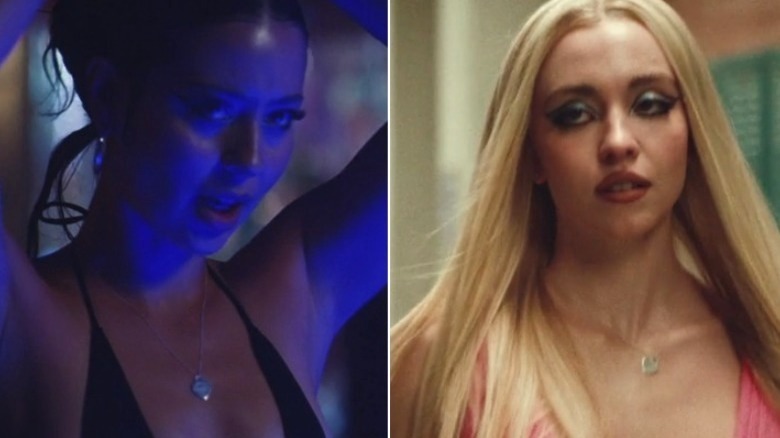 HBO
When Nate and Cassie go public with their relationship at school, a very familiar piece of jewelry is around Cassie's neck. In Episode 4, prior to anyone finding out about his relationship with Cassie, Nate attends Maddy's birthday party and gifts her a silver necklace in a bid to win her back. Fast-forward to Episode 6: Nate threatens Maddy with a gun, and upon leaving her sobbing in the fetal position, steals the necklace from her dresser. When the new couple is later seen at school, Cassie is wearing the exact same silver necklace that Nate had given to Maddy.
While this might just seem like petty high school drama in the grand scheme of the "Euphoria" universe, this gesture actually holds a lot of meaning. This necklace is symbolic of who Nate gives his love and attention to and most importantly, who he has control over. While viewers believe that the moment he held Maddy at gunpoint was a turning point for her, his stealing her necklace is emblematic of how there is now no going back to the Nate and Maddy relationship. It also highlights just how much Cassie craves to have the level of love that Nate had once had for Maddy.
Dumping Cassie over Lexi's play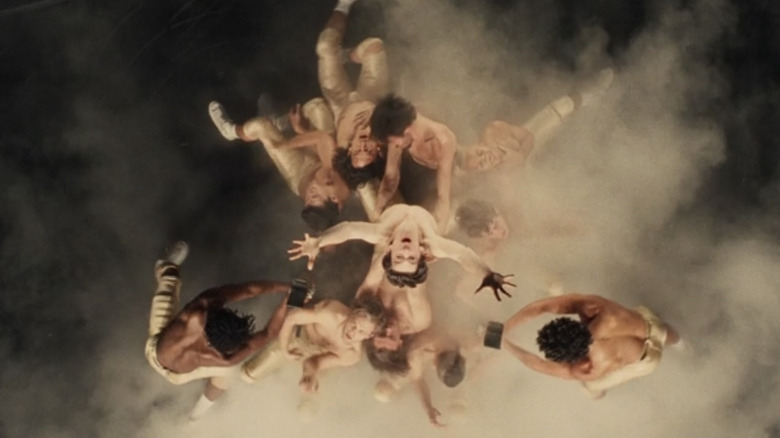 HBO
Episode 7 provides viewers with an epic theatrical retelling of various events that have taken place in "Euphoria," seen from Lexi Howard's (Maude Apatow) perspective. Lexi has often blended into the background and been overlooked, like the majority of younger siblings in this series. When confronted with difficult situations, Lexi finds herself disassociating and reframing her life in the context of a TV show, with actors playing her family members. So, Lexi puts on a school play called "Our Life," where she shows many of the series' major plot points from the viewpoint of an observer. Some fans have theorized that the character of Lexi was based off of "Euphoria" creator Sam Levinson, who is exploring some of his own high school experiences in "Euphoria."
Lexi's play casts a bright spotlight on Nate in one of the most hilarious scenes in the show thus far. In order to represent Nate's issues with internalized homophobia and toxic masculinity, Lexi choreographs a flashy, homoerotic dance number of the infamous gym scene, which is set to the 80's classic, "Holding Out for a Hero." Amidst the roaring laughter of the school audience, Nate storms off. He blames Cassie for her sister's play and kicks her to the curb. Although many "Euphoria" fans had been patiently awaiting the end of this poisonous relationship, Nate's disregard for the sacrifices that Cassie has made for him is yet another example of his heartlessness. After Cassie ruined her life for Nate and alienated herself from her entire support system, all it takes is one moment to derail their "perfect" love story.
This is just the beginning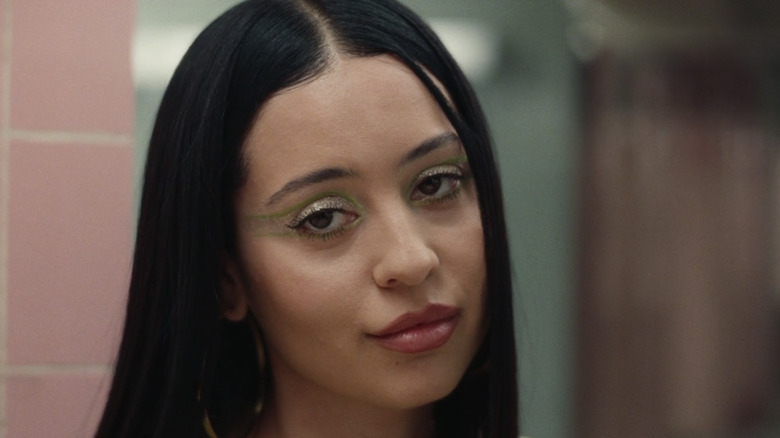 HBO
In the Season 2 finale, "All My Life, My Heart Has Yearned for a Thing I Cannot Name," we get to see the end of Lexi's play as well as Cassie and Maddy's friendship. After the much-awaited Cassie beatdown, Maddy actually gives her some pretty interesting insight. Cassie points out that Nate had already broken up with her before she even made a scene at the play and Maddy responds, "Don't worry. This is just the beginning." This line is symbolic of Maddy throwing in the proverbial towel: She removes herself from the equation, telling Cassie that she can have Nate.
This line also acts as more of a cautionary warning of the difficult road ahead for Cassie and her relationship with Nate. Season 1 primarily focused on the abusive nature of Nate and Maddy's on-again-off-again relationship and how, even if they were broken up, he still greatly affected her. Not to mention the fact that Cassie knew every vile detail of Maddy and Nate's history and still pursued a relationship with him. While we expected a lot more of Cassie's blood to be shed, Maddy recognizes that Cassie's real punishment will be the miserable path that awaits her with Nate. It is safe to assume this will not be the last we see of this toxic couple.