The Real Inspiration Behind That Wild Euphoria Dance Will Surprise You
Kathy Hutchins/Shutterstock
One of the biggest hits in recent years for HBO has been the high school drama "Euphoria." Created by Sam Levinson, who also wrote and directed "Assassination Nation" and "Malcolm & Marie," the show revolves around the trials and tribulations of a series of high school students as they deal with everything from drug abuse and infidelity, to sexuality and self-doubt.
The penultimate episode of the second season, titled "The Theater and It's Double," saw Lexi Howard, played by Maude Apatow, mount a stage production of the play she has been working on all season. The play, which involved thinly veiled versions of her friends, acquaintances, and sister, also starred Ethan Lewis (Austin Abrams) as a stand-in for antagonist Nate Jacobs (Jacob Elordi). The play (and episode) culminates in a musical number where Ethan's character danced shirtless and erotically with other young men to the 1984 pop hit "Holding Out for a Hero" by Bonnie Tyler.
Abrams and Apatow have now revealed the inspirations for that euphoric "Holding Out for a Hero" dance number on "Euphoria."
Apatow's real life was part of the inspiration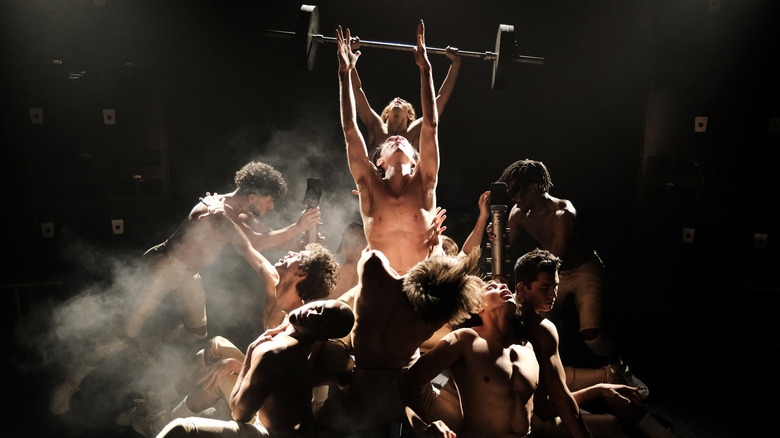 Eddy Chen/HBO Max
In an interview with Variety, both Austin Abrams and Maude Apatow spoke about the shocking, entertaining scene.
Abrams said that he has fond memories of the song from when it was used in the climax of the 2004 film "Shrek 2," which is where he first heard it. "It's one of those songs that makes me so happy. It puts everyone in a great mood, honestly," Abrams said. He went on to speak about the dance itself, noting that it took a lot of effort, but he enjoyed it. "It took a lot of physical exertion. I was doing that dance a million times over those days. But, I loved the dance, I loved the guys that I was dancing with and it felt very real."
Apatow detailed the inspiration behind the play itself, which she worked with series creator Sam Levinson on, saying that she, much like her character, produced a play in high school as well. "It was loosely inspired by my high school play that I produced. Everyone in the theater department hated me, but I really wanted to do a good job."
Apatow went on to add that the scene itself was complicated by the audience and character stories that had to tie in to it. "It took a long time to film that sequence because it was so complicated. There were a lot of audience shots to consider... Sam had to make sure that the shots in the play connected to real memories and they had to be perfectly timed and interwoven."