Rue's Most Heartbreaking Moment From Euphoria Season 2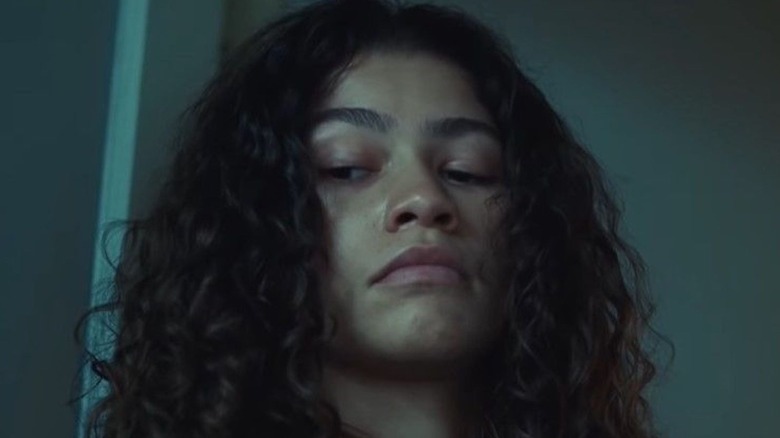 HBO
This article discusses topics that may be triggering for some readers 
"Euphoria" is arguably one of the most captivating, unique dramas that HBO has to offer, following Rue Bennett (Zendaya) as she battles a drug addiction while navigating the drama of East Highland High School with her friends. The series debuted back in 2019, starring the likes of Storm Reid as Rue's sister Gia, Hunter Schafer as Jules, Sydney Sweeney as Cassie, Barbie Ferreira as Kat, Alexa Demie as Maddy, and Jacob Elordi as Nate.
It features a number of sprawling storylines, like Rue's relationship with Jules, which is surprisingly tied to the ongoing storyline regarding Nate's dad Cal (Eric Dane) and his closeted sexuality. It's not exactly family-friendly entertainment, but the dramatic first season was a hit with viewers, earning an 85% rating on Rotten Tomatoes.
Unfortunately, like many other shows and movies, the highly-anticipated second season was delayed due to the COVID-19 pandemic (via Bustle). But when it finally arrived in 2022, audiences were shocked at what showrunner Sam Levinson had in store for the students of East Highland. Rue's story arc this time around was much more tragic, as she struggled to deal with addiction after making a new friend, Elliot (Dominic Fike). However, there was one moment that was more heartbreaking than the rest.
Rue rages across her house
In Season 2, Episode 5, "Still Like a Hummingbird," Rue rages through her house looking for the stash of drugs that she was going to sell for the eerily calm dealer, Laurie (Martha Kelly). Unfortunately for her, Rue's mother Leslie (Nika King) already got rid of it all after Jules tells her that she's relapsed. It's difficult to watch how distraught Rue is, and she even lashes out at both Jules and Elliot for betraying her — although they only told Leslie because of their concern for her.
Fans were emotional watching Rue lash out, with one Twitter user writing, "that scene with rue getting in a fight with her mom made me sob dawg." Another user named @SweetSolomon11 added that it was distressing to see, saying, "Rue is breaking my heart. What she said to Jules and her mom was [unnecessary]. Anyways when you are addicted, to quit is hard." Other fans were impressed with Zendaya's frenzied performance in the scene, with @TheBookOfA tweeting "Zendaya be acting her a** off! Season 2 episode 5. Rue just went off on Jules for telling her mom. That whole scene was amazing."
Scenes like this proves that "Euphoria" still hits audiences where it hurts.
If you or anyone you know is struggling with addiction issues, help is available. Visit the Substance Abuse and Mental Health Services Administration website or contact SAMHSA's National Helpline at 1-800-662-HELP (4357).