Jack Quaid Confirms What We Suspected About The Cast Of The Boys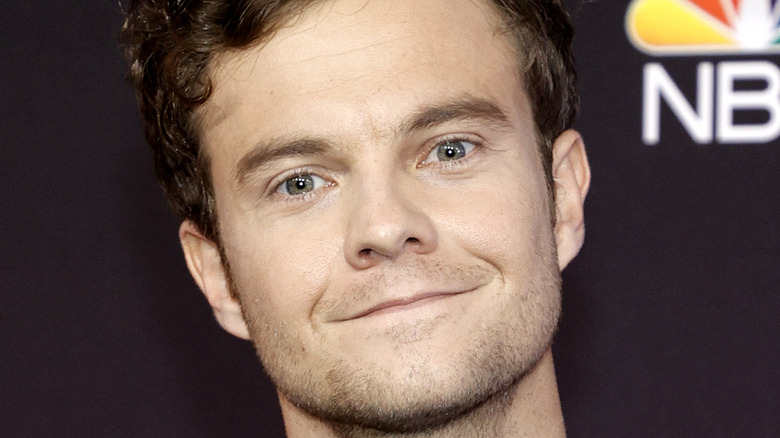 Amy Sussman/Getty Images
Amazon's "The Boys" will be making its triumphant return later this year, with new episodes set to finally drop on June 3. The show's much-anticipated third season will further explore the ongoing storylines and plot developments from 2020's Season 2, while of course highlighting the returning characters and superheroes being portrayed by its immensely talented ensemble cast. Series lead and co-protagonist Hughie Campbell, played by actor Jack Quaid, will once again be back in all his awkward glory as he deals with the fallout from the second season. Other reoccurring faces expected to return are Karl Urban's William "Billy" Butcher, Anthony Starr's Homelander, and Erin Moriarty's Starlight. 
As Quaid's character continues to do his thing, along with the other Boys and Seven members, it's hard not to wonder how much of the fictional chemistry — and lack thereof — is actually genuine. According to Quaid, the answer shouldn't surprise you.
Jack Quaid says of the cast, 'We all were like a big family'
When it came to shooting "The Boys," whether it be Season 1 or Season 2, actor Jack Quaid has said that things have always been awesome between everyone involved. "It's easy to be on 'The Boys' in the sense that I love everybody who is on it," Quaid boasted in a 2020 interview with Bleeding Cool. "We all were like a big family."
According to Quaid, showrunner Eric Kripke has made it a mission of his to ensure that everyone working on "The Boys" gels both off-and-on-screen. "I think that's something that Kripke really seeks to curate," he explained. "You know he has a...I don't know if I can swear on this, but basically he has a 'no a*******' policy when it comes to casting and he's like one of the only people to actually achieve that." Still speaking to Bleeding Cool, Quaid offered immense praise for his fellow stars, saying they have always been a joy to work with and be around.
"You know, every single person in that cast is just incredible as a performer and also just as a person," Quaid concluded. "So we interact with each other over social media or in interviews the way that we do just naturally on set. I don't know ... We don't have to try to make it seem like we're having a good time. We are having a good time."