Who Plays Martha Wayne In The Batman?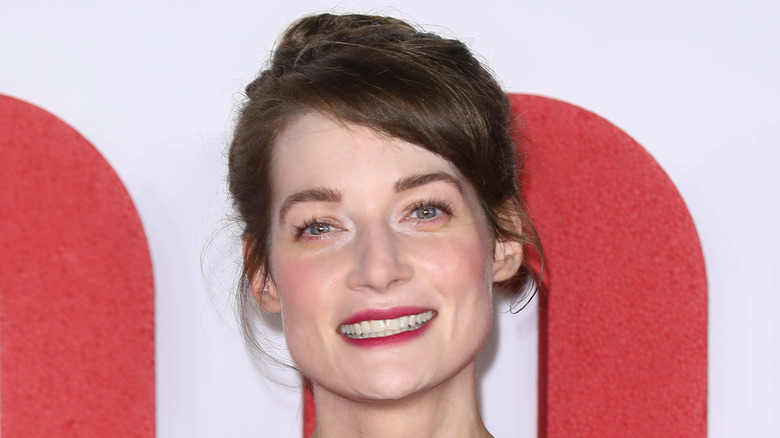 Tim P. Whitby/Getty Images
The entertainment world has a brand-new version of The Caped Crusader on its hands in the form of Robert Pattinson's brooding antihero Bruce Wayne now that Matt Reeves' "The Batman" has finally hit theaters. Bringing the comic book hero back down a gritty, street-level story, "The Batman" explores Bruce's trauma in ways that few "Batman" movies have ever done. One of the critical ways the film executes that is by taking a closer look at the role of Bruce Wayne's parents in relation to Gotham's dark history. The film takes them beyond over-simplified sacrificial lambs who are killed by a random criminal and whose deaths spur Bruce's transformation into the hero a city needs.
With that in mind, "The Batman" is actively offering audiences a different look at Thomas and Martha Wayne. However, unlike previous versions of the ill-fated parents of The Dark Knight, Reeves' movie does not focus on their demise in Crime Alley. Instead, it explores the history of possible corruption surrounding the Wayne clan, including the allegedly illegal lengths Thomas Wayne went in order to cover up Martha Wayne's history of mental illness.
With a renewed emphasis on fleshing out the Wayne family, it is worth taking a look at the actors who actually play Bruce's parents in the film. In this case, it's time to take a closer look at the actress who portrays Martha Wayne in "The Batman."
The Batman's Martha Wayne is portrayed by Stella Stocker
The version of Martha Wayne we see in "The Batman" is portrayed by actress Stella Stocker. A performer of German descent, Stocker is an actress and voiceover artist who trained at the University of Hull in the United Kingdom, as well as the Lee Strasberg Theaters Institute in New York City, according to her official site. With recorded on-screen appearances dating back to 2004, her IMDb page boasts a credits list of more than 20 roles, including her recent part as the mother of Bruce Wayne.
Prior to taking on the role of Martha Wayne, Stocker appeared in some notable Hollywood productions. Some of her biggest projects to date include "Fury," "The Good Liar," and "Mission: Impossible – Rogue Nation." In addition to her film work, she has also appeared in commercials for major brands, including Peugeot and HP (via YouTube), as well as music videos for Opale and Jamie Lawson. Following her debut as Martha Wayne, some of her upcoming projects include "All the Old Knives," starring Chris Pine and Thandie Newton, and "Sinphony: A Clubhouse Horror Anthology." Audiences will also have to wait and see if she returns to the Batman corner of the DCEU for any additional flashback sequences that may happen in a future sequel to "The Batman."