Did Fans Just Figure Out Who Is Playing Thomas Wayne In The Batman?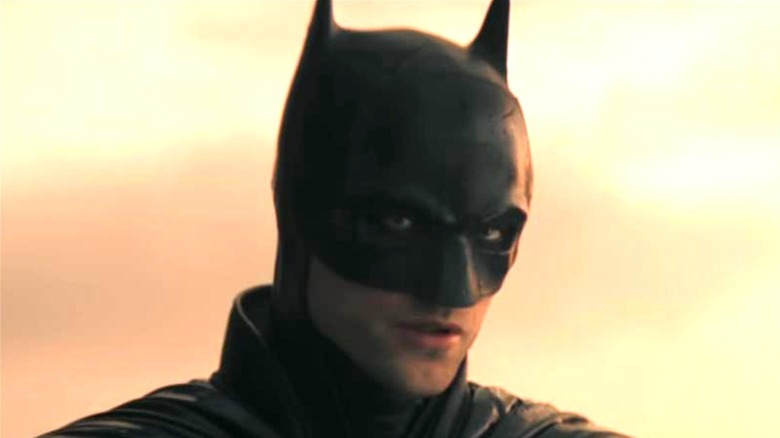 Warner Bros./YouTube
With its March 4 release date fast approaching, the hype has continued to build for the Matt Reeves-directed feature "The Batman." The new Warner Bros. film will see its titular hero face off against some of his most iconic antagonists, this time with Robert Pattinson donning the cape and cowl. We also know Pattinson is joined by a veritable A-list of talent. His co-star line-up includes Colin Ferrell as The Penguin, Zoë Kravitz as Catwoman, Paul Dano as The Riddler, Jeffrey Wright as Jim Gordon, and Andy Serkis as Alfred Pennyworth.
But what is still unknown about "The Batman" is whether Bruce Wayne's parents, Thomas and Martha Wayne, will appear in the movie that takes audiences back to the early years of their son's secret life as a vigilante in Gotham. Given the movie's time period, the deaths of Thomas and Martha are a distant but also not-too-distant memory for Pattinson's Bruce Wayne. Both the official synopsis released by Warner Bros. (via /Film) and "The Batman" trailers merely hint at Thomas and Martha's ties to the story. "It's all about the Waynes," Catwoman says in one of the trailers, as a scrawled note from The Riddler fills the screen, a part of which reads, "The sins of my father??" 
With all of this in mind, it stands to reason that, at minimum, Thomas and Martha's names would come up, or, perhaps, we'd see them in photographs or a flashback sequence (or some other creative detail). Now, fans on social media have begun speculating about the identity of the actor playing one of Bruce's parents, leading to curiosity about whether they'll show up in "The Batman." Here's what we know.
Fans believe a Game of Thrones alum is playing Thomas Wayne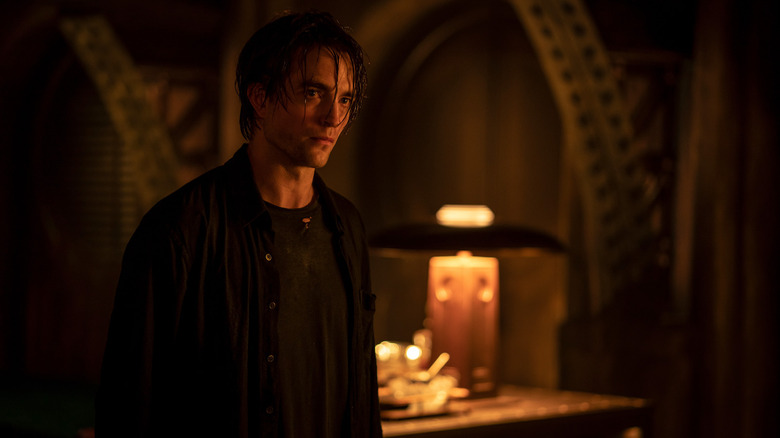 HBO
If fan speculation is to be believed, there is a possibility that "Game of Thrones" and "Black Sails" alum Luke Roberts (via IMDb) will play Thomas Wayne in Warner Bros. "The Batman." Before we go much further, we should clarify upfront that no official announcement from Warner Bros., Roberts, or a trade publication has been made. However, there is a compelling post from Roberts that has fans looking twice.
Roberts has posted some attention-grabbing "Batman"-themed photos over the past couple of years. In October 2020, he shared a picture of a Batman Lego set to Instagram, and the photo's caption reads, "My next project." Then, in December 2020, he snapped a selfie with the famous Batman comic "Sins of the Father," which revolves around Thomas Wayne's dark secrets (via Instagram). The caption to that post reads, "This time, last year, I was doing a little last-minute character research in my trailer. Wish I could name-drop the movie, but I signed one of those NDA thingies." It might make sense that the "GoT" actor is playing Thomas Wayne (which, to be clear, neither of his social media posts clearly indicate) as it appears from the photo and caption he was brushing up on his bat research right around the time "The Batman" started filming in January 2020 in the UK (via /Film).
Twitter user @WayneG1939 (via Heroic Hollywood) picked up on Roberts' post this week, claiming the actor will be playing the Wayne patriarch. (As we'll stress yet again, there has been no official confirmation this casting news is true.) However, fans share their thoughts about this potential casting news under WayneG1939's tweet. User @andycw64 wrote, "Hell yeah, I called it. I recognize that face from anywhere. Loved him in 'Black Sails.' Great underrated actor." Twitter user @BrosephSZN remarked, "They got Thomas Wayne to be played by SER ARTHUR DAYNE?"
Though it's unlikely the elder Wayne will need to use Arthur Dayne-level swordsmanship skills in "The Batman," it will be intriguing to see how Roberts brings that physicality of performance to a role like Thomas Wayne, if indeed he has the part, when the movie sees a wide release in March.