Only One Episode Of Chicago Fire Does Not Feature Joe Cruz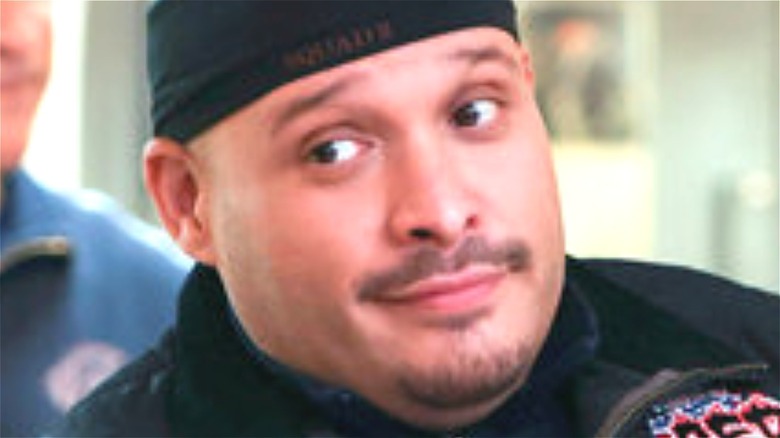 Adrian S. Burrows Sr./NBC
For the better part of the past decade, NBC's first-responder drama "Chicago Fire" has been one of the, ahem, hottest shows in the primetime television landscape. As the title notes, "Chicago Fire" follows the ongoing trials and tribulations of a crew of Windy City firefighters. The series made its network debut in the Fall of 2012, becoming the flagship offering in NBC's Dick Wolf produced "One Chicago" franchise, which now also includes "Chicago P.D." and "Chicago Med."
As the longest-tenured program in the "One Chicago" franchise, "Chicago Fire" is currently well into its 10th full season of action-packed firehouse drama, having already sent a whopping 210-episodes to the airwaves. And the lovable Squad 3 rascal known as Joe Cruz (Joe Minoso) has been around for pretty much every single episode to date. "Pretty much" is the keyword there, however, as it seems there actually is an episode of "Chicago Fire" that Cruz wasn't in. 
Cruz was absent from an early episode of Chicago Fire
For those not wholly in the know about "Chicago Fire," the long-running series has fared better than most in terms of keeping a few original cast members in the fold over the years. That OG ensemble includes Joe Minoso, who has portrayed Joe Cruz in every episode of the series save for one. Minoso's absence came during the 5th episode of the 1st season of "Chicago Fire," which unexpectedly found Cruz sidelined altogether. And no, it's not entirely clear why Cruz was left off the call sheet that week. 
Titled "Hanging On," the episode in question admittedly had a lot going on, even by "Chicago Fire" standards. In fact, much of the episode is centered on a heated showdown between Firehouse 51's Lt. Matt Casey (Jesse Spencer) and the hard-nosed Hank Voight (Jason Beghe) over the Intelligence Unit boss' use of intimidation tactics as the pair feud over criminal charges filed against Voight's son. As if that wasn't enough, Squad 3 playboy Kelly Severide (Taylor Kinney) reaches a breaking point over his severely injured arm during an in-episode rescue, and Gabriela Dawson (Monica Raymond) has her hands full with the ethics committee after punching a patient's friend.
Believe it or not, there's actually more going on in the episode outside of those major storylines, so there may just have been a little too much to cover and sneak Cruz into the mix for even a cameo appearance. Either way, his absence was undoubtedly noted by "Chicago Fire" faithful.