Who Is The Person The Batman Is Dedicated To In The Credits?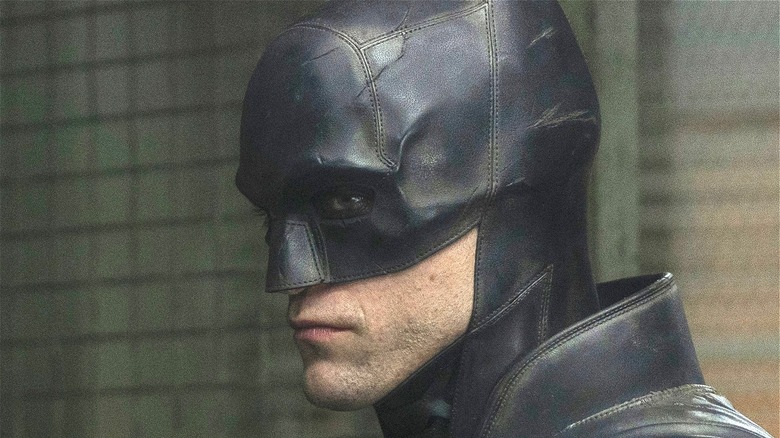 Warner Bros. Pictures/DC Films
Matt Reeves' "The Batman" opens this Friday in theaters, and the excitement among fans to see yet another iteration of the black-caped crusader is at its height. Robert Pattinson will be seen portraying "The Batman" in his early stage. Only two years into his career as the superhero, he will be up against formidable enemies in the form of the Riddler (Paul Dano) and the Penguin (Colin Farrell).
The movie, which was initially announced over seven years ago, in October 2014 (via Entertainment Weekly), has gone through several changes, from being a continuation of Ben Affleck's version of Batman in the DC Extended Universe to Reeves' writing and directing a "noir Batman tale" that focuses more on Bruce Wayne's skills as a detective (via The Hollywood Reporter). Another reason for the delay was, of course, the COVID-19 pandemic, which ultimately caused the originally scheduled release date of late spring or summer 2021 to be pushed to March 4, 2022.
With anticipation and buzz building over so many years, each and every detail of the movie has got fans talking — from Pattinson's more nihilistic Batman to a staggering runtime of 2 hours and 55 minutes. One other detail that many fans might notice in the film's credits is its dedication to Andrew Jack.
Jack is the movie's dialect coach
The end credits of "The Batman" reveal a small but sweet dedication to its dialect coach, who passed away due to complications related to COVID-19 on March 31, 2020 (via Screen Rant). In an interview with The Daily Beast the following month, Matt Reeves cited this death of "a beloved crew member" as the hardest and most heartbreaking thing about the interruption to filming caused by the pandemic. However, with this dedication, "The Batman" honored the legacy of Andrew Jack's career in film, which spanned over three decades.
Jack successfully implemented many of the accents in beloved franchises such as "James Bond" and the "Lord of the Rings" trilogy. Besides working with Pierce Brosnan on "GoldenEye," "Tomorrow Never Dies," and "Die Another Day," he also created the Middle-Earth accents and coached the actors in the "Lord of the Rings" trilogy in Dwarvish and Elvish (via The Linguist).
Jack also acted in "Star Wars: Episode VII – The Force Awakens" and "Star Wars: Episode VIII – The Last Jedi" as Major and then General Caluan Ematt. He contributed a lot to Reeves' "The Batman" before his death, so it seems only fitting that the film be dedicated to him in recognition of his contributions and his glorious career.