The Nightwing Easter Egg You Missed In The Batman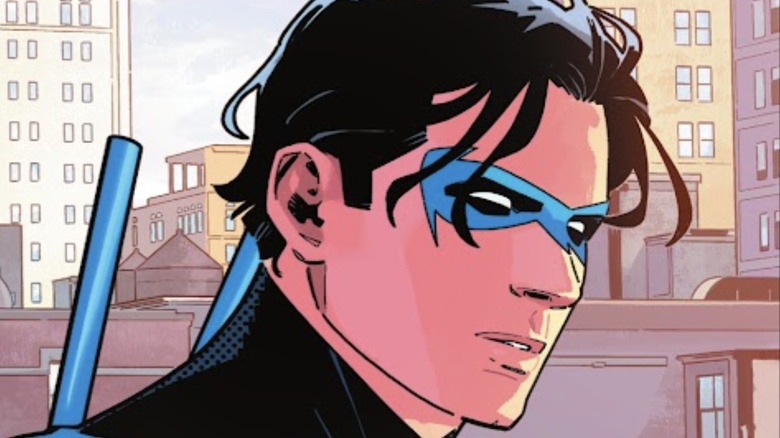 Bruno Redondo/DC Comics
Contains spoilers for "The Batman"
Matt Reeves' "The Batman" delivers a brand new version of the Caped Crusader to the big screen. Sure, DC fans are incredibly familiar with Bruce Wayne's (Robert Pattinson) origin after seeing it several times in animation and live-action — but this is a much darker film that takes a precise look at the tortured vigilante a couple years into his crimefighting career. The film has already been a huge hit with critics. Daily Star's Andy Lea calls it a "gritty, pacy and achingly stylish adventure," while The Digital Fix's Tom Percival says it's "surprisingly hopeful."
It's fair to say that this new take on Gotham does feel grimier than previous iterations of the Bat's home turf. It's stylistically similar to the world of David Fincher's "Seven," with hints of "Zodiac" in there for good measure. This largely stems from the haunting depiction of the Riddler (Paul Dano) as a terrifying serial killer who takes aim at the corrupt members of Gotham's elite. Thankfully, Bruce isn't alone in his mission to serve justice on city streets; he's also joined by antihero Selina Kyle (Zoe Kravitz) and GCPD Lieutenant James Gordon (Jeffrey Wright).
The film isn't crammed with Easter eggs like other comic book movies that dominate the box office, but there are a few carefully placed references to classic DC characters. The plot itself takes cues from classic Batman storylines like "Year One," "The Long Halloween," and "Zero Year," but there's also a surprising nod to one of the most famous members of the Bat-Family: Nightwing.
Selina leaves Gotham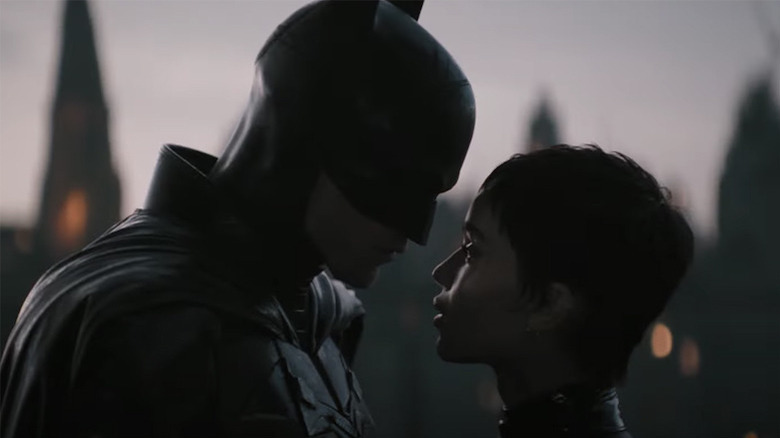 Warner Bros./DC Entertainment
By the end of "The Batman," Selina Kyle decides that it's time for her to leave Gotham for a while. It's an understandable move because part of her arc revolves around finding who killed her best friend Annika, and why. To make matters worse, Selina is forced to confront the fact that she's the illegitimate daughter of Carmine Falcone (John Turturro). He abandoned Selina's mother after their brief fling, and she was forced to grow up in poverty as a result. Falcone, meanwhile, only grew more powerful over the years. So after she helps Batman stop the Riddler's plan, she tells the Dark Knight she might head to Bludhaven.
It's a subtle reference, but a loaded one for long-time comics readers. Bludhaven is a city not too far from Gotham. It's also where Dick Grayson aka Nightwing moves in the comics when he starts to forge his own identity away from Batman. As the former Robin soon finds out, Bludhaven is an incredibly violent place, and there aren't any superheroes operating there because of how ruthless the villains are. Nightwing is the one who makes a stand when Bruce asks him to investigate a string of murders in 1996's "Nightwing" issue #1. It's not enough for Dick to just patrol the streets at night though, as he needs reliable intelligence to take down gangsters like Blockbuster. He even ends up becoming a police officer by day. 
But what does this all mean for Matt Reeves' new Bat-verse?
Is Nightwing is coming to a future Bat-sequel?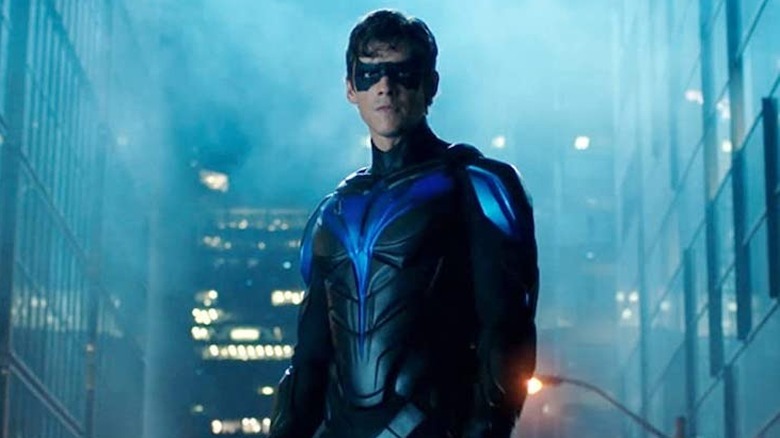 HBO Max
While it's entirely possible that Reeves and his co-writer Peter Craig will introduce Dick Grayson — or another member of the Bat-family — further down the line, the Bludhaven reference probably isn't a hint that Nightwing will show up in "The Batman 2." Even if they introduce Grayson in the sequel, he'll probably start off as Robin to explore that dynamic with Batman, rather than stepping into his black and blue Nightwing persona straight away. Name-dropping Bludhaven is more likely just a bit of worldbuilding.
However, that's not to say Nightwing won't make the leap to the big screen eventually. Warner Bros. picked "The Tomorrow War" director Chris McKay to helm a solo movie for the hero in the DC Extended Universe. When speaking to Den of Geek back in 2021, McKay said he still wants to work on the project: "I hope that we get a chance to go out and make that Dick Grayson and Nightwing film." The director went on to say, "That particular part of Robin, growing from being under Batman to becoming Nightwing, and Bludhaven and all that stuff ... It's a really personal story to me."
For Nightwing fans desperate to see the hero in live action, at least HBO Max's "Titans" will scratch that itch. Brenton Thwaites plays a version of the hero that's become a real fan favorite, and it's not hard to see why.