Halle Berry's Lowest-Rated Movie You Probably Forgot Existed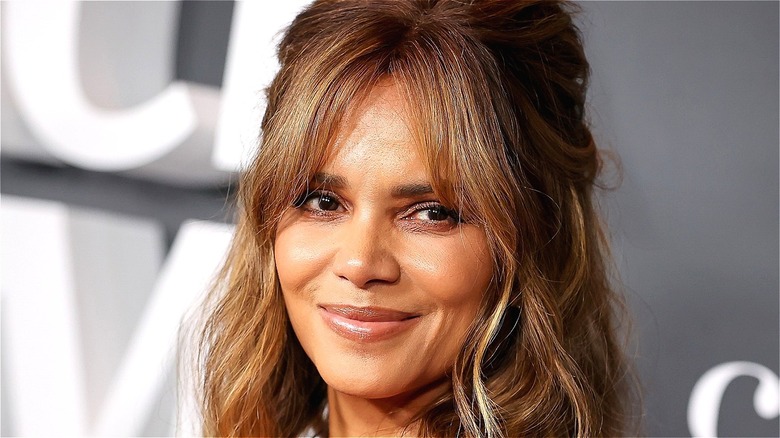 Emma McIntyre/Getty
Veteran actress and pop culture icon Halle Berry has been working in the entertainment industry for over 30 years. The 55-year-old received her first acting credit in 1989 for the starring role of Emily Franklin on "Living Dolls." The show was canceled after its first year, although that didn't stop Berry. Two years later, she appeared in parts for seven separate projects in 1991. A mix of one-episode parts on television series like "Amen," "A Different World," and "They Came From Outer Space" led to a supporting role in Spike Lee's "Jungle Fever," along with "Strictly Business" and "The Last Boy Scout" starring Bruce Willis. Berry wasn't done there, as she also appeared in the same year as part of a six episode stretch on "Knots Landing" (via IMDb).
Although she landed multiple starring roles throughout the '90s in films like "Losing Isaiah" and "The Rich Man's Wife," it wouldn't be until 2002 that Berry won an Oscar for her performance in "Monster's Ball," where she plays the widow of a prisoner who gets involved with the guard who executed him. She would be the first woman of color to win an Academy Award, and from then on she continued toward her most known roles to date — including Jinx Johnson in 2002's James Bond film, "Die Another Day," and her continued part as Storm in the "X-Men" franchise.
Although there's one more film Berry is known for that lies in infamy — 2004's "Catwoman," which was notoriously disapproved by fans and critics. Surprisingly, this still isn't Berry's lowest-rated movie, as what it actually is may surprise you.
Dark Tide is Halle Berry's lowest-rated movie
During the 2010s, Berry was still getting leading and supporting parts in movies like "Frankie & Alice" and star-studded romantic comedies like "New Year's Eve." However, 2012 took a quick turn for the worse after her appearance as Kate in "Dark Tide." The action thriller centers around a relatively worn out plot — a former diving instructor returns to the ocean after one year since a Great White Shark nearly killed her. Things go south incredibly fast, leaving Berry's Kate and the rest of the cast to fend off the lurking sharks. Critics gave it a 0% rating on Rotten Tomatoes and audiences weren't far off, only giving it a 16%. Not to mention, it only made just over 1 million dollars worldwide (via Box Office Mojo) on an estimated 25 million dollar budget. That is an incredible loss by box office standards.
Fortunately, Berry, who is a gifted actress that has been a part of many well-received films and television series, bounced back fast. In the same year, she appeared alongside Tom Hanks in "Cloud Atlas," along with returning as Storm in "X-Men: Days of Future Past" in 2014. Throughout the rest of the late 2010s she would appear in blockbusters like "Kingsman: The Golden Circle" and "John Wick: Chapter 3 – Parabellum." Most recently, she stars alongside Patrick Wilson in 2022's "Moonfall."
Berry is also set to star in Netflix's "The Mothership," premiering sometime later this year.