Halle Berry Confirms What We Suspected All Along About Keanu Reeves' On-Set Behavior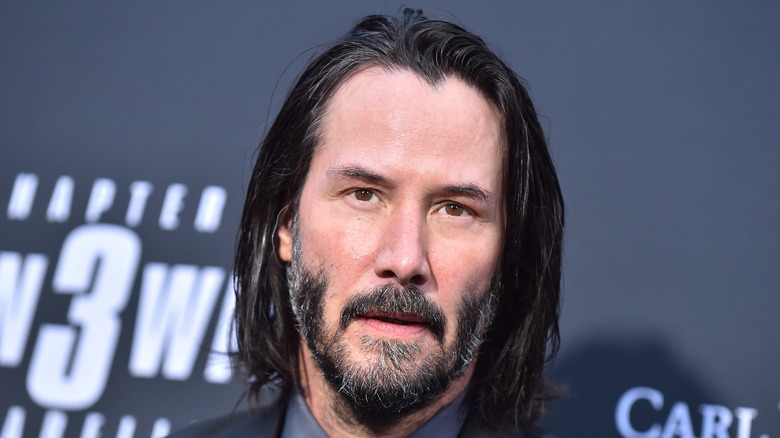 DFree/Shutterstock
Keanu Reeves is currently one of the most popular actors in the world. Of course, his superstardom is at least in part due to the fact he's served as the poster boy for hit Hollywood franchises across multiple decades, including "The Matrix," "John Wick" and "Bill & Ted." That said, his off-screen behavior has likewise helped him capture the hearts of millions of people all around the world.
In short, Reeves is beloved by his legion of fans for his humbleness, charitable gestures, and genuine acts of kindness, all of which have earned him a reputation as one of the nicest human beings working in the film industry today.
Unsurprisingly, many of Reeves' countless collaborators over the years have publicly recounted how much they enjoy working with him, frequently confirming his gracious disposition to hold true. As has been the case with plenty of actors alongside whom Reeves has worked with in the past, fellow "John Wick: Chapter 3 – Parabellum" star Halle Berry has been full of praise for the action icon following their collaboration between one another. Berry particularly took note of his professionalism on the set, which she explained gave her a newfound appreciation for the star.
Keanu Reeves is Halle Berry's 'work crush'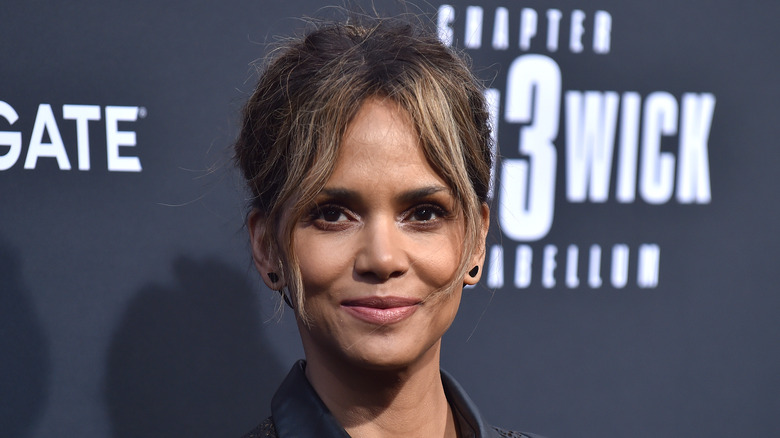 DFree/Shutterstock
As viewers of the "John Wick" films, the "Matrix" franchise, and his various other roles in action movies are already well aware, Keanu Reeves makes performing epic fight scenes and death-defying stunts look easy. The veteran action star is well-known for training harder than most, if not all of his co-stars in many cases, and Halle Berry has vouched for his incredible work ethic on "John Wick 3 in particular."
Back in 2019, Reeves was memorialized for his contributions to cinema at the TCL Chinese Theater in Hollywood, and Berry — joined by a number of their fellow "John Wick" stars — was present for the occasion. Taking to Instagram afterward, Berry gushed over her "work crush," claiming that the occasion was "a well deserved honor for one of the hardest working actors" she's ever met.
In fact, Berry once revealed that she enjoys working with Reeves to the extent that she was willing to break her ribs to impress him on the set of "John Wick 3." In an interview with Extra, she described feeling particularly motivated to go above and beyond as a in order to keep up with his considerable pace. "It was pretty amazing. It was a little terrifying at first because he's so damn good, and I wanted to be on the same level as him," Berry recalled. "I didn't want to disappoint him."
Though she's still unsure of its exact cause, Berry "worked for a little while with broken ribs until [she] could no longer do it." Director Chad Stahelski simply waited for her injuries to heal before he resumed filming. Berry, for her part, described the injury she sustained as a "badge of honor." 
Berry's admiration for Reeves initially drew her to the project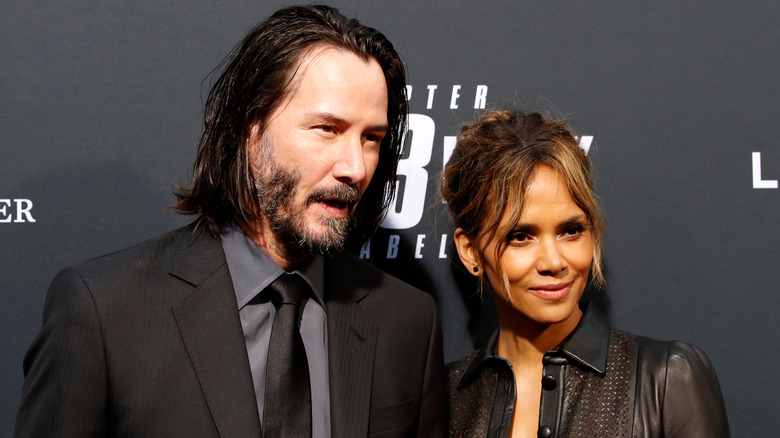 Kathy Hutchins/Shutterstock
In a video interview posted to YouTube by MTV News in conjunction with the release of "John Wick 3," Halle Berry revealed that she was once offered a role in "Speed," the '90s thriller starring Keanu Reeves. While the film looked quite a bit different at the time and didn't yet feature Reeves as its lead, Berry claimed during her interview that "stupidity didn't allow it to happen," appearing to now regret the decision in hindsight. When she was offered her role in "John Wick 3," however, Reeves was, of course, attached to the project. In fact, he was one of the reasons she accepted.
Berry spoke about her admiration for Reeves playing a part in her decision to join "John Wick 3" amidst a discussion about the stunt work required of its actors. "The training that went into this was like nothing I've ever experienced before. I knew what I was in store for, because I had seen Keanu in both 1 and 2 — I'd seen behind-the-scenes clips of him," Berry said. "I saw his training and I heard about it, so I knew what I was signing up for, and that's largely why I wanted to do it."
For what it's worth, admiration between the two actors is mutual. People recounted how, during a press conference for "John Wick 3," Berry professed that she wanted to "earn the right to be in the same room as Keanu." Reeves replied, "Oh come on Halle, you're an inspiration." While "John Wick 3" remains the sole collaboration between the two of them, judging by their mutual respect for one another, more films starring Berry and Reeves together very well could be on the way.