The Real Reason Shailene Woodley's MJ Got Cut From The Amazing Spider-Man 2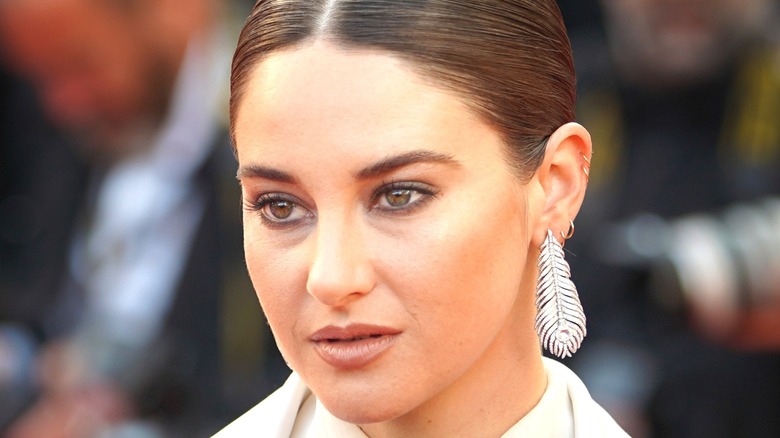 Denis Makarenko/Shutterstock
"Spider-Man: No Way Home" managed to do something that had never been done before — have all three actors who have ever been Peter Parker in a live-action film play the character again in one movie. "Spider-Man: No Way Home" features Andrew Garfield and Tobey Maguire's Peter Parker in much of the film, as they assist Tom Holland's Peter cope with grief by sharing their own traumatic experiences. Tobey's Peter has clearly been Spider-Man for a long time when he appears to Ned (Jacob Batalon) and MJ (Zendaya), and soon we discover that he has sort of managed to patch things up with his MJ (Kirsten Dunst) after the events of 2007's "Spider-Man 3."
For Garfield's Peter, according to his explanations during the rooftop scene where the three Spider-Men first meet, he still struggles, although he has seemingly made peace with his trauma on some level. However, we see that his loss of Gwen Stacy (Emma Stone) still haunts him, as he watches Zendaya's MJ and Holland's Peter closely when manufacturing the villain cures. To the satisfaction of many fans, Garfield's Peter does end up catching Zendaya's MJ before she falls to her death later in the movie, offering him some closure.
Although Gwen served as the love interest for Garfield's Peter in "The Amazing Spider-Man" universe, there were plans to have MJ, played by Shailene Woodley, appear in 2014's "The Amazing Spider-Man 2." Here's what we know about why this never came to be.
Mark Webb thought the focus should be on Gwen and Peter
During a 2014 interview with the Los Angeles Times, "The Amazing Spider-Man" and "The Amazing Spider-Man 2" director Mark Webb went into more details surrounding the possibility of Shailene Woodley's MJ in the second film. Webb noted that MJ was included in the script for "The Amazing Spider-Man 2," and Woodley did come to set to shoot a few scenes over a couple of days as the character. The director explained that she did great work as MJ, but the tough decision to cut her character was made in the editing room. He continued that there was "too much on the table" with  Peter and Gwen to introduce another love interest.
Producer Matt Tolmach also said that he and the other producers felt with everything they already had going on in "The Amazing Spider-Man 2," Woodley's MJ wouldn't co-exist well at that particular moment. Tolmach explained that it wouldn't have been fit to have Peter thinking about Gwen constantly only to introduce MJ.
Unfortunately, "The Amazing Spider-Man 2" didn't perform well enough to earn a third installment, and in "Now Way Home" Garfield's Peter gives no indication of any possible love interest aside from Gwen. Although, with the rumors and fan support behind "The Amazing Spider-Man 3" after Garfield's scene-stealing appearance alongside Holland and Maguire, anything is possible.