The Fan-Favorite Role Shailene Woodley Regrets Filming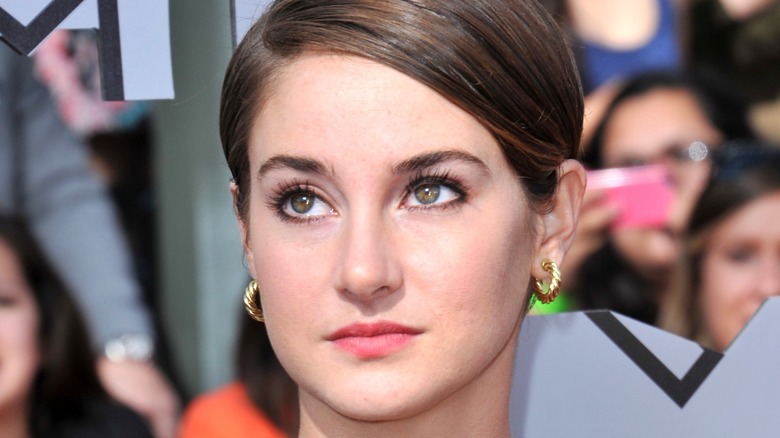 Jaguar PS/Shutterstock
It may be hard to imagine there could have been a reality where Shailene Woodley stepped away from acting forever. But after grueling work on the dystopian YA franchise "Divergent", Woodley almost turned down "Big Little Lies." In an interview with Net-A-Porter, Woodley admitted that she wanted to take a long break coming off of the last "Divergent" film, after being immersed in the entertainment industry for so long. Luckily fans got the privilege of watching her portray Jane on the HBO series, a role which Woodley told Net-A-Porter revitalized her love of acting. But there was one early role in her career that really tested her endurance, even more so than the "Divergent" franchise.
Woodley has had a long storied career, stretching back to early roles such as Marissa Cooper's sister Caitlyn on "The O.C." (via People). After so many roles, it shouldn't come as a surprise that not all jobs were smooth sailing for the actress. Woodley is not one to stray from speaking her opinion, and this includes her thoughts on a previous part.
Secret Life of the American Teenager contradicted Woodley's beliefs
"Secret Life of the American Teenager" premiered at the height of ABC Family dramas, before the channel converted to Freeform (per Vox). "Secret Life" was a flagship show at the time. It depicted Shailene Woodley as Amy, a high schooler who accidentally gets pregnant. "Secret Life" was created by Brenda Hampton, creator of "7th Heaven." Both series reflected Christian values (via The Washington Post). This is what contributed to Woodley's issues with the project as it clashed with her personal beliefs.
"There were a lot of things that were written into the scripts that not just me, but a lot of the cast, disagreed with," Woodley revealed in an interview with Bustle. She went on to say: "There were belief systems that were pushed that were different than my own." Woodley is sex-positive, which is a stark contrast to the cautionary-tale message that "Secret Life" tells. Many storylines involved abstinence and even shaming others who engaged in pre-marital sex.
"Yet legally I was stuck there. To this day it's one of the hardest things I've ever had to do. So being on 'Secret Life' propelled me to be more vocal about my own belief systems," Woodley continued. Despite the difficulty of the situation, Woodley went on to have a career portraying many strong, progressive characters.