32% Of Yellowstone Fans Agree That These Are The 2 Least Likable Characters
Since 2018, Taylor Sheridan's "Yellowstone" has been a series that prides itself on getting viewers invested in the various storylines and characters that have come across their screens over the past four seasons. Along the way, there's naturally been some resentment building up among fans towards a few of Sheridan's fictional faces, so Looper has decided to conduct a survey to see who's been the least likable "Yellowstone" character as of late — and the answer might surprise you.
Season 4 of "Yellowstone," which just wrapped up back in January, saw almost all of the show's longtime actors return for yet another round of Western family drama and rancher beefs, including main stars Kevin Costner, Kelly Reilly, Wes Bentley, Luke Grimes, Cole Hauser, Danny Huston, Gil Birmingham, and Kelsey Asbille. When it comes to the future of "Yellowstone," what's next for the Dutton family and everyone else involved is ultimately unknown. But what we can talk about is who Looper readers have crowned as the least likable characters.
Rip Wheeler and Chief Thomas Rainwater vie for worst of the worst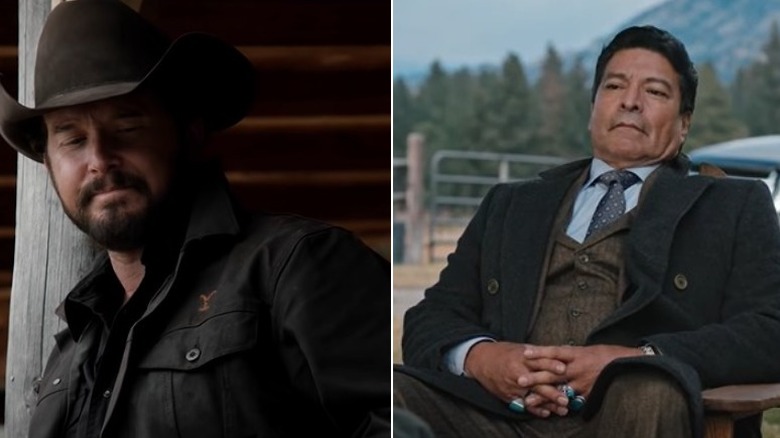 Paramount Network/ YouTube
Out of nearly 600 people surveyed by Looper, 32% of people chose Rip Wheeler (Cole Hauser) and Chief Thomas Rainwater (Gil Birmingham) as the least likable characters on "Yellowstone." Rip received 16.22% of the vote, while Chief Rainwater got 16.55%. The next closest was Beth Dutton (Kelly Reilly) with 12.50% of those surveyed saying they weren't too crazy about her, either.
Over the past four seasons, Chief Rainwater has served as a main antagonist to Kevin Costner's John Dutton. But Season 4 actually saw the two team up against a common enemy in airport developer Ellis Steele. Rip, meanwhile, serves as a ranch foreman on the show and a devoted Dutton ally who often butts heads with the youngest Dutton and fan-favorite Kayce (Luke Grimes), which could be why a lot of people don't like him. 
"Kayce > Rip," wrote Twitter user @lesliejaffie during Season 4.
But even with the negativity surrounding their characters, most "Yellowstone" fans still appreciate and enjoy watching actors Cole Hauser and Gil Birmingham do their thing. "Gil Birmingham, plays a great Chief Rainwater (a man we love to hate)," tweeted @peggi_reed back in 2020. "Cole Hauser's performance as Rip on Yellowstone is so f**king good," tweeted @Hekvetica, also in 2020. "Not a good person, but a great f**king character."