Yellowstone's Kelly Reilly Confirms What We All Suspected About Kevin Costner's On-Set Behavior - Exclusive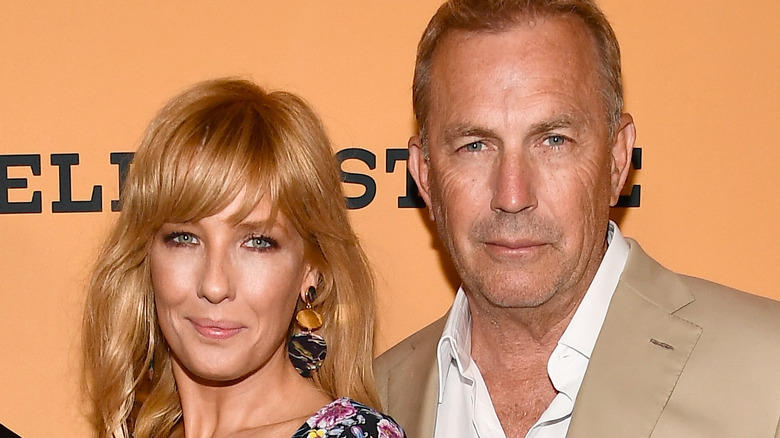 Frazer Harrison/Getty Images
Kevin Costner has been working in Hollywood for an impressive 40 years. He quickly solidified his spot on the A-list in the late 1980s with such critically acclaimed films as "The Untouchables," "Bull Durham," and "Field of Dreams." Over the course of his career, he has won numerous awards, including an Academy Award for directing the 1990 Western epic "Dances with Wolves," and a Primetime Emmy for his acting work in the 2012 History miniseries "Hatfields & McCoys." 
While the majority of Costner's work has been in film, in recent years he's been making waves on the small screen. In 2018, the star made the leap over to starring in a TV series, with the modern-day Western drama "Yellowstone." Currently in its fourth season, the hit show follows the Dutton family, led by John Dutton (Costner), who owns the largest ranch in the United States. Also starring Kelly Reilly as loose-cannon daughter Beth, who is fiercely loyal to her father, "Yellowstone" airs on the Paramount Network on Sunday nights.
Acting in such a long-running series with a star of Costner's caliber sounds like an amazing experience — and, an outsider might assume, a little daunting one. In an exclusive interview with Looper, Reilly recently opened up about what it's like to work so closely with Kevin Costner.
Kevin Costner is 'the nicest, most generous' actor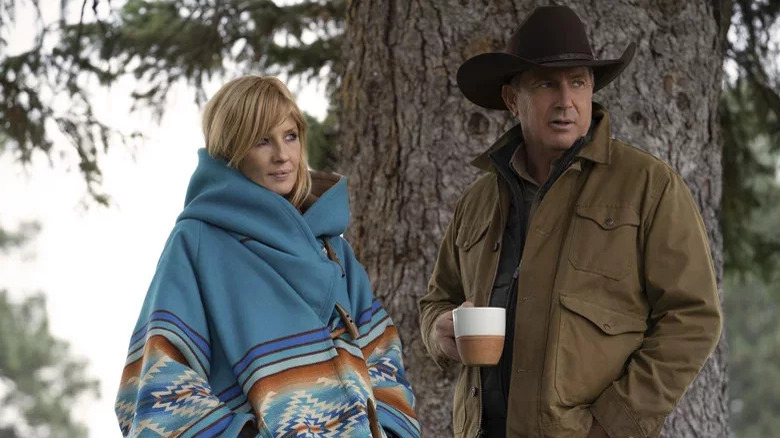 Paramount Network
As one of Hollywood's biggest stars, Costner is obviously a big draw for "Yellowstone." However, Kelly Reilly is quick to reveal that all that fame hasn't gone to the acting legend's head.
"He's honestly one of the nicest, most generous actors I've worked with," reveals Reilly. "We get on so well and we have this real fun relationship. So, yeah, I mean, it's pretty wonderful."
Beyond the general camaraderie the two clearly share, Reilly has great respect for the legendary actor, who sometimes leaves her in awe while filming a scene. "He's so incredible on the show," she says. "I really respect him as an actor and the work he's doing. I just love what he does. I could watch him all day."
Reilly also admits that despite more than 20 years in the business, she still learns something new from Costner every day on the set.
"I'm learning a lot from him," says Reilly. "I pay attention to how he plays a scene and how he works through the scenes and how he holds his ground and his space. I admire that in him. I admire his stillness as an actor. It's things like that that he teaches me inadvertently."
As you can see, Kelly Reilly's comments about Costner are extremely positive. They're also perfectly in line with other nuggets of Costner-themed information that come from the people behind "Yellowstone."
Yellowstone colleagues have nothing but praise for Costner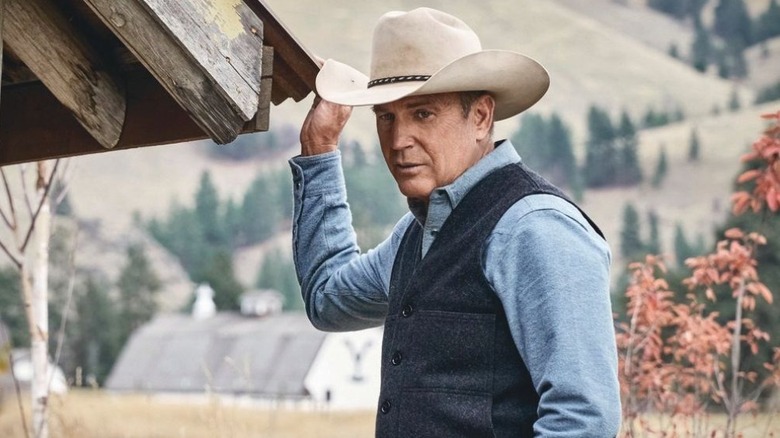 In an interview with Monsters and Critics, Luke Grimes (who plays Kayce Dutton in the show) made no bones about his veteran co-star's dedication to the craft. "One thing that I really enjoy to see in him is his passion for the work," Grimes said. "It's still very much there. He still wants to work and is still very curious and still wants to dissect the scenes and get everything out of the scene that he possibly can."
In his role as Season 3 antagonist Roarke Morris, "Lost" star Josh Holloway has seen a very different onscreen side of Costner's character. However, as the actor told Good Housekeeping, he, too, has only good things to say about working with the star. "This guy at this level is still trying to do his best work, and that's impressive," Holloway spoke of Costner.  
Apart from all the professional praise, actors who have worked closely with Costner are quick to note his personality, as well. "He's a wonderful person – more importantly – a person than an actor," Cole Hauser (who plays Yellowstone Ranch foreman Rip Wheeler) told Fox News. "I just enjoy being around him and enjoying each other's company."  
The fact that Costner has been such an overwhelmingly positive influence is all the more impressive when you realize that the star had his own initial struggles with "Yellowstone." In a 2019 interview with IndieWire, he outright admitted that being in the dark about some of the future plot developments — which is typical for TV series, but rarer for his usual big-screen hunting grounds — was initially difficult for him. "It hasn't been an easy adjustment for me," Costner said. 
Season 4 of "Yellowstone" airs exclusively on the Paramount Network on Sunday nights.