Yellowstone's Gil Birmingham Discusses The Series And His Role In The Twilight Films - Exclusive Interview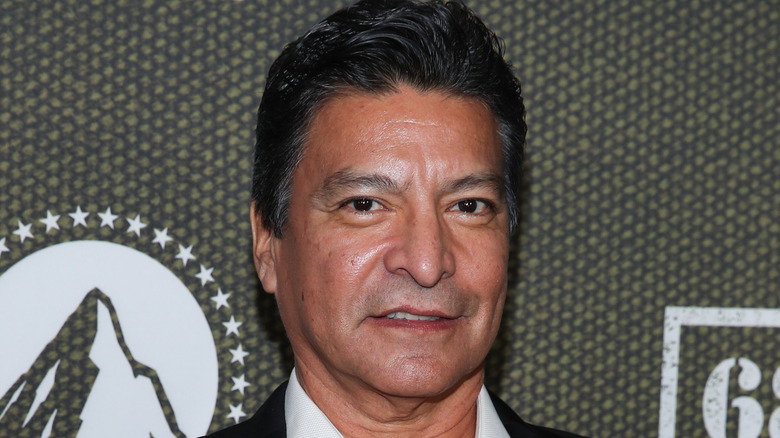 Rich Fury/Getty Images
Gil Birmingham has been maneuvering through Hollywood for more than 30 years, gaining widespread attention starring as Billy Black, father of Jacob (Taylor Lautner), in the wildly popular "Twilight" film franchise. He has also appeared on "House of Cards" and "Unbreakable Kimmy Schmidt" and in the Oscar-nominated "Hell or High Water" alongside Jeff Bridges.
Since 2018, Birmingham has starred on the Kevin Costner-led series "Yellowstone" as wealthy casino owner and Native American tribal chief Thomas Rainwater, who seeks to reclaim land from the expansive Dutton family ranch that he believes was stolen from his ancestors. Also starring Luke Grimes, Wes Bentley, and Cole Hauser, Season 4 of "Yellowstone" premieres Sunday, November 7, 2021, with a special two-hour episode exclusively on the Paramount Network.
In an exclusive interview with Looper, Birmingham discussed the upcoming season of "Yellowstone," the biggest reason he respects co-star Costner, and what the "Twilight" films taught him.
Gil Birmingham thanks Kevin Costner for bringing 'respectful' Native American representation to film and TV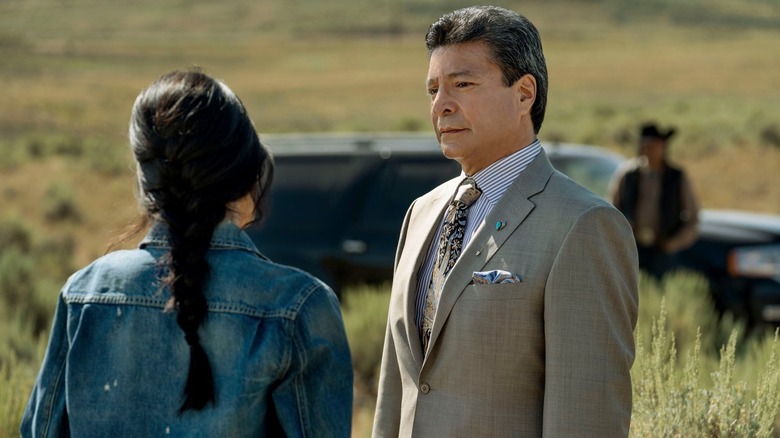 Paramount Network
We're heading into season four of "Yellowstone," and there are a lot of moving parts to the series. What can you tell us about your character's story arc going forward?
Well, Thomas Rainwater will be challenged with some gray areas, in terms of a moral decision that has to be made, and in trying to stay focused on finding alliances that can help him achieve his goal of acquiring the land back. We also get to dig into some cultural ceremony of healing, that I hope the public will enjoy and get informed by.
How will he be changing as a person, as a character, if at all?
I don't think anybody really stays the same. I mean, we always have new challenges to meet, and you've got to make the decisions about what direction you want to go. As a leader, what direction does he wants to go to preserve his people? But, yeah, everybody's changing with new challenges.
Obviously, Kevin Costner is a big draw for the series. What's it like working with him?
He's a lovely, lovely man. I don't really have enough scenes with him, in my estimation. But we have a mysterious type of distancing, although we ally ourselves. And then we encounter external sources coming in that we may join forces with, or we may help each other with. But it's all generally in respect to how we can keep this land undeveloped.
Has he taught you anything you were surprised to learn so far into your career?
Well, like I said, I don't have that many scenes with him. I'm a big fan of almost all his work. He actually initiated the milestone for present representation [of Native Americans], back with "Dances With Wolves." He's one of the first people that did a real depiction, in a respectful way, of Native Americans. So, he's got a history with that world as well.
Cole Hauser and Wes Bentley are also on the series. Any funny or memorable moments with them that stand out to you?
I don't really have many scenes with them either. I mean, I think Thomas Rainwater really kind of operates in a world that's just adjacent to all the drama that's happening. And he just steps in when he feels like it's going to be advantageous for him. Or maybe he can strategize to utilize whatever drama is being developed out.
It's a very serious set. [Laughs.] But the funny stuff usually happens off-camera. Because we're all just enamored with each other. It's such a wonderful cast. They're so talented. And there's not a bad apple in there. I can tell you one thing ... Mo [Brings Plenty] loves hot dogs.
He doesn't see himself ever reprising his Twilight role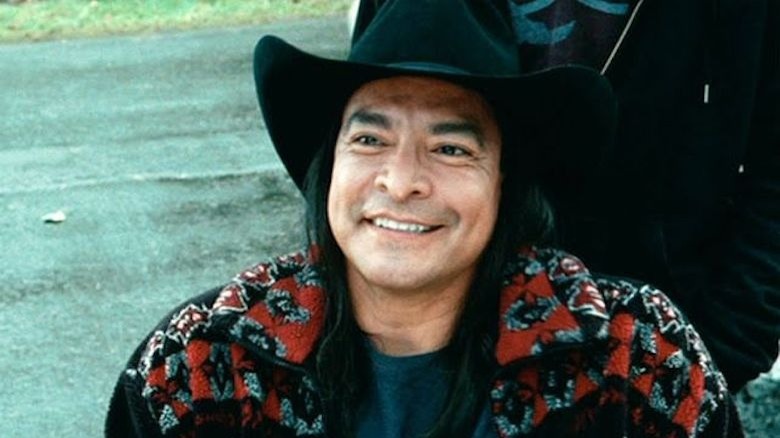 Switching gears, it's hard to believe it's almost been 10 years since the final "Twilight" film, which was a big franchise for you. Did you learn anything from those films that you carry with you throughout your career?
Yeah, don't bank on your career skyrocketing from a single project. I mean, it was really fun and I'm really glad to be part of pop culture now. There were a lot of moving parts in that, as well. But it was primarily centered on the vampires. So, I think the [Native American] representation was a little less than I might have hoped for, as there was even more so in the books. But I'm still happy to be a part of it.
Now, there are rumors of a "Twilight" reboot in the works. What do you think of that? And if the opportunity arose, would you be interested in revisiting that role?
Wow. Maybe coming back out of the wheelchair, huh? That would be interesting. I guess all popular things get rebooted, at some point in time. It's always interesting to see how much different they are, or if they can improve on the original. But I'd watch it. I don't know if that's my demographic, really. But I love the fact that it's been passed on for generations. I know women who pass it on to their daughters. And then their daughters grow up and have kids, and now they're passing it on within this short period of time. So, it's fascinating to see how people still get great pleasure from it. But, yeah, Rob [Pattinson] could be in it, he's a vampire. And I guess, so could Kristen [Stewart]. They're ageless as vampires. All the vampires could come back. The rest of us are aging.
You mentioned representation a few times, and I've seen you talk about it before. But it's an important issue in the entertainment industry these days. And while strides seem to be made, we still have a long way to go. How do you feel the perception and inclusion of Native Americans has changed in the film and TV industry in recent years? And how has it directly impacted you as an actor?
Well, my journey's been some 30-plus years now, so I came into it when there was very little material or storytelling about Native life. And if there was, it was very often stereotypical and inaccurate. It didn't represent people in a contemporary way. It was always historical, like artifacts that don't exist anymore. So, I think the importance of representation is for people to know that we're still here — there's 10 million of us still here — and to learn the history about what we've endured and what this country was really built on. And, not to get off on a tangent about it, but it's been very important that we get presented and represented as the human beings that we are, and all the fantastic things we have to offer. And specifically, the stewardship of the world, of Mother Earth. This is going global, in Brazil and South America, and even here, in our own country. But I think it's important that we be perceived as human beings and not as artifacts, or some marginal group that has no value.
Season 4 of "Yellowstone" premieres Sunday, November 7, 2021, with a special two-hour episode exclusively on the Paramount Network, with subsequent episodes airing weekly.