Who Plays Lee English On American Rust?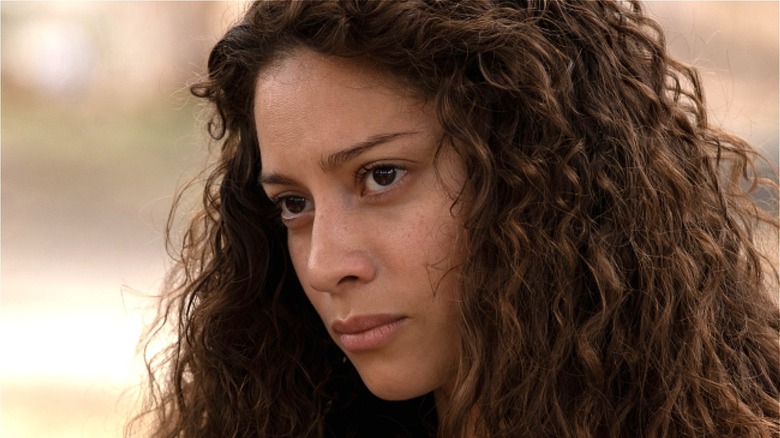 Dennis Mong/SHOWTIME
Upon making its Showtime debut in the Fall of 2021, "American Rust" promptly became one of the most talked about shows on the air. Much of the talk, of course, involved comparisons to the similarly themed HBO hit "Mare of Easttown," which had already enthralled viewers a few months prior. While both series indeed follow tales of troubled small-town detectives (Jeff Daniels and Kate Winslet respectively) working grisly murder cases in the drug-addled Rust Belt, they take decidedly different narrative tracks in exploring the decay of the American dream.
They both front extraordinary casts of supporting players as well, with "Easttown" flanking Winslet with Guy Pearce, Julianne Nicholson, Evan Peters, and Jean Smart, and "American Rust" positing Maura Tierney, Dallas Roberts, Bill Camp, and Mark Pellegrino alongside Daniels. "American Rust" also provided a breakout role for the actor who portrayed the sister of Isaac English (Danny Alvarez), the underachieving teen at the center of the story's murder mystery, as well as the actor who played his sister, Lee English. Here's who she is. 
Julia Mayorga is a star very much on the rise in Hollywood
Julia Mayorga is the actor who so fiercely portrayed Lee English in every episode of "American Rust." And if you've seen her at work in the series, you know her supporting turn is one of the legit highlights of the entire nine-episode run. But don't feel bad if you had no idea who Julia Mayorga was prior to her "American Rust" appearance, because not many people did.
In fact, Mayorga earned just her second screen credit for portraying Lee Morgan on the series. As for Mayorga's first screen credit, it came for her role in "It Is Decidedly So," a 2018 short from the minds of Michel and Olivier Gondry that's essentially a 31-second ad for Park MGM Casino in Las Vegas. While it's a suitably whimsical affair for a project fronting the name Gondry, the super short-short really didn't give Mayorga much of a chance to show off her talent. Thankfully, "American Rust" finally came along and put that talent front and center for a wide array of viewers.
Mayorga is clearly seizing on her "American Rust" moment as well, having already lined up her next gig, which will find her appearing in the indie drama "Rare Objects." That film will also find Mayorga working with Derek Luke and Katie Holmes, who's making her directorial debut with the film. And after that, well, the sky is truly the limit for the supremely talented Julia Mayorga.