This Look At Henry Cavill As Captain Britain Is Mesmerizing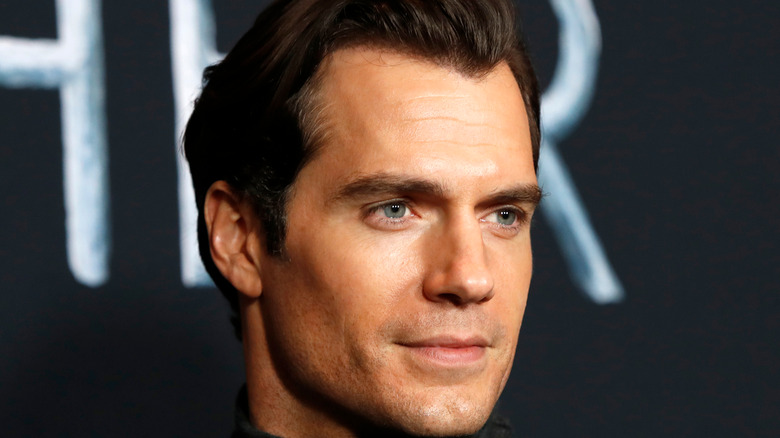 Kathy Hutchins/Shutterstock
Henry Cavill has made it known that he is interested in playing the Marvel character Captain Britain at some point in the future. And the combination of his future as Superman in the DC Extended Universe being uncertain and his status as a bonafide superstar in Hollywood makes him the perfect fit to don the costume and do battle for the old Union Jack. If Marvel were so inclined, the character could even form his own Avengers-style team, Excalibur.
The British actor spoke to The Hollywood Reporter about the rumor mill churning about him as Captain Britain: "I'm never going to say a Marvel character that is already being played by someone else because everyone's doing such an amazing job. However, I have the internet and I have seen the various rumors about Captain Britain and that would be loads of fun to do a cool, modernized version of that — like the way they modernized Captain America. There's something fun about that, and I do love being British."
Of course, as soon as the rumor began making the rounds, the more talented graphic and concept artists on the Internet started pumping out fan art images of Cavill dressed as the Captain America counterpart, some of which look almost worthy of the Marvel Cinematic Universe. One such design is so realistic that it looks like it could have been ripped directly from the pages of Kevin Feige's concept art book itself.
Digital artist Daniel Savage updated the costume for the MCU
With Steve Rogers' (Chris Evans) retirement and the Captain America mantle passed on to Sam Wilson (Anthony Mackie) during the Disney+ series "The Falcon and the Winter Soldier," there's room for a superstar such as Henry Cavill to step in and carry a franchise. A trilogy following Brian Braddock as Captain Britain would be a step in the right direction.
Daniel Savage, a self-taught digital artist, seems to agree, posting an image of Henry Cavill in an updated version of the uniform the star could wear to join the MCU on Instagram. One of the most notable differences between the comic uniform and the one proposed by Savage is the lack of a traditional Union Jack. Just as Captain America questioned in "The Avengers," the flag could be portrayed as "a little old-fashioned," and replacing it with something more tactical brings with it a more grounded look.
The caption on the Instagram post reads, "@henrycavill wants to play Captain Britain? Oh yeah! Wanted to try and modernize a couple [of] different Cap Brit designs for this piece. Would you like to see @henrycavill in the MCU?" With an actor like Cavill donning a costume like this, it would be no surprise if fans were to clamor for an appearance of the British superhero.