The Criminal Minds Episode You Likely Didn't Know Jason Alexander Directed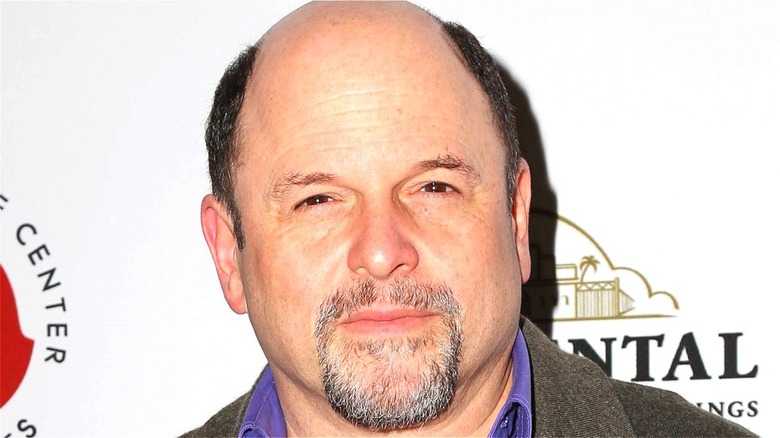 Kathy Hutchins/Shutterstock
Throughout its 15-season, 324-episode run, CBS' serial-killer procedural "Criminal Minds" sought to thrill its viewers, going as far as to genuinely scare them from time to time.  Most long-time fans of the show would likely agree it succeeded across the board in those endeavors, with the "Criminal Minds" creative team delivering a steady stream of twisted tales that made its small screen tenure as narratively gripping as it was relentlessly unnerving.
Some might even argue "Criminal Minds" achieved that success in part because it was frequently one of the more highly-stylized shows on network television. That's in no small part thanks to the work of the talented directors who brought fresh tales of gruesome unsub insanity to the primetime landscape week in and week out. You may not realize it, but the directorial corps on "Criminal Minds" actually boasts quite a few names from the series' cast, with Matthew Gray Gubler, Aisha Tyler, Joe Mantegna, A.J. Cook, and Thomas Gibson all helming episodes.
That list also fronts several other actors-turned-director, including Tim Matheson ("Animal House," "The West Wing") and, of course, Jason Alexander, who's best known for playing the perpetually nervy George Costanza on the iconic sitcom "Seinfeld." Here's which "Criminal Minds" episode Alexander was calling the shots on.  
Alexander directed a chilling Season 4 episode of Criminal Minds
The episode of "Criminal Minds" that Jason Alexander directed came in 2008, amid the series' fourth season on the air. And if you call yourself a fan of the show, you no doubt recall Alexander also acted in a Season 4 episode, appearing as Henry Grace (aka Professor Rothschild), a narcissistic, Fibonacci-obsessed unsub who tested the BAU team in ways they'd never been tested before.
Though he stole the show with a chilling, against-type performance, Alexander did not direct the lone episode of "Criminal Minds" he appeared in. Rather, Alexander's directorial effort came much later in the series mostly-fantastic fourth season. That episode was titled "Conflicted," and found the collective heads of the BAU gang spinning when they realized the tag team of killers they believed had been terrorizing Spring Break revelers on Texas' South Padre Island was actually a single unsub suffering from Dissociative Identity Disorder (or multiple personalities, if you will).
That unsub was portrayed by "Twilight" actor Jackson Rathbone, who delivered one of the strongest performances of his career under Alexander's guidance. And yes, Alexander himself delivered a stylish, moody hour of television as strong as any "Criminal Minds" ever sent to air as well. So much so one has to wonder why he never returned to "Criminal Minds" after so uniquely shaping its fourth season.