Frida Gustavsson And Caroline Henderson Celebrate Their Characters In Netflix's Vikings: Valhalla - Exclusive Interview
Bernard Walsh/Netflix
When we think of women from history, we often conjure images of ladies severely constrained by their circumstances. That's not the case for the Scandinavian women of Netflix's "Vikings: Valhalla," the spinoff of the popular series "Vikings." Although they live in a largely patriarchal society, these women are as capable as any man, whether they're hacking and slashing in battle or negotiating for the safety and security of their people. It's rare that a period drama includes such an inspiring collection of fierce women, but "Vikings: Valhalla" delivers them in spades. Chief among them is Freydis Eriksdotter, a well-known historical figure played by Frida Gustavsson, and Jarl Haakon, a fictional character whose creation was inspired by Viking women of the time played by Caroline Henderson.
Freydis and Jarl Haakon's paths cross when Freydis and her brother Leif Eriksson (Sam Corlett) arrive in the city of Kattegat just as the Vikings are assembling there to form an army to attack the English. As noble Haakon rules the city with assurance and grace, confident Freydis pursues her own vengeful ends, which ultimately results in her fate being placed in Haakon's hands. Yet instead of being at odds, the two women recognize each other as kindred spirits. Both devout worshippers of the old Norse gods, Haakon becomes a wise advisor to Freydis and the two form an inspiring relationship that helps Freydis flourish.
Gustavsson and Henderson imbue their characters with nuance and self-assurance, which leads Freydis and Jarl Haakon to stand out among the "Vikings: Valhalla" ensemble of larger-than-life figures. In an exclusive interview, the pair spoke about the joy of playing powerful women, clarified the origins of the character of Jarl Haakon, and discussed their on- and offscreen relationship.
Playing powerful women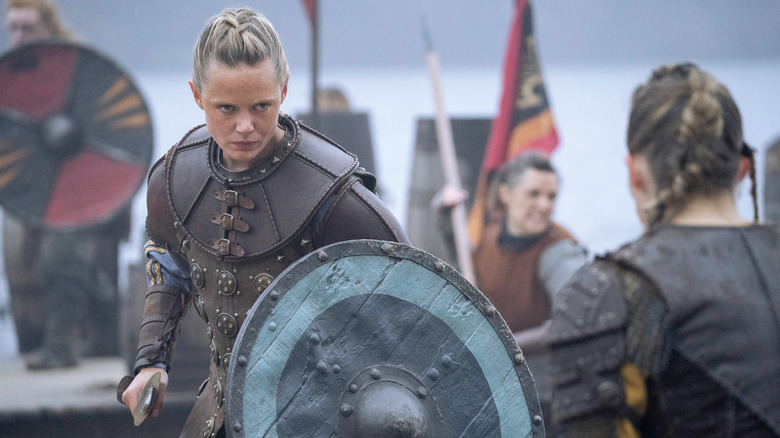 Bernard Walsh/Netflix
I really enjoyed the fact that you're playing these really strong people who are determined to pursue their goals. They're unapologetic about it. What were the unique challenges of bringing them to life?
Frida Gustavsson: For me, one of the aspects why I really love to be a part of this was the opportunity to play a character like Freydis who is very physical. She's very complex. She has a very complex inner emotional life, and she's a character that's constantly growing. She's learning from all of the challenges that are thrown at her. The greatest challenge for me, as an actor approaching it, was learning to fight like a badass Viking shield maiden. Thankfully, we have an incredible stunt crew to teach us that, but other than that, it was such a joy to be able to portray a woman of this power and strength.
Caroline Henderson: Likewise for me, it was amazing to be able to portray a woman like Jarl Haakon in this period of time, which, we know in history, women like that existed. Women who had a goal, women who could marry, who could divorce, they could go on a quest, they could raid, etc. It's so interesting, and this is not very often a part like this comes along where, like you say, you're unapologetic, you have a mission. To be able to do that with Frida, with Freydis, as Jarl Haakon has been an amazing ride.
A clarification about Jarl Hakkon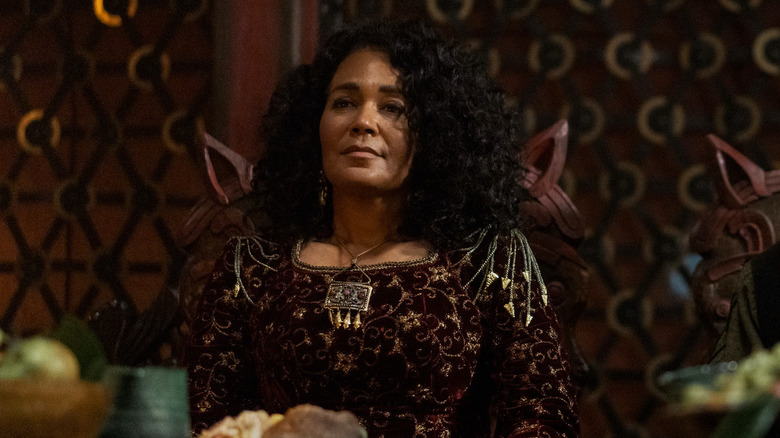 Bernard Walsh/Netflix
From what I understand, Jarl Haakon is based on a male historical figure, but making her female brings this whole other aspect to the character....
Henderson: I don't think so. Jarl Haakon, she's called Estrid Haakon. She is purely fictional, actually. That being said, I think that the character is inspired and based on different characters that we know of. There're not that many roles for females because in history and sagas, you tend to follow the male, not the maternal line, but the male, unless you were a queen. We have to put it together from DNA, from research, from science, and then we know some of these women existed. As a Swedish woman, I know because that's part of my heritage and something I've been told about Viking women and their fierceness. We don't know because there's nothing really written down. But that means that I think you can assume that a character like Jarl Haakon definitely has existed in some extent.
[Editor's Note: While there is a historical figure called Haakon Jarl, who was the ruler of Norway in the late 10th century, "Vikings: Valhalla" creator Jeb Stuart did not base the character Jarl Haakon on him.]
Developing an inspiring relationship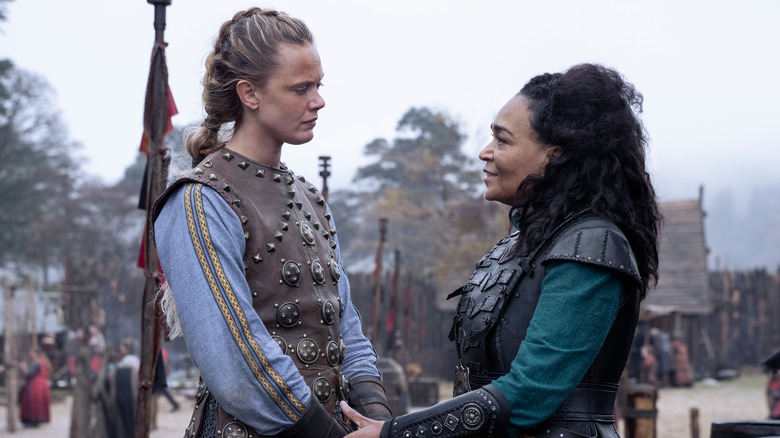 Bernard Walsh/Netflix
Jarl Hakkon becomes something of a mentor to Freydis. How did you go about developing your characters' mentor-mentee relationship together, which is so nice to see between two women?
Gustavsson: First of all, I think it's unfortunately incredibly rare that you get to see two strong female characters, well, in any show, but then also to have them work together and respect each other and not be antagonistic against each other. Meeting Caroline was really like love at first sight. I've had the fortune of becoming a really good friend with her, and she comes across everything in her life with such integrity and poise and intelligence. It couldn't go wrong. I feel like we instantly became very close. We share our language together. We come from the same place. We have a big frame of references that was something that only the two of us had, which was really beautiful, especially [because] we are filming in a pandemic when you're isolated from the world and you're isolated from your family. We really had that opportunity to become little family ourselves.
Henderson: And that's the most beautiful part. That reflects, also, when you see them together. Sometimes, you don't have to act those emotions, because I felt the pride of Freydis and Frida when she fights, when [her] mission [is] completed, I felt like, "Yeah!" both as Caroline and as Jarl Haakon. That was the beauty of it.
This interview was edited for clarity.
The eight-episode first season of "Vikings: Valhalla" is now streaming on Netflix.