Why Jarl Kare's Casting In Vikings: Valhalla Means More Than You Think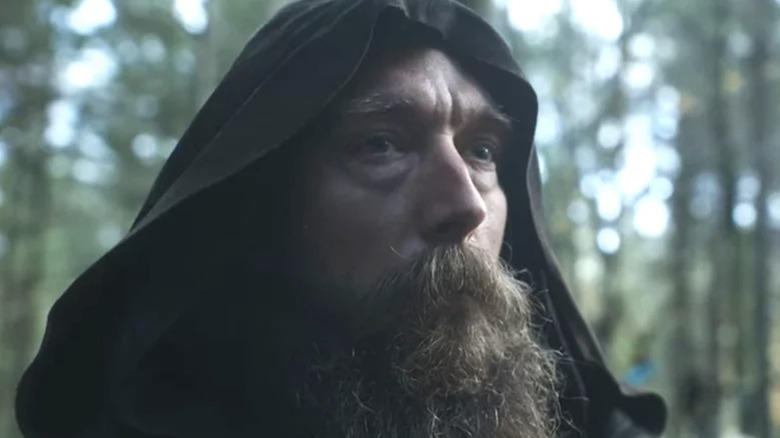 Netflix
In addition to giving "Vikings" fans a much-longed-for sequel (and "The Last Kingdom" fans something to watch as they await its Season 5 release), Netflix's "Vikings: Valhalla" introduced audiences to a litany of characters that blur the line between legend and history. The famous explorer Leif Eriksson, for instance, as well as his sister, Freydis — portrayed by Sam Corlett and Frida Gustavsson, respectively — are given narratives that draw from historical documents, archeological evidence, and the Vinland sagas, the last of which, like many an Icelandic saga, doesn't shy away from a little epic embellishment (via HistoryExtra). In addition to these partially true stories, Jeb Stuart's reconstruction of the cultural and religious clash (and eventual conversion) that took place both between the Saxons and the Viking descendants and within the various Nordic cultures themselves adds some wholly fictitious yet historically plausible figures to the mix.
Asbjørn Krogh Nissen's Jarl Kåre is just such a figure, and the threat he poses to those who seek to hold on to the old beliefs — namely Freydis, whom he becomes hell-bent on destroying — is another way for the series to illustrate the determination and bloody fervor of 11th-century Christian converts. Oddly enough, Kåre's violent and merciless understanding of his Christian mission comes with no small level of irony considering Nissen's most recent feature film role.
Asbjørn Krogh Nissen's casting is both ironic and fitting
Nordisk Film
Since his 2010 feature film debut in director Claus Bjerre's "Far til fire – på japansk," the actor behind the foreboding Jarl Kåre has made a name for himself in a number of Scandinavian television series and films. One of those films, 2019's "Valhalla," tasked Asbjørn Krogh Nissen with breathing life into one of the most well-known and repeatedly imagined figures in all of Norse mythology: the Allfather and Father of Men himself, Odin.
Far from the colorful, space-age understanding of the Old Norse gods made famous by Marvel, the Odin of director Fenar Ahmad's epic film is much more in keeping with the equal parts wise and mysterious, dark and omnipotent figure of Norse mythology. Nissen's Odin, in other words, is a great deal closer to the Odin who inspired J.R.R. Tolkien's Gandalf than the one who sends Tom Hiddleston's Loki spiraling into an identity crisis in the "Thor" franchise. In fact, at least aesthetically, his character in Ahmad's film might easily be confused for his character in "Vikings: Valhalla," right down to the beard and well-worn, heavily hooded cloak.
This, of course, is what makes Nissen's casting as a fervent believer in Christ in Jeb Stuart's series all the more ironic and in a way, inadvertently fitting. As the Netflix series (and its History channel predecessor before it) have demonstrated, there's actually quite a bit of common ground to be found in Christianity and Norse mythology — right down to the violence, bigotry, and destruction that zealots on either side of the equation inevitably leave in their wake.