Robert Pattinson Reveals The Batman Line That's Darker Than You Think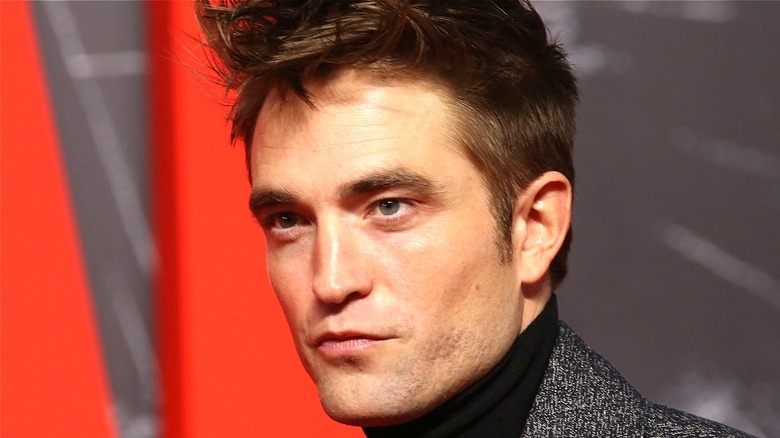 Lia Toby/Getty Images
The world's greatest detective is returning to theaters the first weekend of March with Matt Reeves's "The Batman," putting Robert Pattinson in the Batsuit as he faces off against Paul Dano as The Riddler. According to the film's promotional material, this may be the greatest challenge Batman has ever faced, and expectations are high, with the film projected to shatter box office records held by Christopher Nolan's "The Dark Knight Rises" in 2012. Alongside Pattinson, Zoe Kravitz stars as Selina Kyle, aka Catwoman, and "Westworld" actor Jeffrey Wright joins the production as Gotham police commissioner James Gordon.
As the film's opening weekend approaches, Pattinson and his co-stars have been hard at work conducting a series of interviews, and Pattinson, known for his carefree attitude when it comes to spilling info, has been revealing some rather juicy secrets from behind the scenes. One such tidbit came when a local news station asked the "Tenet" actor about a certain standout moment from the trailers in which this iteration of Batman is revealed to be quite a bit darker than fans may have thought.
Robert Pattinson wanted his 'I am vengeance' line to be the last thing bad guys heard
Speaking with FOX 5 News in Washington, D.C. on his press run for "The Batman" with Zoe Kravitz, Robert Pattinson was asked about the clip from the film's first trailer where Batman beats down a henchman and says, "I am vengeance." Pattinson explained that he actually went off script for that moment in order to emphasize the brutality this version of Batman is capable of. "I think that was the first time we started rehearsing, and the entire fight was choreographed before I even turned up, except for the last two punches," Pattinson recalled. "'I said, I really think there should be some gratuitous ones where he's clearly unconscious, just to really set this up as a different type of Batman.'"
Zoe Kravitz chimed in, calling the line "unhinged" as Pattinson explained that he wanted "I am vengeance" to be the last thing the man heard as he went down. "I wanted to say it as he was losing consciousness, so it slips into his dreams," the "Lighthouse" actor said, grinning. Kravitz responded, "Ooh, you're twisted," prompting Pattinson to elaborate, "I really wanted his future to be really, really damaged." The moment was a fascinating look into the process of an actor who's made no secret of the effort he put into his performance in this iconic role.
"That makes the scene even more insane," the interviewer responded. Of course, "The Batman" is drawing inspiration from some of the character's most brutal comic book sources, including "Batman: Year One" and "The Long Halloween." How brutal this version of the caped crusader can get will certainly be fun to see when "The Batman" arrives in theaters on March 4.