The Big Regret The Batman's Paul Dano Has About His Riddler Costume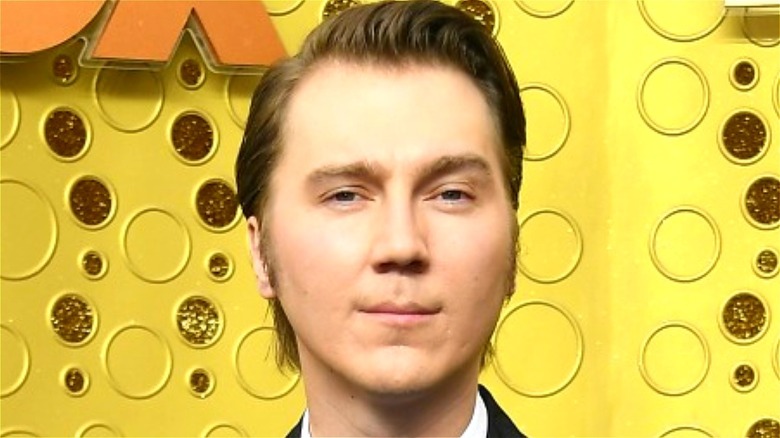 Frazer Harrison/Getty
Edward Nashton AKA The Riddler (Paul Dano) may play a major role in "The Batman," but the film's trailers and marketing materials have gone out of their way to keep the character shrouded in mystery. Like so many of the other characters in the film, Dano's Riddler promises to be a much darker interpretation of the comic book villain than fans may be used to seeing and was even inspired by real-life figures like the Zodiac Killer.
But despite being the film's primary villain, The Riddler has been intentionally absent from most of the footage that has so far been released from "The Batman." Fans have only been shown brief glimpses of the character, including one shot of him unfurling a roll of duct tape while kneeling over the body of one of his apparent targets. That said, fans do know that the character won't be wearing his usual comic book costume in the film. Instead, he'll be donning a nondescript coat, mask, and a pair of sunglasses in "The Batman," an ensemble that only further roots the character in a far more grounded reality than most comic book villains exist in.
However, while the Riddler's costume in "The Batman" is certainly visually effective, it turns out that there is one big regret Paul Dano has about the outfit.
Paul Dano regrets wrapping his head in plastic for The Batman
In "The Batman," Paul Dano's Edward Nashton doesn't just wear several layers of clothing and a mask while committing his crimes. Indeed, Dano told Entertainment Weekly in February that he thought the character would wrap his body in plastic in order to ensure that he didn't leave any DNA behind at his crime scenes. It was a creative decision that helped immerse Dano even further into the mindset of his character, but it's also one the actor says he regrets.
During an appearance on "Good Morning America," Dano revealed that he quickly regretted coming up with the idea of wrapping himself in plastic after shooting his first scene in his full Riddler costume. "I quickly learned that was a slightly regrettable choice day one when my head was throbbing and the sweat couldn't escape from my body," Dano said. The actor did, however, reveal that he and "The Batman" director Matt Reeves eventually figured out how to "work with it." Dano added that, despite how uncomfortable the plastic wrap was, he thinks wearing it has a "nice effect" in the film.
While it remains to be seen just how well Dano's take on The Riddler lands with comic book fans, there's no denying that his costume as the character is both effective and striking. The film's unique take on the character's iconic outfit visually sells him as a creepy and meticulous criminal, one who is scarily committed to achieving his goals.