The First Reactions To The Batman Are In And Critics Have A Lot To Say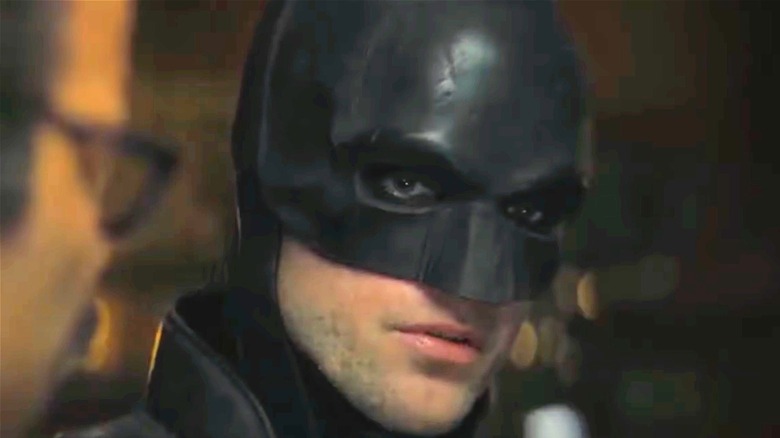 Warner Bros. Pictures
One of the most highly anticipated films of the year, "The Batman," is inching closer and closer to its theatrical release date of March 4. Directed by Matt Reeves (who co-wrote the screenplay with Peter Craig), "The Batman" introduces Bruce Wayne (Robert Pattinson) in his second year of fighting crime as Batman. Batman finds himself pursuing the Riddler (Paul Dano), a serial killer who has been targeting Gotham City residents. The film also features Zoë Kravitz as Catwoman, Jeffrey Wright as James Gordon, Andy Serkis as Alfred Pennyworth, and Colin Farrell as the Penguin.
"The Batman" is far from the first film to depict the double life of Bruce Wayne — the list of actors who have played Batman include big names such as Michael Keaton, George Clooney, Christian Bale, and most recently, Ben Affleck. Each of these live-action takes on the character has resulted in varying degrees of success: 1997's "Batman & Robin," starring Clooney in the role, has a mere 12% on Rotten Tomatoes, while each film of Christopher Nolan's "Dark Knight" trilogy, starring Bale, was critically acclaimed, with 2008's "The Dark Knight" scoring a high 94%.
With all this in mind, it makes sense that a new "Batman" series could go either way, although naturally, fans are hoping for a compelling and unique new take on the character. Lucky for those eager to see if Reeves was able to pull this off, the very first reviews for "The Batman" are officially in — here's what critics have had to say so far.
Critics are loving The Batman
With the release of "The Batman" a mere week away, fans can finally hear the earliest reactions from critics to gauge what they can expect in theaters next week. MTV UK, in a paid partnership with Warner Bros., posted a since-deleted video to Instagram with blurbs from various reviews, giving us a first look into what critics have begun saying about "The Batman." And if these snippets of early reviews are anything to go off of, then fans can expect to love "The Batman."
To begin with, Hanna Flint from MTV Movies declared that "Matt Reeves delivers a nail-biting, gritty and fun Batman coming[-]of[-]age story." Other adjectives that have been thrown out there to describe the film include "absolutely euphoric" by Unilad, "sensational" by Total Film, and "gripping" by Empire. And of course, fans are likely extremely curious as to how well Robert Pattinson embodies the iconic role. Well, according to Insider, "Pattinson will be your new favourite Batman."
Finally, summing up much of the praise, Shortlist described "The Batman" as "one helluva movie." Next week, on March 4, fans can decide for themselves if they agree.