The Surprising Romantic Drama George Clooney Regrets Passing On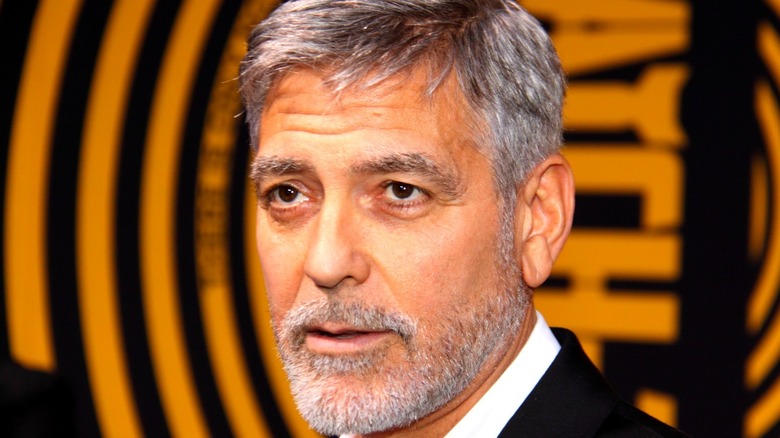 Serge Rocco/Shutterstock
In his dynamic career, George Clooney has played numerous versatile roles on-screen. From his breakthrough role on TV in the medical drama "ER" in 1994 to Alfonso Cuarón's outer-space drama "Gravity" in 2013, Clooney has been a part of projects both big and small. While his stint as mastermind thief Danny Ocean in "Ocean's Eleven," "Ocean's Twelve," and "Ocean's Thirteen" is arguably one of his most famous roles, he won an Academy Award for his supporting role in the 2005 movie "Syriana," a political thriller based on the book "See No Evil: The True Story of a Ground Soldier in the CIA's War on Terrorism" by Robert Baer, a former CIA agent (via IMDb).
Clooney has racked up several directing and producing credits during his long-spanning — and still thriving — career as well. As a producer, Clooney bagged his second Academy Award when "Argo," directed by and starring Ben Affleck, won best motion picture of the year in 2013. On the other hand, among all the roles Clooney has left his indelible mark on, a romantic movie lead isn't one of them. One role could have changed that, but Clooney backed out of the project.
Clooney could've played Noah in The Notebook
There are romantic movies, and then there is "The Notebook," which tells the story of how young couple Noah (Ryan Gosling) and Allie (Rachel McAdams) met and fell in love in Seabrook Island, South Carolina. At the end of the movie, the narrator is revealed to be an older version of Noah (James Garner), who is reading to an older version of Allie (Gena Rowlands).
While Gosling earned tons of praise, becoming a benchmark for a romantic lead, a different pair of actors could have played the younger and older versions of Noah: George Clooney and Paul Newman. "Basically, I was going to play him as a young man, and it was funny. We met and said, 'This is it. It's going to be great,'" Clooney said (via Us Weekly).
However, after Clooney watched some of Newman's older movies, he realized that he couldn't play a younger version of a character played by the iconic actor, so he decided to pass on the role. "He's one of the handsomest guys you've ever seen. We met up [again] and I said, 'I can't play you. I don't look anything like you. This is insane,'" Clooney said. "We just wanted to do it because we wanted to work together, [but] it ended up being not the right thing for us to do."