16 Best George Clooney Movies Ranked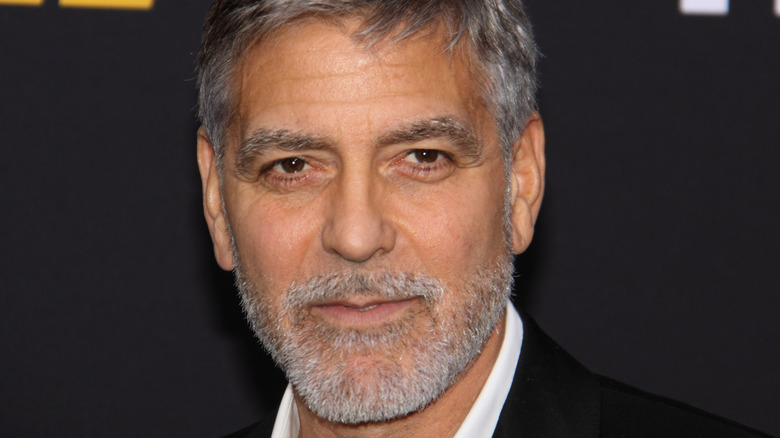 Shutterstock
George Clooney, debonair megastar that he is, has a secure spot in the upper echelons of Hollywood royalty. Budding actors lay in bed at night, dreaming of a career trajectory with even the slightest resemblance to his. Decades of success and millions of dollars in box office revenue from his films have allowed the actor to pretty much do whatever he wants at this point. Fortunately for audiences, Clooney chooses his projects well.
Clooney works behind the camera as a director as well as an actor — in fact, the back half of the 2010s saw him take a bit of a break from being on screen. That absence has us hungry for more. Luckily, Clooney's filmography is packed with top-notch cinema. Whether you're looking for grindhouse  mayhem or a quirky Coen brothers' flick, Clooney has what you're looking for. We've compiled a list of our favorite Clooney films and ranked them accordingly, from "pretty darn fantastic" to "absolutely flawless." See where your favorite Clooney features sit, or find some new ones to watch as we rank the 16 best George Clooney movies.
16. From Dusk till Dawn (1996)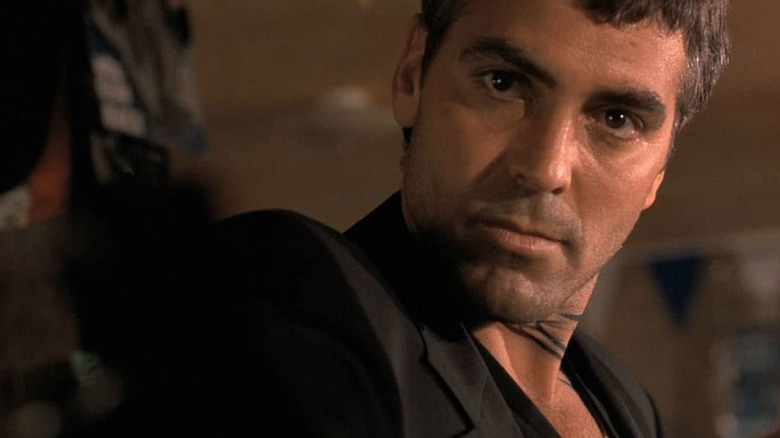 Miramax
Robert Rodriguez directed this unique take on the vampire genre fresh off the success of his sleeper hit, "Desperado." His gritty grindhouse style works perfectly for "From Dusk till Dawn," combining marvelously with the Tarantino-written screenplay. George Clooney's performance as Seth Gecko is the cherry on top, and later helped him convince the director of "Three Kings" that he wasn't just a smooth-talking heartthrob. 
The movie is broken into two acts. The first part is an incredibly intense introduction to bank robbers Seth and Richie Gecko. Richie (Tarantino) is obviously a psychopath, who habitually and savagely kills anyone they come across during their escape to Mexico. The film takes a wild turn when the brothers reach a strip club in the desert where they're supposed to meet a contact. The club's entire crew turn out to be vampires, and a whole lot of bloody chaos ensues.
"From Dusk till Dawn" is unlike any other vampire movie you'll experience, mostly because it sneaks up on you. The raw introduction to the Gecko brothers starts things off in such a dark way that by the time the vampires show up, they almost lighten the mood. Making this film was the perfect step for Clooney to take on his quest to go from TV celebrity to movie megastar.
15. Burn After Reading (2008)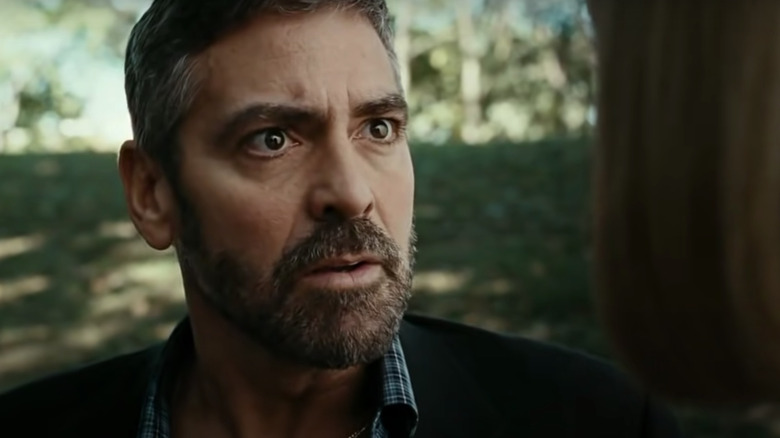 Focus Features
The Coen brothers have a knack for making you feel like their stories are stumbling forward with charming haphazardness. "Burn After Reading" is no exception: Most of its scenes are fun accidents that lead different characters down a path to another accident. Clooney stars as a married U.S. Marshal named Harry Pfarrer with a penchant for online dating. The man also nurses a hearty sense of paranoia, constantly fearing he is under surveillance (no doubt stemming from his serial infidelity). The entire ordeal is packaged like a satirical spy drama, but the stakes are non-existent. Everyone involved makes a big deal out of nothing. 
By the end of "Burn After Reading," you'll wish every actor involved did comedy more often. Not only do you get George Clooney in his most fun comedic form, you also get to enjoy top-notch work from Brad Pitt, John Malkovich, and Frances McDormand. If you're ready to give this movie a whirl, however, a warning: Prepare yourself for the most startling megastar cinematic death you've experienced since Leo got domed in "The Departed."
14. Intolerable Cruelty (2003)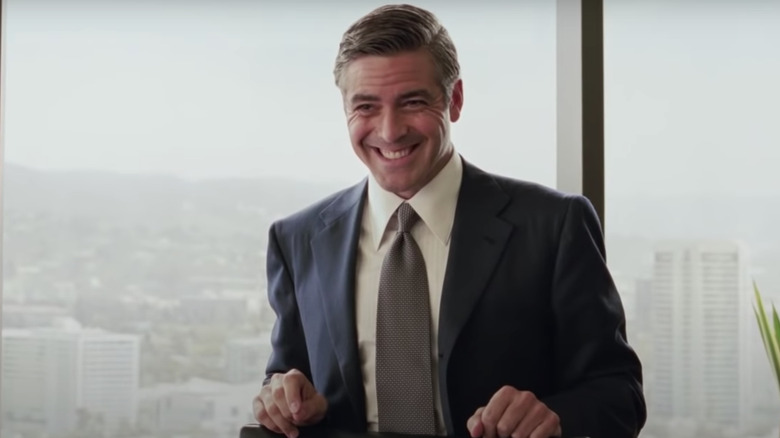 Universal
What could possibly make a more appealing combination than George Clooney and Catherine Zeta-Jones in a Coen brothers flick? Nothing, that's what. Granted, "Intolerable Cruelty" represents a different direction for the prolific directing duo, but it still has the same quirky undertones their fans love. Clooney stars as a divorce attorney named Miles Massey working for the husband of Marilyn Rexroth (Zeta-Jones). He is determined to expose her as a woman out for money, while also being fascinated by her.
"Intolerable Cruelty" is one of the most unconventional love stories out there. If we had to place it in a genre, we suppose it would have to be considered a romantic comedy. But mostly, it feels like an outright comedy film. The two stars add most of the romance — Clooney and Jones' chemistry is undeniable. It's loads of fun to watch the film explore gold-digging as a "profession:" The dim-witted targets are unfortunate, but obviously have more than enough cash to spare. "Intolerable Cruelty" is a wonderful addition to any George Clooney marathon.
13. O Brother, Where Art Thou? (2000)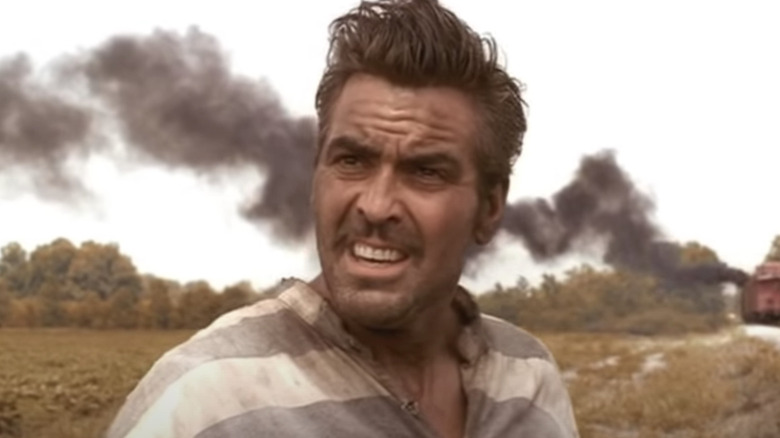 Buena Vista Pictures
This Coen brothers romp through Depression-era Mississippi is a beautiful spin on Homer's "The Odyssey". Clooney stars as Ulysses McGill, a convict who escapes a chain gang while tied to two other prisoners (John Turturro and Tim Blake Nelson). The three make their way through the landscape towards what McGill claims is a large sum of money he has buried in a location that is soon to be flooded.
The entire story of "O Brother, Where Art Thou?" feels like one happening by happy accident. Clooney's comedic acting is a huge part of what makes the movie's wacky ride so enjoyable: This is, without a doubt, one of his most unique and hilarious roles. From his incessant need to keep his hair slicked back with his favorite pomade (he's a Dapper Dan man!) to his goofy and ineffective fighting style, every moment he's on screen is a winning one. "O Brother" shows off a side of his acting abilities rarely seen in his other movies. It also has a spectacular soundtrack: We're still singing "Man of Constant Sorrow" all these years later.
12. Confessions of a Dangerous Mind (2002)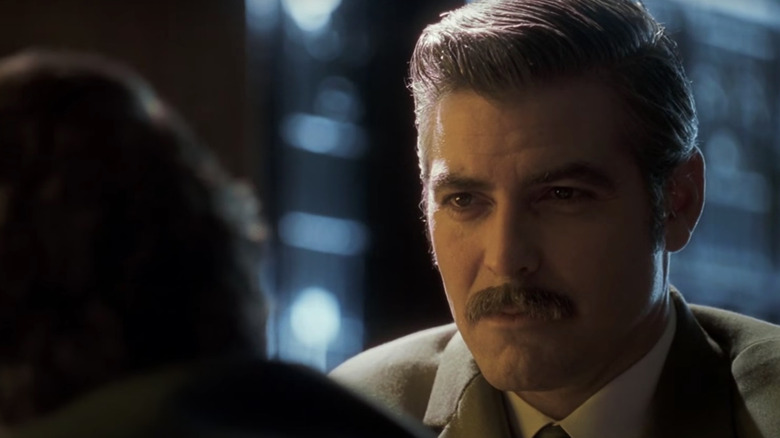 Miramax
"Confessions of a Dangerous Mind" was George Clooney's first outing as director. He also plays the CIA agent Jim Byrd, who is responsible for recruiting Chuck Barris (Sam Rockwell) as an assassin for the agency. Barris, a TV producer responsible for mega-hits such as "The Dating Game," uses his career as cover for his missions for the CIA. Any validity behind the movie's tall tale remains unconfirmed (though the CIA denies the real-life Barris ever worked for them), but Clooney decides to double down on the myth in this film.
What results is delightful. "Confessions of a Dangerous Mind" does many things right: Chiefly, it finally placed Sam Rockwell in a pivotal role (where he very much belongs), and it let us know that George Clooney has more to offer than his acting prowess. That the film is also a darn good story puts it over the top.
11. Syriana (2005)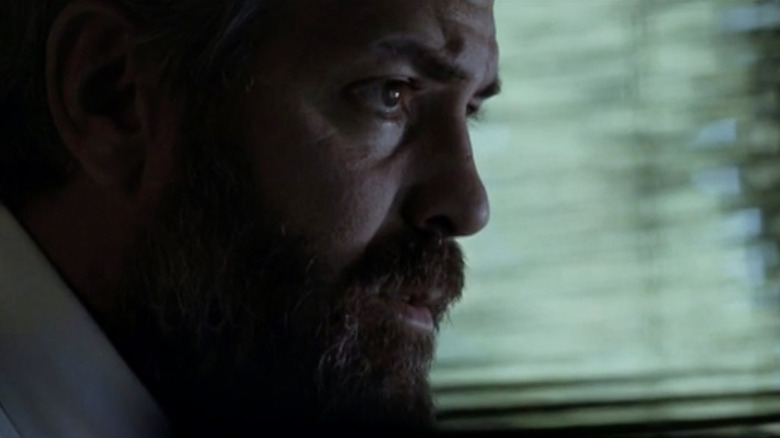 Warner Bros.
The plot of "Syriana" is complex, weaving several different stories together from several locations around the world. None of the characters understand the whole picture, which is rooted firmly in the Middle Eastern oil industry and all the political intricacies that go along with it.
Clooney won an Oscar for his portrayal of CIA agent Bob Barnes, who is tasked with carrying out an important assassination. When the entire ordeal goes south, the CIA washes their hands of Barnes by claiming he's a rogue agent. They revoke his passports and lock him out of any agency computer access. What follows is a tense plunge into geopolitical chaos. "Syriana" is a spectacular thriller that links its multiple storylines together in very subtle ways, pushing the viewer to re-examine each character as they learn new information. Honestly, though, it's hard not to just keep waiting for the camera to jump back to Barnes, so that we might enjoy more Clooney in top form.
10. The Ides of March (2011)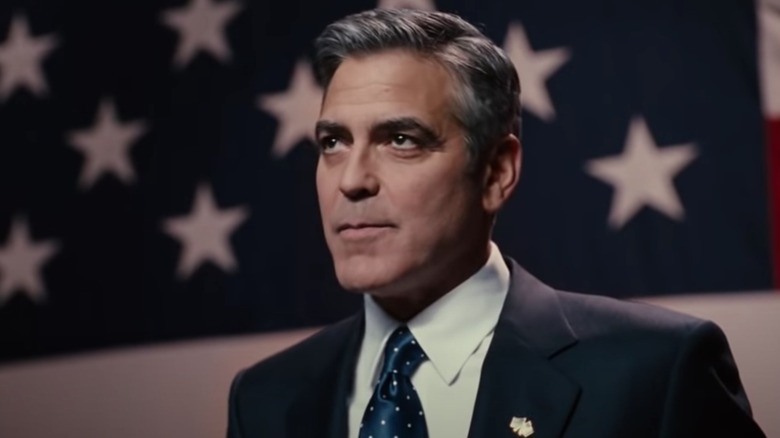 Sony Pictures
"The Ides of March" may feel like a Ryan Gosling vehicle, but Clooney is behind the camera in the director's chair, guiding him the entire way. Not only that, Clooney also co-stars as Governor Mike Morris. This deep dive into dirty politics is expertly told and makes you alarmingly aware of just how fragile someone's reputation can be. One mistake means you're out of the game in this world, a truth Clooney explores with pinpoint precision.
Governor Morris is on the campaign trail to the White House when Stephen Meyers (Gosling), a high-ranking member of his staff, stumbles into more information than he can handle. The tension that crackles between the two men (especially during their final meeting) is enough to make your spine tingle. Watching Stephen Meyers bite the hand that feeds him is a thrilling experience — plus, "The Ides of March" features a great performance from the late, great Philip Seymour Hoffman.
9. Ocean's Eleven (2001)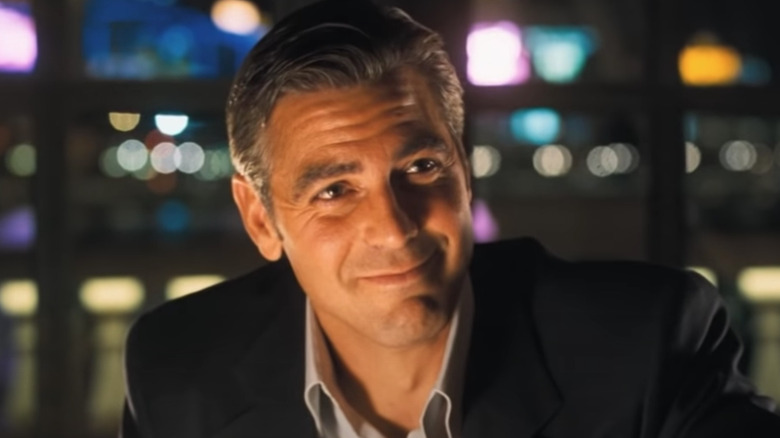 Warner Bros.
"Ocean's Eleven" is near the top of everyone's favorite heist film list. The movie has one of the most ludicrously stacked casts of all time, including Brad Pitt, Julia Roberts, Matt Damon, Andy Garcia, Bernie Mac, and, of course, George Clooney. All this acting talent, combined with Steven Soderbergh's expert filmmaking, makes this heist experience one that few have ever matched up to. Honestly, if you haven't seen "Ocean's Eleven" by this point, you should immediately place it at the top of your must-see list.
George Clooney stars as Danny Ocean, who, upon being released from prison, assembles a crew of expert thieving associates to relieve a casino titan of a massive amount of cash. The crew goes so far as to disrupt the power grid for the entire Las Vegas strip in order to bring their plan to fruition. There are so many moving parts, it's amazing viewers are able to follow the ordeal so easily, let alone enjoy themselves so much along the way. But that's the smooth beauty of "Ocean's Eleven:" Before you even realize it, the movie has stolen your heart.
8. Hail, Caesar! (2016)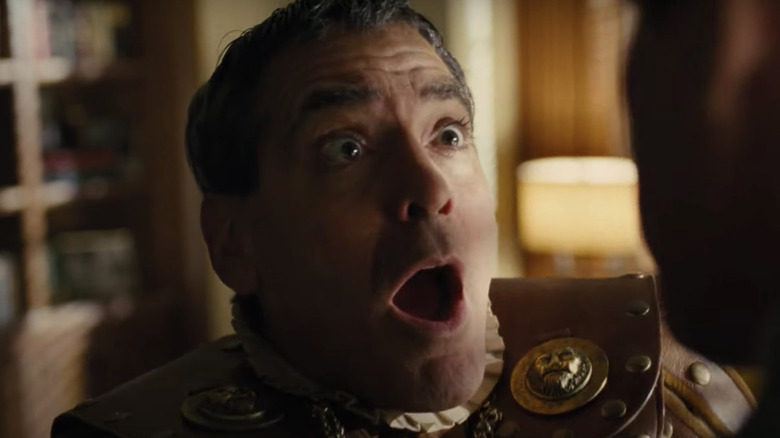 Universal
Over the years, the Coen brothers have established a long and productive relationship with George Clooney. One of their most entertaining ventures together is the star-riddled "Hail, Caesar!," a movie as enjoyable as it is utterly goofy. It takes place during the postwar era of the Golden Age of Hollywood, when actors were locked into studio contracts and shuffled around from set to set in order to capitalize on their appeal as much as possible. George Clooney plays Baird Whitlock, star of a major Hollywood sword-and-sandals production. He is drugged, kidnapped, and eventually held for ransom by a group of communist screenwriters who manage to win him over.
Clooney's comedic chops are put on full display as the dim-witted Whitlock, who is easily susceptible to manipulation. Not only do we get to watch him clamber around in a Roman soldier costume and muck everything up for Josh Brolin's Eddie Mannix, we also get megawatt performances from Scarlett Johansson, Ralph Fiennes, Jonah Hill, and Tilda Swinton. "Hail, Caesar!" is a fun, quirky experience well worth a watch, if only to giggle at Clooney's childlike naivete.
7. The Descendants (2011)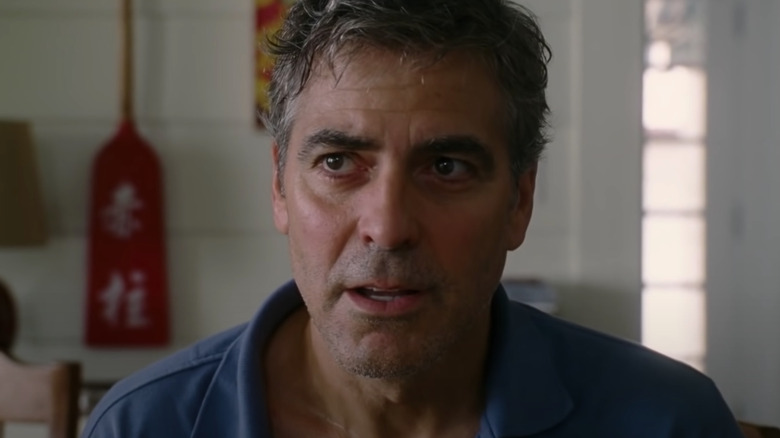 Fox Searchlight
We aren't going to lie to you about this one: You are going to cry. There is so much tragedy and heartbreak wrapped up in "The Descendants," we can't imagine anyone other than George Clooney being able to carry us through it. He plays Matt King, an attorney who is the sole trustee of a whopping 25,000 acres of land in Kauai. The rest of his family applies loads of pressure to sell the land off for millions, but he is reluctant, given the family legacy involved. Things become even more intense while he deals with his wife's recent accident, which placed her in a coma that doctors declare she will not wake from. Her will stipulates life support be discontinued.
But wait, there's more. King also discovers his wife was having an affair, and was going to seek a divorce. He must confront all of this while family pressure mounts and his two daughters process their mother's demise. Oh, our aching hearts. You'll want to reach through the screen and give Clooney a hug while watching this one.
6. Up in the Air (2009)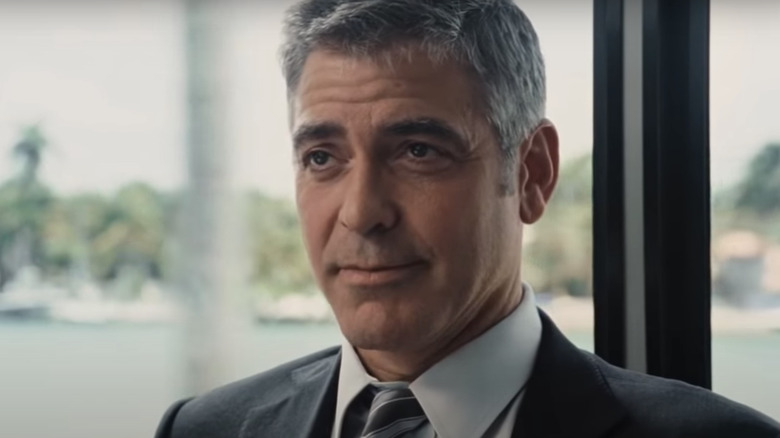 Paramount Pictures
Ryan Bingham (Clooney) is a traveler with aspirations of reaching 10 million frequent flyer miles. He darts around the country working as a termination specialist, assisting companies as they attempt to fire employees in a graceful manner. While traveling, he begins a relationship with a fellow road (or is it sky?) warrior named Alex, played by Vera Farmiga. The two meet up in various places across the country when their schedules coincide.
A young up-and-comer in Ryan's company named Natalie (Anna Kendrick) enters the mix, and advocates for terminations to occur via video conferencing. This is a decision Bingham obviously disagrees with, due to its lack of emotional understanding — and the fact that it would ground him. Clooney does a fantastic job of playing a man who can make people feel close without ever revealing the truth of who he is. "Up in the Air" explores what could possibly make a man live out of a suitcase with devastating vulnerability, and is an essential Clooney experience.
5. Michael Clayton (2007)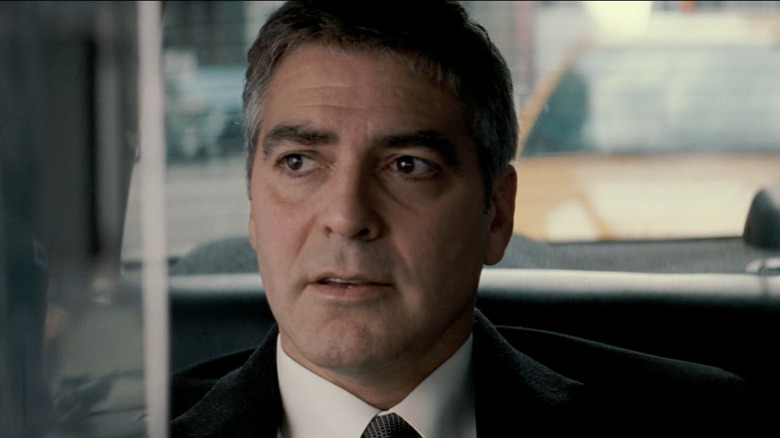 Warner Bros.
"Michael Clayton" is one of the most heralded films on the long list of George Clooney successes: The movie gathered a whopping seven Oscar nominations, including Best Picture and Best Actor. Clooney plays Michael Clayton, a fixer for a law firm who is called in when one of the firm's top lawyers, Arthur Edens (Tom Wilkinson), suffers a mental break during a crucial deposition for a major lawsuit. Said lawsuit could make or break the entire firm, as well as deal a devastating blow to an agricultural conglomerate.
Hit men are hired. Cars are strapped with explosives. And in the end, good ol' George Clooney proves to be the smartest player in the game. Hollywood has produced a whole lot of courtroom thrillers — perhaps too many, really. But "Michael Clayton" locates the bulk of its story in shady poker rooms and derelict apartments. What results is a wild ride. Also, there are very few actors who can sit silently in a cab for several minutes as the credits roll and still have you glued to their every expression. George Clooney is one of them in "Michael Clayton."
4. Out of Sight (1998)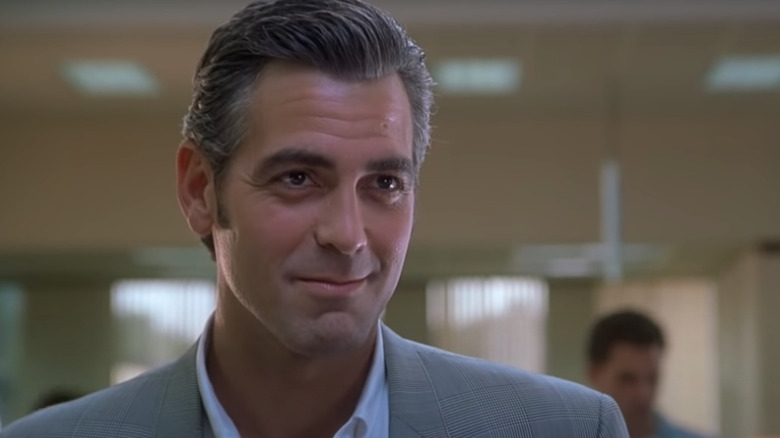 Universal
If you're looking for lighter fare, "Out of Sight" is a wonderful Clooney experience. It came out just after a certain train wreck involving nipples on a Batman suit, and helped Clooney move past the superhero faux pas unscathed. Alongside the peak George Clooney charm this movie features, it also boasts an enormously talented cast including Don Cheadle, Ving Rhames, and Jennifer Lopez. "Out of Sight" was also directed by Steven Soderbergh, who would team up with Clooney a few years later for "Ocean's Eleven."
George Clooney plays Jack Foley, a career criminal who catches wind of a stash of diamonds while serving time in prison. While making his escape, circumstances cause Foley to be locked in a trunk with a U.S. Marshal named Karen Sisco, played by Jennifer Lopez. As word trickles down the grapevine about the planned robbery, all sorts of shady characters clash while everyone scrambles to get their hands on the diamonds. All this occurs while Foley and Sisco flirt their way through the danger that surrounds them. "Out of Sight" is a flat-out fun movie that shows exactly why Clooney became the movie star he is today.
3. Good Night, and Good Luck (2005)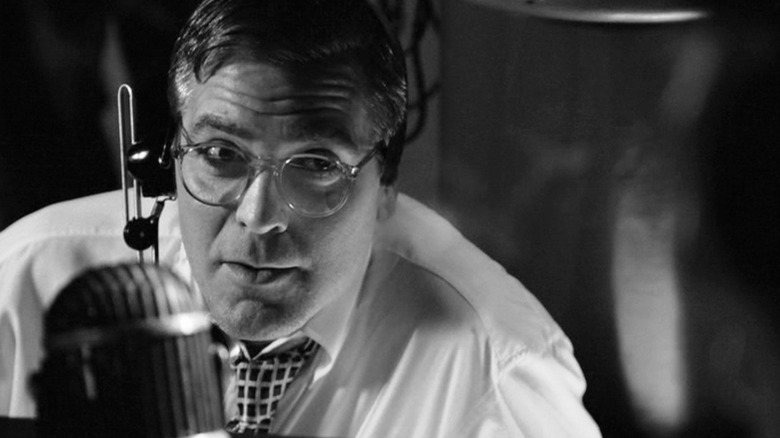 Warner Independent Pictures
"Good Night, and Good Luck" is one of George Clooney's finest achievements. He doesn't just bring his charisma to the screen in this one, he also shows off his directing talents. The film garnered a total of six Oscar nominations, including one for Best Director. 
"Good Night" is a deep dive into the dawn of TV news journalism during the period of Senator Joseph McCarthy's aggressive crusade against supposed communists. Clooney plays TV producer Fred Friendly, who works alongside Edward R. Murrow (David Strathairn) as they face off against McCarthy and his wild accusations. You don't need to know any political history in order to be sucked into the turmoil of the 1950s newsroom: Office romance, heartbreak, shame, and suicide are a universal story. It makes for some heavy viewing, but it is also essential. History tends to repeat itself, human connection is complex, and above all, Clooney certainly knows how to piece a movie together.
2. Fantastic Mr. Fox (2009)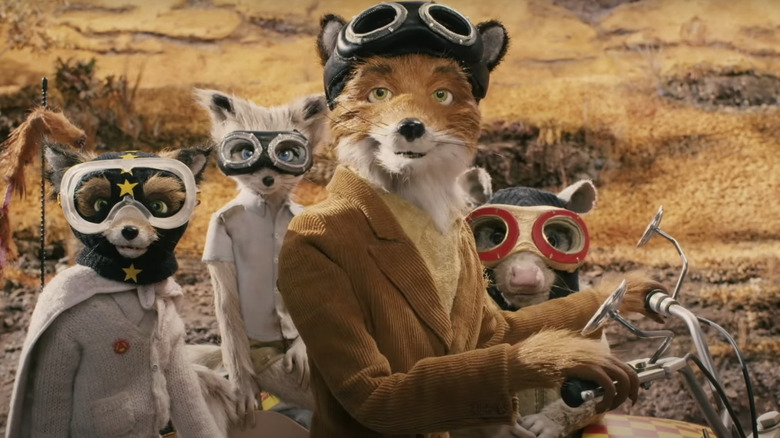 20th Century Fox
We all know Clooney is fun to watch, but does he still have the same appeal when he shapeshifts? An adaptation of Roald Dahl's beloved children's novel, "Fantastic Mr. Fox" transforms Clooney into a shifty fox, leaving nothing but his sultry voice behind. This stop-motion film is unlike any other animated movie released before or since: It possesses a picture book feel, while giving its animal characters alarmingly human qualities. Clooney's voice carries the majority of the film, alongside a stacked cast that includes Meryl Streep and Bill Murray.
Mr. Fox is a reformed chicken thief working as a newspaper columnist. When he gets antsy and longs to return to his thieving ways, he spends several days stealing from the farm his family lives near. This sets off a chain reaction that forces everyone around him to flee for their lives in search of a new home. You may dive in expecting a children's flick, but this is no neat happily-ever-after tale. Prepare for ominous undertones from "Fantastic Mr. Fox," as well as one of Clooney's most memorable performances.
1. Three Kings (1999)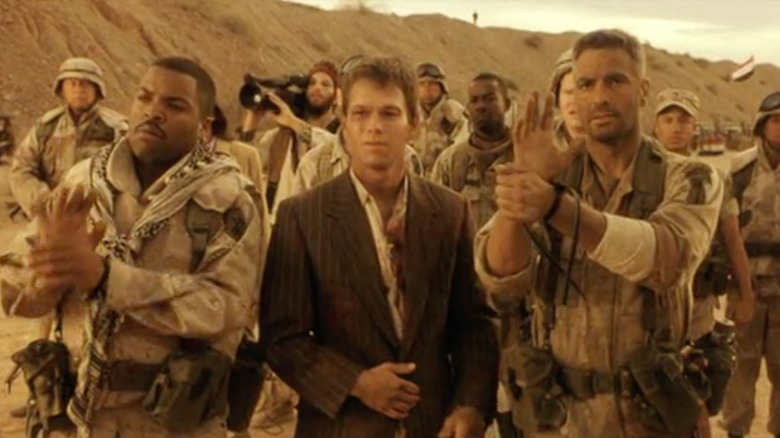 Warner Bros.
Clooney closed out the millennium by stepping away from his TV fame and concentrating on his movie career. Starring front and center in "Three Kings," alongside Mark Wahlberg, Ice Cube, and Spike Jonze was a great decision. The film follows a group of soldiers idling in Iraq after the Persian Gulf War wraps up. Things change when they discover a map apparently revealing the location of stolen Kuwaiti gold bullion. They promptly set out to steal it for themselves.
The ordeal is meant to be a quick morning mission to snag riches and take them home to their families. But things get dicey when they're exposed to the realities of the United States' withdrawal from the region. Cynical veteran Archie Gates (Clooney) is unable to ignore his conscience and engages with a local militia in order to liberate helpless refugees — all while trying to cart around millions in gold. "Three Kings" is one of the first major hits for acclaimed director David O. Russell, and showed audiences that Clooney is more than just a handsome love interest. If you're looking for top-tier Clooney performances, there's no better place to start than with this still-relevant cinematic achievement.