The Last TV Show Bill Paxton Was In Before He Died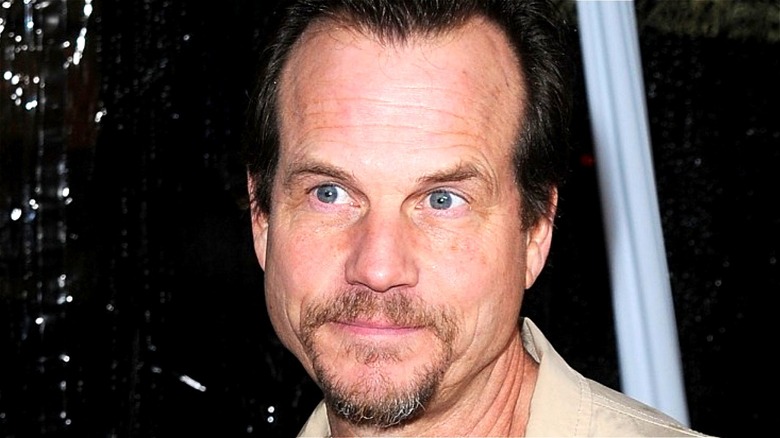 Jason Merritt/Getty
Bill Paxton's passing in February of 2017 shook the entertainment industry. The 61-year-old actor has remained one of the most well-known faces in movies and television. He's perhaps best known for his role as Bill Harding in "Twister," the 1996 film about a divorced couple of storm chasers. Paxton also starred alongside Tom Hanks and Kevin Bacon in the 1995 film "Apollo 13," which won two Oscars and earned a Best Picture nomination.
Having exactly 100 official acting credits to his name (via IMDb), Paxton began working in the industry all the way back in the late '70s. His first few parts were guest spots in everything from TV movies to music videos. He appeared as a soldier in 1981's "Stripes" starring Bill Murray, a Pat Benatar music video for "Shadows of the Night," and was even the blue-mohawked punk leader in the opening scene of 1984's "The Terminator." However, it would be two years until Paxton had what was arguably his breakout part — Private Hudson in the 1986 sci-fi film "Aliens" starring Sigourney Weaver. It was a supporting role but it put him on the radar, as he would start to get more supporting roles and eventually starring roles moving into the late '80s and '90s.
He also played an essential character in James Cameron's 1997 epic "Titanic" as Brock Lovett, the head of the crew that an aged Rose (Gloria Stuart) told her story to. The 2000s led to more television and film opportunities, including the last show Paxton starred in before he passed.
Training Day was the last television show featuring Bill Paxton before his death
After his Emmy nomination for "Hatfields & McCoys" in 2012 for Best Actor in a Miniseries or a Movie, and multiple Golden Globe nominations for his starring role in HBO's "Big Love," Paxton would then land a starring role as Detective Frank Rourke in the CBS television series "Training Day," the sequel to the 2001 film featuring Denzel Washington and Ethan Hawke. 
The 2017 "Training Day" series followed the same basic plot as the movie — a rookie cop joins the Los Angeles Police Department with a somewhat crooked veteran officer. Paxton plays the role that Washington did, the veteran cop that isn't what he appears to be. This would serve as the last television series that Paxton ever was part of, as he would pass two days after the fourth episode of the series was released.
Given Paxton's starring role, it's likely that his death was the primary reason "Training Day" did not continue past the first season. There's no way of knowing if it would have continued otherwise, as it was one of the lowest-rated CBS shows in 2017 (via TVLine). Either way, Paxton ended his career completing an entire season of a show, along with having a respectable resume and lasting relationships with many in the entertainment industry.