The Chicago P.D. Star Who Has Appeared On The Most Chicago Fire Episodes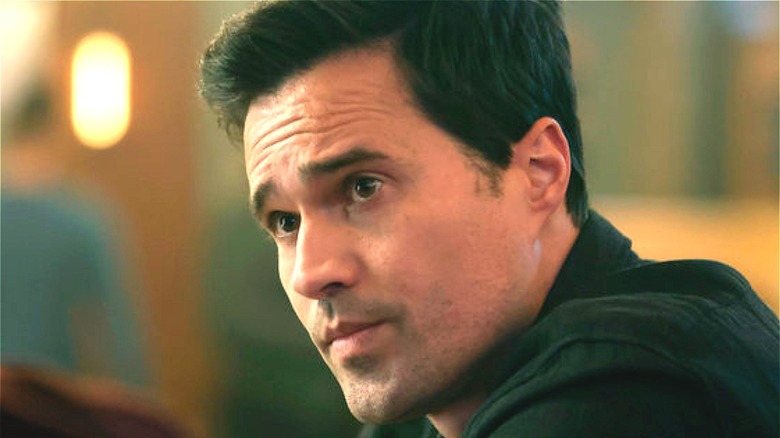 Adrian Burrows Sr/NBC
Rolling into action in 2014, Dick Wolf's "Chicago P.D." has pumped up ratings for NBC ever since with its proven formula of high-intensity cops-vs-bad-guys exploits, layered with richly drawn character drama and romantic intrigue. As the second offering in producer Dick Wolf's "One Chicago" slate of shows, "P.D." was preceded by the franchise's debut series, "Chicago Fire" in 2012, with "Chicago Med" joining the line up in 2015 and the short-lived "Chicago Justice" arriving in 2017, but lasting just one season.
As long-time "One Chicago" fans know and appreciate, one of the hallmarks of the 'Chicago-verse' is the phenomenon of the multi-show crossover event. Airing on a semi-regular basis, crossovers see cast members from one show dropping in on the locations and storylines of their sister series. Viewers wouldn't be at all surprised to see a police officer from Chi-town's 21st District H.Q. turn up to collar a perp being treated at the Gaffney Chicago Medical Center, or find it odd that a doctor from "Med" arrives on-scene at one of "Fire's" rescue ops to save a life or two... or five. That being the case, can you guess which detective or uniformed cop from "Chicago P.D." has racked up the most shared episodes with "Chicago Fire"?
When it comes to CPD crossovers with Fire, Trudy Platt is the certified GOAT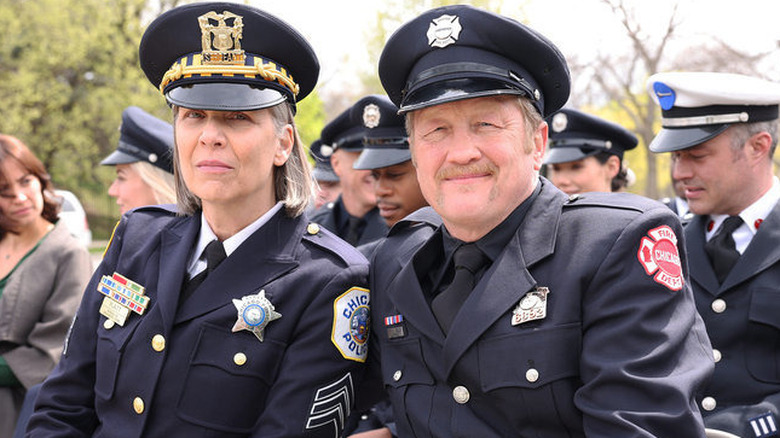 Adrian S. Burrows Sr./NBC
While it might be reasonable to assume that more action-oriented characters like Hank Voight (Jason Beghe) or Kim Burgess (Marina Squerciati) would tally the most "P.D."/"Fire" crossover moments, that would be overlooking the actual crossover queen: Amy Morton's veteran desk sergeant, Trudy Platt (via IMDb). The truth is, even though rogue detective Voight spent 24 episodes guesting on "Chicago Fire," and Intel officer Burgess appeared for a total of 23 outings on the show, the unflappable Sgt. Platt's 30 crossover installments take the prize for the well-traveled "One Chicago" actor with the most-frequent crossover miles. Looking for a logical, narrative-based explanation for Platt's numerous cross-show visits? It turns out her character is happily married to "Chicago Fire" fan favorite "Mouch" McHolland (Christian Stolte).
First joining the crew at Firehouse 51 in the 2014 episode "A Rocket Blasting Off," Morton's Trudy Platt would go on to spend more time on "Fire" than any other "P.D." character, with her appearances on the show running up through her most recent stint in 2022's "Back with a Bang" episode. So, while she may be a bit of a surprise for fans attempting to choose a winner, Trudy is the hands-down champion of "Chicago P.D." characters with the most "Chicago Fire" episodes under their belt.