Misha Collins Reveals Why Jensen Ackles Roasted Him For His Burger Scenes On Supernatural - Exclusive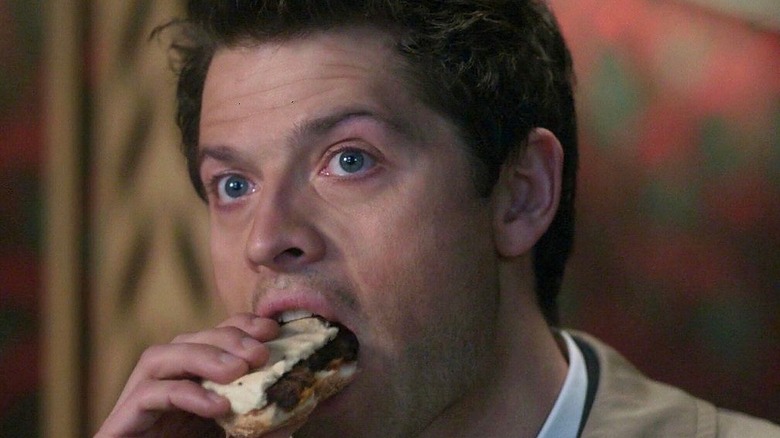 The CW
Anyone who's watched a single episode of the 15-season series "Supernatural" has a pretty good idea just how much the show's actors had to eat onscreen. Seriously, Jensen Ackles' character Dean Winchester is rarely shown without his face full of some kind of greasy food. During the episode "Mystery Spot," he even dies via burrito. Sure, it's a blip on the radar compared to the character's never-ending deaths in the series, but it's there nonetheless.
In contrast to Dean's ravenous appetite, Angel of the Lord Castiel (Misha Collins) isn't particularly known for his food consumption — that is, until the Season 5 episode "My Bloody Valentine." If there's any entity that could give an angel a serious hankering for burgers, it's one of the four horsemen of the apocalypse: Famine. Yet, given Castiel's lack of appetite elsewhere in the series, actor Misha Collins wasn't exactly prepared for the copious amounts of burger he had to ingest for that one episode — and didn't know that you're not supposed to actually swallow food while on set in Hollywood.
The "Roadfood" host spoke to Looper's sister site, Mashed, for an exclusive interview where Collins dished on his infamous burger scenes and revealed how Jensen Ackles roasted him while filming the episode. 
Onscreen eating isn't as tasty as it looks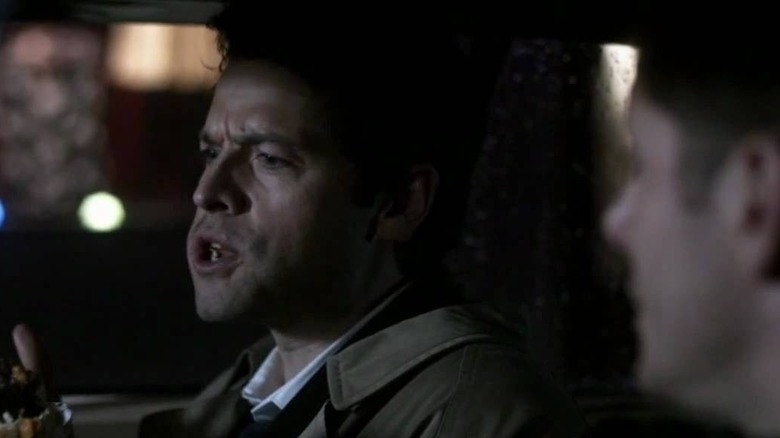 The CW
On how his "Supernatural" burger scenes came about, Misha Collins said in a recent Mashed interview, "I hadn't done a lot of eating on 'Supernatural' up until that point. For those who are reading this and who don't know, this was an episode in which Famine — the embodied character of Famine — casts a spell on me, and he makes me voraciously hungry and insatiable."
Noting the absurdity of the moment, Collins added, "I keep eating and eating, and I'm eating, for some reason, burgers. I end up on all fours eating out of a dog dish at one point. I'm eating what appears to be raw ground beef, but in fact, it was vegetarian ground beef, also raw. That was pretty vile." Of course, angels don't have much cause for eating. As Collins further explained, "My character was an angel on the show, and angels in the supernatural universe don't need to eat."
How Jensen Ackles roasted the burger newbie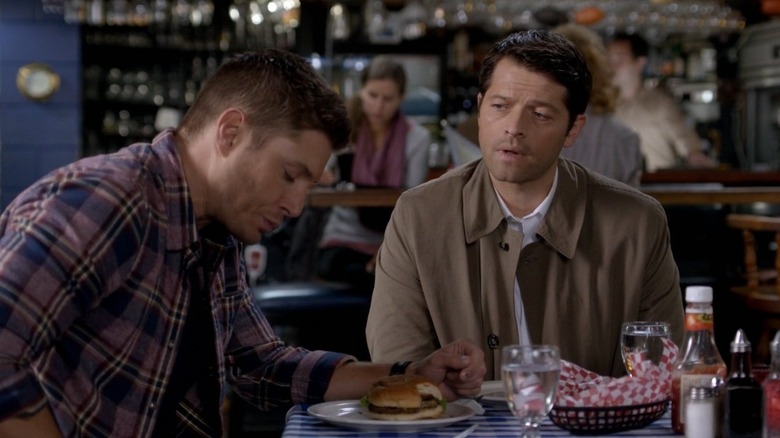 The CW
As much as Misha Collins' "Supernatural" character Castiel is a burger newb, the actor himself was also new to the concept of onscreen eating. "I didn't have a lot of experience on the show eating. For, I guess, pure coincidence, I hadn't done a ton of eating on camera in my career to that point. We started that episode, and I was eating these burgers in these scenes and starting to get really ...," Collins trailed off, before adding, "I was like, 'I don't know how I'm going to make it through this episode because I don't feel good. I am stuffed to the gills.'"
Of course, the cast of "Supernatural" are known pranksters, so show lead Jensen Ackles wasn't going to let to moment pass without comment. "We were in the middle of a take, and I was already starting to not feel good. He said, 'Dude, what are you doing? Did you just swallow that?,'" Collins recalled. "I was like, 'Yeah?' And he said, 'What, are you, new? What are you doing? You spit that out!' I was like, 'Ooh, that makes so much sense.'" 
Collins further noted, with a laugh, "I learned an important lesson there." However, he isn't quite sure just how many burgers he consumed before Ackles introduced him to the wonders of a spit bucket. "I don't know. I wasn't keeping a running tally, but it was not a small number of burgers."
Fans can watch new "Roadfood" episodes with Misha Collins streaming Saturdays on PBS Passport and the PBS Living Channel on Prime Video. "Roadfood" also airs on PBS, so check your local listings for air times.