The Worst Episode In Yellowstone's 1883 Season 1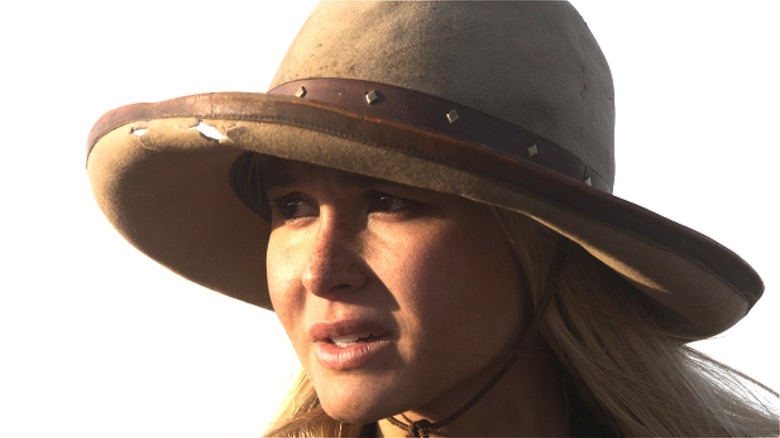 Emerson Miller/Paramount+
"1883" is the spinoff of the wildly successful series "Yellowstone" on Paramount+. The original show stars Kevin Costner, Kelly Reilly, Luke Grimes, Wes Bentley, and many other talented actors. It just wrapped up its 4th season, and it's still riding a high wave of popularity. In fact, the show is so popular that it led to the prequel spinoff that is "1883."
In this historical drama, the ancestors of the modern-day Dutton family are trying to cross the country and make it to the promised land in Oregon so that they can settle and make a good life for themselves. But just like that old computer game "The Oregon Trail," their journey is not a smooth one. The trials and tribulations of their long trip have audiences captivated so far — with the exception of one episode. Most fans agree that this particular episode of "1883" is the worst so far in Season 1.
Fans are not very enthusiastic about the 8th episode, The Weep of Surrender
With only a 7.2/10 on IMDb, "The Weep of Surrender" is the lowest-rated episode of Season 1 to date, although it's worth mentioning that as of this writing, there are still two unaired episodes left in the season. Plenty of drama happens in this episode, but fans are largely preoccupied with the new romance of young, hot-blooded Elsa and her new beau, Sam. It comes on the heels of her previous lover dying a tragic death, and her frustrated parents aren't sure what to do about her wild and willful spirit.
Fans were so disappointed with the episode's events that viewers like archaictree took to Reddit and insisted they were "pretty much through with this show." There's lots of criticism to go around, like Ldbgcoleman asserting that Elsa's behavior is "very unrealistic;" Zalasta5 lamenting the lack of "femininity" and abundance of "stereotypical western/cowboy masculine traits" among the strong female characters; and Longjumping_Review12 declaring, "*yawn* this show is starting to llaaaagggg. Went from 8.5/10 to 6.5/10 real quick." 
It's odd that fans who were so in tune with writer/creator Taylor Sheridan's vision in "Yellowstone" are suddenly jumping ship during "1883." But it's like the old saying goes: you can't please everyone all of the time.