Why Marty Lagina Loves 'Ridiculous' Theories About The Curse Of Oak Island
History's "The Curse of Oak Island," which just wrapped up its ninth season, has been captivating viewers for nearly a decade now with the constant promise of buried treasure and other "ridiculous theories," as series star Marty Lagina flatly put it. But that's all part of the fun. "Things move forward because of skepticism," Marty once confessed during a 2017 sit-down with Reality Blurred. 
While there's been almost no actual payoff whatsoever on "Curse of Oak Island" over the years, the Laginas and History have both continued to stake their claim in whatever long-lost fortunes may be hidden beneath their little slice of Nova Scotian soil. "There will be an end for us for sure," Marty promised during the interview noted above. "Maybe we'll figure it out; maybe we don't. Maybe we find something — at this point, we've already found some really interesting things." 
But none of those interesting things have actually been the treasure or artifacts that the Laginas have constantly promised. So what's the whole point? As it turns out, all those wild theories might just be an end in and of themselves, suggesting any pot o' gold at the end of this rainbow might be entirely beside the point.
Curse of Oak Island is meant to inspire people to do their own research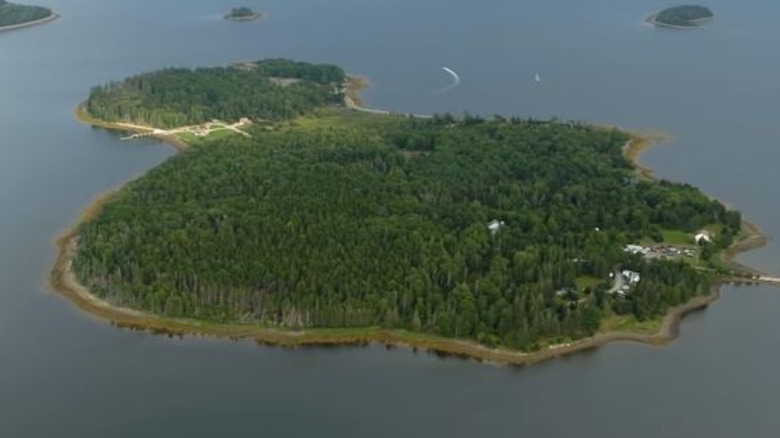 History
According to Marty Lagina and his brother Rick, the whole purpose for their continued teasing and nonstop theorizing on "The Curse of Oak Island" is to try and inspire viewers at home to do their own research and perhaps engage in a little treasure hunting of their own. 
"If people are saying, 'Oh that's a ridiculous theory,' that's great," explained Marty. "They're engaged. They're looking at it. They're analyzing it ... The best part of this is getting people engaged and motivating kids." 
His brother agreed, telling Reality Blurred, "For me, as great as this show has been in telling a 220-year-old mystery, I would encourage people to do their own research ... because the story is far richer than what's been told."
Season 9 of "Oak Island" just wrapped up on February 15, 2022, and it's currently unclear if the Laginas will be back on History to continue their digging quest. According to TheCinemaholic, it appears that showrunners are looking to extend the series at least one more year following some "cliffhanger findings" at the end of Season 9.