What Sandra Oh Brings To Pixar's Turning Red - Exclusive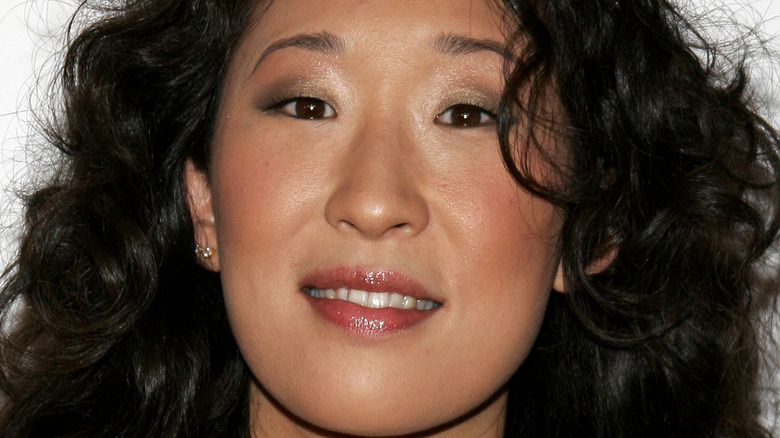 Tinseltown/Shutterstock
Disney and Pixar's upcoming movie, "Turning Red," is a huge moment for Asian representation onscreen, and focuses on 13-year-old Chinese Canadian immigrant Mei Lee. Unfortunately, Mei has a habit of turning into a huge red panda whenever she gets overexcited, and viewers will love following Mei's hilarious and heartfelt story. Another key character in the movie is Mei's overbearing mom, Ming, voiced by the inimitable Sandra Oh. 
During an exclusive interview with Looper, the director of "Turning Red," Domee Shi opened up about the movie and said, "I've had a lot of responsibility in telling this story, but also a lot of excitement too. I feel like films, they open you up and introduce the audience into a world, sometimes that they don't know much about. This is my opportunity to introduce non-Asian audiences to the very specific life of this quirky, 13-year-old Chinese Canadian girl."
Looper caught up with Domee Shi to find out what actor Sandra Oh brought to "Turning Red."
Sandra Oh 'gave Ming vulnerability'
Unsurprisingly, Sandra Oh was a fantastic addition to the "Turning Red" voice cast. "Oh, man, Sandra's awesome, and she brought so much to the character of Ming," director Domee Shi told Looper. "We knew casting Ming was going to be tricky because the character is so complex. She has to have a huge range. She needs to be sharp and in-your-face, commanding in one scene and then flip a switch and be very genuinely loving and protective of her daughter in another scene. She's funny and paranoid and kooky at the same time."
Luckily, Oh was the perfect person for the job. "Sandra was able to bring all of that and more to the character," she revealed. "What we loved about her performance was that she gave Ming vulnerability and believability, that even when Ming is snapping at Mei, that we still feel that it comes from a place of love and wanting to protect her daughter. Even when she goes really, really crazy, there's still that underlying feeling of love in there. That was all Sandra." 
Oh had another important attribute working in her favor, as Shi continued, "Also, she's Canadian too, which was pretty awesome to be able to work with a fellow Canadian Asian."

"Turning Red" is streaming exclusively on Disney+ starting March 11, 2022.