The Surprising '90s Trends That Inspired Turning Red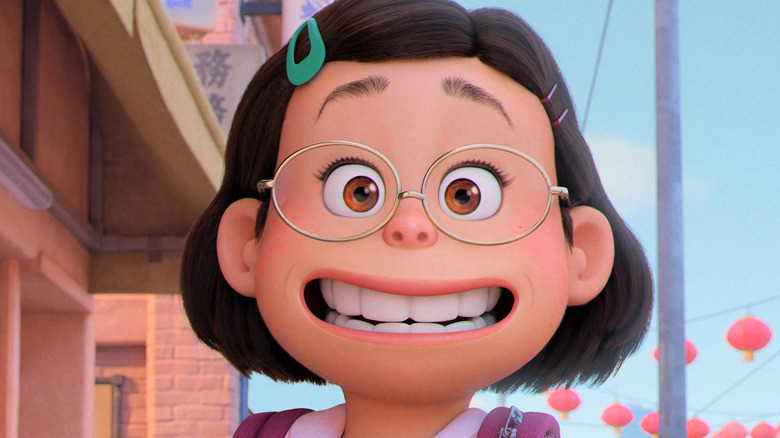 Disney and Pixar's latest movie, "Turning Red," is set to hit our screens on March 11 when it streams exclusively on Disney+. Not only is the movie visually stunning, it also draws inspiration from a time period that many readers will have lived through, and that's the '90s. While the film is technically set in the early 2000s, several key things from '90s culture make their way into the film, which only adds to the popping pastel color palette and unique story of "Turning Red."
The movie follows 13-year-old Mei Lee, a seemingly ordinary Chinese Canadian teen who turns into a giant red panda whenever she gets nervous or overexcited. Throw a cheesy boy band, an overbearing mom, and a close knit group of besties into the mix, and you'll see why "Turning Red" is such a compelling movie.
Looper was lucky enough to attend a "Turning Red" press conference, at which director Domee Shi revealed which '90s trends inspired the look and feel of the film.
Channeling the '90s
Viewers will instantly see that Disney and Pixar's "Turning Red" has a unique aesthetic, thanks to the colorful clothing worn by the characters, the pastel backdrops, and the cute accessories they carry. During the press conference, director Domee Shi explained, "We really wanted a fun, specific backdrop to tell this coming-of-age story, so we decided to set it in Toronto, Canada in the early 2000s. Not just because it's when I grew up as a tween, but it was also the height of [tween pop] mania in the late '90s, early 2000s, you had those boy bands, pop idols." Shi continued, "We also wanted to avoid social media topics, and tell this story in a simpler time of flip phones, CDs, jelly bracelets, and Tamagotchis." If you never owned a Tamagotchi, are you even alive?
Shi also wanted to ensure that "Turning Red" featured accurate Asian representation, revealing at the press conference, "The term I used a lot to the crew was 'Asian tween fever dream.'" Plus, the way the film looks is, in part, inspired by its central character. "This is going to be Pixar's first contemporary teen girl protagonist," Shi explained, "and I really wanted the world to reflect her character: colorful, chunky and cute, bold, and in your face, just like Mei." 
"Turning Red" is streaming exclusively on Disney+ starting March 11.