What Kayla Johanson's Relationship With The Gold Rush Crew Is Really Like
Since its debut in 2010, Discovery's "Gold Rush" franchise has expanded to follow mining expeditions across North and South America. One of its most popular spin-offs is "Gold Rush: White Water," which follows the father-son mining duo "Dakota" Fred Hurt and Dustin Hurt as they lead their crew through the harsh Alaskan wilderness to find gold.
Season 5 of the series recently wrapped with "Curse of the Gold Gods," which saw the team struggling to overcome unexpected obstacles. This was a fitting finale considering much of the season chronicled newcomer Kayla Johanson becoming the only woman to join the Hurt's mining effort.
Johanson, an experienced gold miner, has been candid about joining the reality series, sharing that she had to overcome her camera shyness and adjust to working in a group setting after being her own boss for so long. Her addition to the team initially ruffled some feathers, but she's since opened up about how she finally connected with the crew.
Here's what Kayla Johanson's relationship with the "Gold Rush: White Water" crew is really like.
Kayla Johanson overcame her rocky start with the crew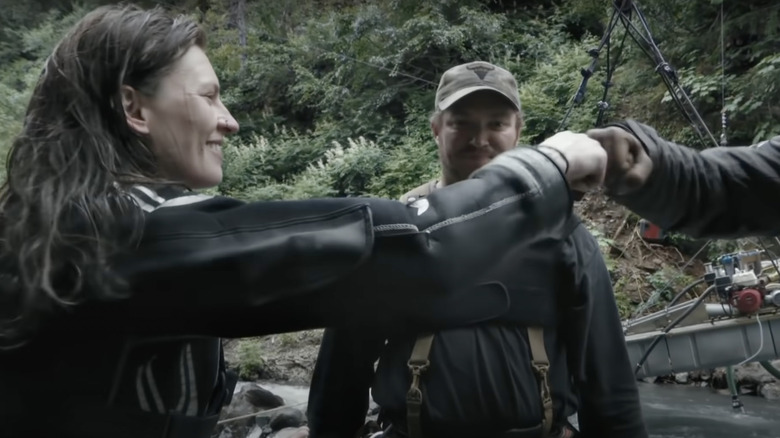 Discovery Channel/YouTube
In an interview with Monsters & Critics, Kayla Johanson revealed that, while she never questioned her mining abilities, it was "pretty nerve-wracking" to join the all-male crew of "Gold Rush: White Water."
"Here I am, the only girl in camp, and I'm like, I don't have to prove anything to myself because I know what I'm capable of, but there are all these guys looking at me with all this doubt," she said. "And I'm like, oh, I'm going to have to prove myself to all seven of these guys."
She explained that her focus was to "get the job done" regardless of anyone's perception of her. Her strong work ethic and determination won everyone over in the end, but like any job, she admits that she "still butted heads" with some coworkers, notably Scott Allen. In spite of this, Johanson had a successful run in Season 5 and became the first member of her crew to find gold, proving that the Hurts made the right choice by believing in her.
Assuming Johanson returns for Season 6 of "Gold Rush: White Water," it will be interesting to see how her relationships with the crew continue to develop.