How Gold Rush: White Water Star Kayla Johanson Feels About Having Cameras Around
Depending on your viewing habits, when you think of reality TV, you might immediately conjure up images of glamorous socialites bickering or contestants duking it out for a sizable reward. However, Discovery's "Gold Rush" franchise showcases a different kind of wealth: gold miners. The series has various spin-offs that follow different teams, with "Gold Rush: White Water" following father-son duo Fred and Dustin Hurt and their crew.
The Alaska-based spin-off is currently in its fifth season, which has seen the addition of some new faces to the series. Kayla Johanson, a gold miner from North Carolina, joined the crew and brought more than a decade of experience with her. As the only woman on the team, feathers were ruffled when she was named team leader, but her strong work ethic and leadership skills proved that she deserved the spot.
Unlike her colleagues, Johanson was used to working alone and had to make an effort to adapt to her new environment. Plus, she had to get used to doing her job on camera.
Johanson says being on camera was 'terrifying' at first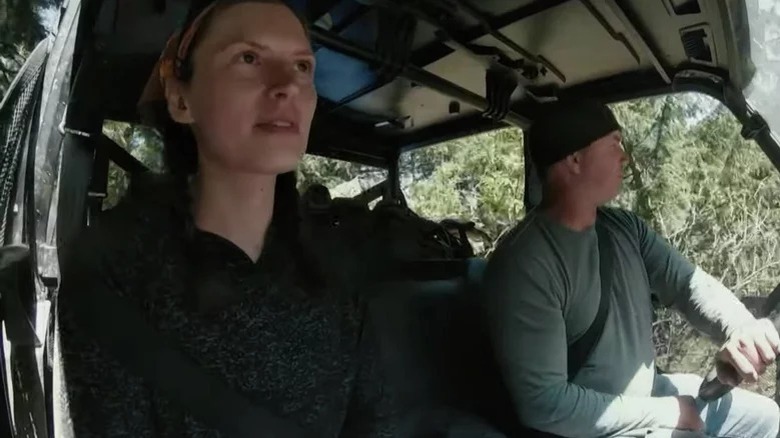 Discovery
In an interview with Hollywood Soapbox, Kayla Johanson opened up about how she got into mining as a curious teenager and turned it into a career. She also explained how she wound up starring in a popular reality TV series. The miner admits that she was "kind of on the fence" about joining "Gold Rush: White Water," so it's not surprising that it took her a while to adjust to being on camera.
"It definitely took some getting used to," she told the outlet. "Before this, I've always been super, super camera shy, so the cameras were terrifying to me when I first started."
Although it sounds like the prospect of getting over her camera shyness was daunting, Johanson approached the challenge like any other. She explained, "I was like a deer in the headlights my first week there. It became a personal challenge to get over that camera shyness, and toward the end I was pretty comfortable. But the beginning was pretty rough." 
"Gold Rush: White Water" is available for streaming on Discovery+.