New Image From Doctor Strange In The Multiverse Of Madness Reveals A Key Introduction
The second trailer for "Doctor Strange in the Multiverse of Madness" dropped Sunday, and to say things are getting crazy in the MCU would be a Shuma Gorath-sized understatement. From alternate realities to rumors of Charles Xavier (Patrick Stewart) and Marvel's infamous Illuminati showing up, it appears there will be no shortage of awesomeness — or speculation of such — when it comes to the studio's next biggest film release.
As we already know, the Sam Raimi-directed sequel will see Benedict Cumberbatch back in his now-iconic role of Doctor Strange, along with actors Benedict Wong and Chiwetel Ejiofor as their respective characters, Wong and Mordo, and Rachel McAdams as Dr. Christine Palmer. Elizabeth Olsen will be joining the cast as Wanda Maximoff aka Scarlet Witch, with her character helping Strange tackle the various problems associated with his multiverse mess-up in "Spider-Man: No Way Home." 
But there's at least one more major Marvel hero from the comics that's also confirmed to team up with the sorcerer, and thanks to a new image making the rounds online Monday, Feb. 14, we know she'll likely be playing a pivotal role in "Multiverse of Madness."
America Chavez comes face-to-face with Doctor Strange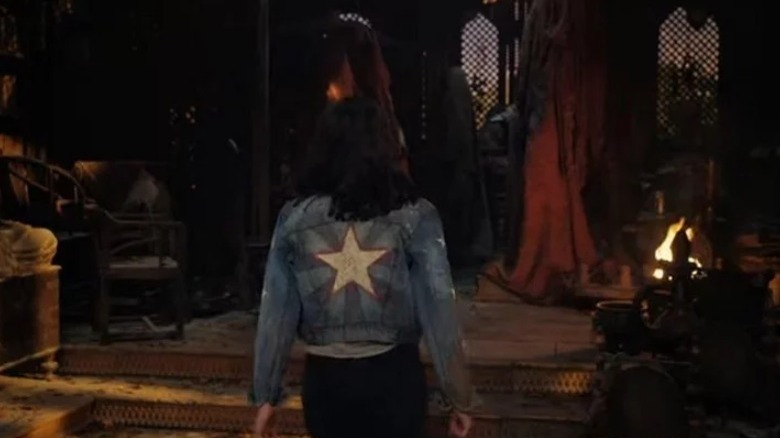 Disney/YouTube
It's an introduction that looks like it could be key to whatever is going on in "Multiverse of Madness" ... and that's because it is, according to Empire. 
A new exclusive set photo obtained by the magazine shows America Chavez aka Miss America (Xochitl Gomez) speaking with a concerned-looking Doctor Strange and Wong. Chavez was already confirmed to be in "Multiverse of Madness" following her appearance in the movie's first trailer, though it was unclear what the character would be doing exactly. She also almost made a cameo in "Spider-Man: No Way Home" (per ComicBook.com).
In the comics, Chavez hails from an alternate reality and has the ability to open star-shaped portals to allow for some super-handy extradimensional travel. She serves as one of Marvel's most popular LGBTQ+ superheroes. As for what her role in "Multiverse of Madness" will entail, that's still officially unclear. However, Benedict Cumberbatch did offer some hints to Empire about what to expect from the movie when it hits theaters on May 6: "Once it became Sam, it was always about making it a Sam Raimi picture," Cumberbatch said. "Your head's going to be spun."