Moon Knight Super Bowl Trailer Draws Us Deeper Into One Of The Darkest Corners Of The MCU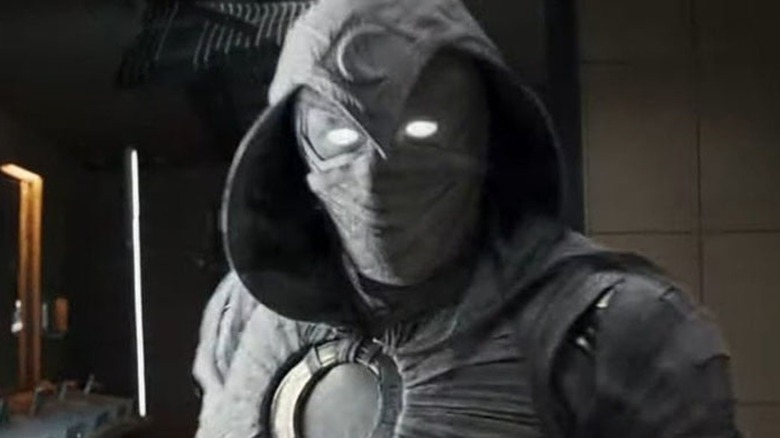 Marvel Studios/Disney+
Marvel fans got gifted with another "Moon Knight" trailer on Sunday during the NFL's Super Bowl. While the highlight of the first trailer was undoubtedly the reveal of Ethan Hawke's mysterious villain, the second trailer takes us even deeper down one of the MCU's darkest rabbit holes.
The upcoming Disney+ series is one of Marvel's most anticipated Phase 4 projects, with talented "Star Wars" and "Ex Machina" actor Oscar Isaac on board to play Moon Knight aka Marc Spector. Not much is known about how the studio plans to portray his immortal, god-like character in the MCU other than the fact that he will have some mental health issues to grapple with, and will face off against Ethan Hawke's Dr. Arthur Harrow. 
As for what we do know, previous teases for "Moon Knight" and its official trailer have both hinted at a comic-accurate telling of Spector's story, with Isaac's decked out version of him looking extremely similar to what readers have seen on the page. The latest trailer shows us even more of this faithful adaptation.
Oscar Isaac's Moon Knight is a troubled hero
Details about the plot of "Moon Knight" and what audiences can expect to see when it drops on Disney+ on March 30 remain pretty well-kept state secrets, but there are some things fans can gather from the comics.
Marc Spector is a mercenary who gets mortally wounded in combat during a mission in the Sudan (via Marvel Fandom). As he's dying, Spector makes his way into a local tomb where he stumbles upon a statue of the Egyptian moon god Khonshu, who is said to protect individuals who travel by night. In the comics, Khonshu actually exists and grants Spector the power of immortality, thus resurrecting him in exchange for his service as Moon Knight. The character utilizes his combat skills as a mercenary to fight crime in New York, but also suffers from Dissociative Identity Disorder, a unique character details that appears to have made its into the Disney+ of the character, judging by the first two trailer. 
Disney's "Moon Knight" series will reportedly consist of six 40-50 minute episodes, with famed Egyptian filmmaker Mohamed Diab helming six and creative duo Justin Benson and Arron Moorhead overseeing the other two (via Collider).