First Trailer For Glass Onion: A Knives Out Mystery Heralds The Highly Anticipated Return Of Benoit Blanc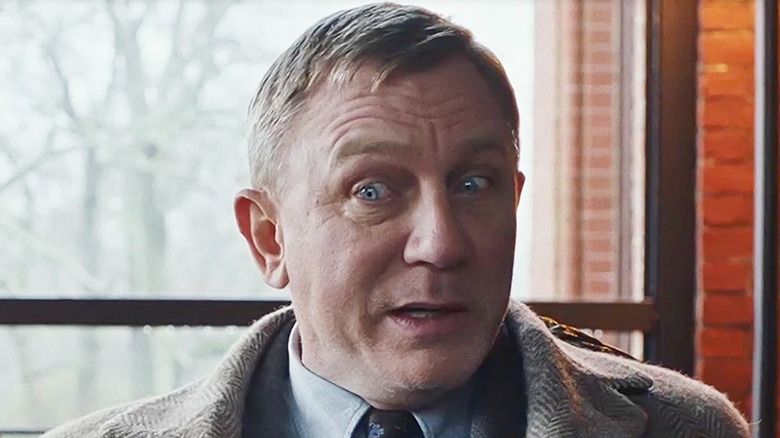 Lionsgate
Rian Johnson's "Knives Out" was one of the biggest surprise hits of 2019 thanks to its razor-sharp wit and a wealth of stars who brought plenty of fun to the 'whodunnit.' It follows gentleman sleuth Benoit Blanc (Daniel Craig) as he tries to figure out who's behind the death of a wealthy author, Harlan Thrombey (Christopher Plummer). But that's no easy task since the Thrombey family is a nest of vipers, and none of them can be trusted. Johnson's script is incredible, and it's only made greater by the likes of Chris Evans, LaKeith Stanfield, Jamie Lee-Curtis, Ana de Armas, Don Johnson, and more. 
Audiences and critics alike loved the mystery-thriller, which is why the internet collectively went nuts when it was announced that Rian Johnson had been tapped to produce two sequels for Netflix. The expectations are understandably high for the inscrutably titled "Glass Onion," and now the we have the first trailer to feast our eyes upon, we have a much better idea of what's in store for world-renowned investigator Benoit Blanc in his next case.
New mystery, new cast
Daniel Craig is set to return as Benoit Blanc, but with a brand new mystery to solve. This time, the sinister shenanigans take place in Greece. 
Rian Johnson revealed the new location when work started on the film in June 2021. The director has amassed yet another incredible cast for the sequel, as Kathryn Hahn, Dave Bautista, Ethan Hawke, Edward Norton, Janelle Monae, and Kate Hudson are all suspects (or victims) in the highly anticipated sequel. 
But they're not the only stars involved. Leslie Odom Jr., Jada Pinkett Smith, and Jessica Henwick are also onboard for "Knives Out 2." Netflix is clearly making sure the second film is going to be as impressive as the first, since the streaming service paid over $450 million for the rights to two sequels starring Daniel Craig's Benoit Blanc. That's an eye-popping amount of money, considering the first film only cost $40 million to make.
So enjoy the trailer, and get pumped for another twisty mystery when "Glass Onion: A Knives Out Mystery" premieres on Netflix later this year.