Who Plays Tate Dutton On Yellowstone?
When Taylor Sheridan's "Yellowstone" premiered in the summer of 2018, it came armed with a number of familiar faces, and at least one Hollywood heavy-hitter. But in addition to these well-known actors, the series introduced audiences to some serious up-and-coming talent, including one young star for whom the contemporary Western would serve as his acting debut. 
That star — the now 13-year-old Brecken Merrill, who plays Tate Dutton — may have begun his arc on the series as an adorable and occasionally precocious innocent, but a lot has changed in the four seasons and 39 episodes since his he first made his entrance. Season 4 kicked off with Tate's traumatic storyline putting Merrill's acting skills to the test, but it's hardly the first time the fledgling star had to dive into a range of emotions. As one fan observed on the series' subreddit, "Brecken [Merrill] aka Tate Dutton is a great actor but he really needs more parental supervision... this kid witnesses a shootout involving his dad... [kills] a rattle snake in an enclosed space, [survives] a rushing river and hypothermia, and i'm only like 4 episodes in. tough kid."
Though Tate has seen his fair share of tragedy in his young life, by all accounts, the actor behind the extremely "tough kid" certainly seems to be enjoying his first gig. 
Unlike his character, Brecken Merrill is having a lot of fun as a Dutton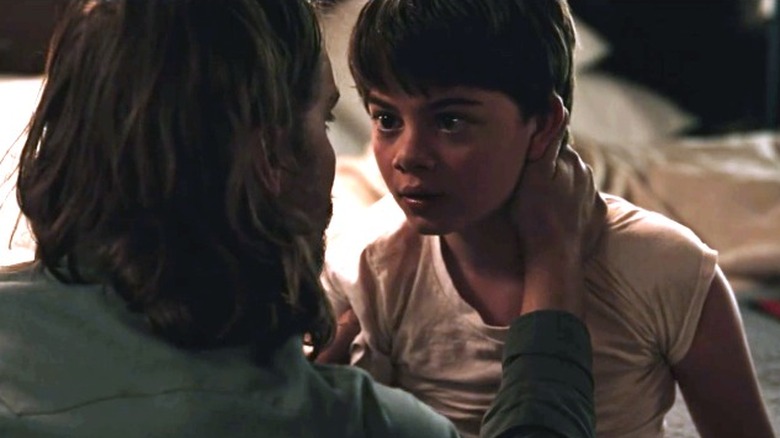 Paramount Network
In an early interview for "Yellowstone" on the series' YouTube channel, Brecken Merrill talked about his favorite member of the animal crew (a black-and-white horse named Tilly), his character's devotion to his father Kayce (Luke Grimes), and the joy and guilt of throwing a fish in another actor's face — in this case, Dave Annable, who played Lee in Season 1. Of his character's scenes in the show's inaugural season, the actor said, "riding horses, fighting a snake... it has been a great experience." Three seasons later, it appears the young star is having just as much fun portraying the show's youngest main character. 
In a recent interview with Good Morning America, Merrill said his co-star Kevin Costner "treats [him] as a peer, more than just... a little kid," and said he sees the actor, who advised him to have fun and not take things "too seriously," as "a role model." He went on to say that acting on the series "definitely does not feel like a job... everyone on set just has a lot of fun." 
What else is Brecken Merrill up to?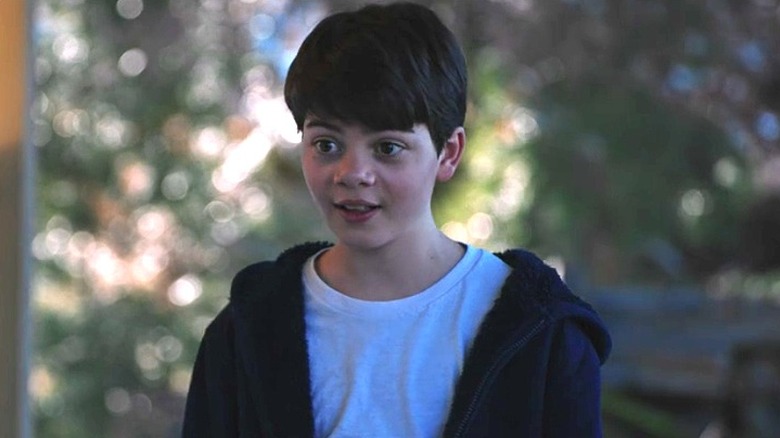 Paramount Network
Brecken Merrill has also been a great source on social media for fans of the show, and one who isn't afraid to tease a storyline or two or joke around a little about the perception of his character. In an Instagram post from December 2021, the actor gently called out Pop Culture for referring to his character as a "16-year-old" while at the same time negotiating a "deal" with Dodge: "Tate is 11 – 12 at the oldest," he clarified, "but I'm totally willing to play 16 if @dodgeramofficial wants to give me a truck." 
It's safe to say that Kevin Costner's advice is rubbing off, and although Merrill has just one official project other than "Yellowstone" Season 5 in the works (he'll be playing the lead role of Emmett LeClair in Brion Rockwell's "We All Got Up to Dance"), it's likely fans will be seeing a whole lot more of the snake-wrestling, horse riding, and break-in-surviving young star in the future. We know, at least, that he's not at a loss for auditions. Last winter, Merrill teased a potential new role on social media that included hashtags referencing football, an image of a football, and the caption "Fun audition today! Wish me luck" (via Instagram).
After all he's been tasked with depicting as Tate, tackling a role in a sports movie seems wells within his wheelhouse.