Chris Miller And Phil Lord Tease More Info About Spider-Man: Into The Spider-Verse Sequels - Exclusive
Superhero movies are among the biggest box office draws today, and there may be no more popular onscreen superhero than Spider-Man. Who could have predicted that one of the most beloved superhero movies ever would become the animated "Spider-Man: Into the Spider-Verse?" The film wasn't part of a larger cinematic universe and centered on the character Miles Morales, a recent addition to the Marvel comics universe who picks up the Spider-Man mantle from the far more well-known Peter Parker. 
However, "Into the Spider-Verse" was a creative triumph. Critically and commercially revered, the movie was an innovative, humorous, and action-packed exploration of the world of Spider-Man, and its smart character development and vibrant animation set it apart from the other beloved superhero films.
Behind the production were the visionary imaginations of Phil Lord and Christopher Miller. Lord penned the story for "Into the Spider-Verse" and co-wrote the screenplay, and the pair produced the movie, earning an Oscar for Best Animated Feature. Given that success, it's no surprise that a two-part sequel is coming to theaters, with "Spider-Man: Across the Spider-Verse (Part One)" premiering on October 7, 2022 and "Spider-Man: Across the Spider-Verse (Part Two)" coming out sometime in 2023. This time, Lord and Miller are co-writing the screenplay (with David Callaham), ensuring the movies will retain their entertaining combination of clever comedy and endearing heart.
Lord and Miller sat down exclusively with Looper to discuss their work on "Spider-Man: Across the Spider-Verse" including the pressure to top themselves, what's in store for Miles Morales, and what the sequels have in common with their Apple TV+ series, "The Afterparty."
Challenging themselves, and Miles Morales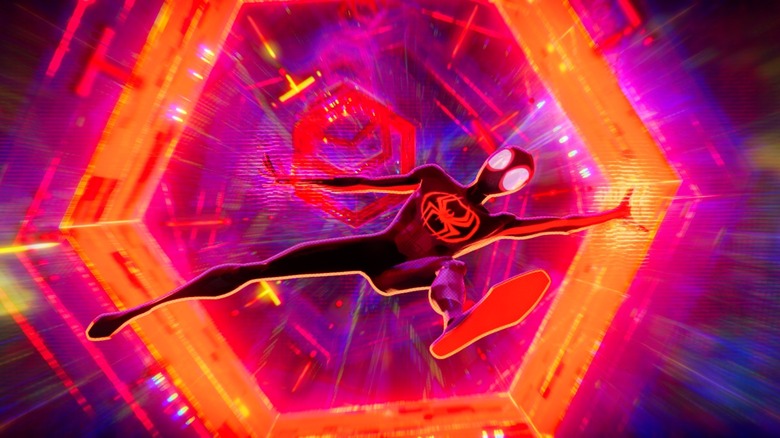 Sony Pictures Animation
When asked about the "Spider-Verse" sequels, Lord noted that they're currently in production on the film, and even though they're enjoying the process, they're feeling the inevitable pressure that comes with following up on their previous success. "We're working hard and then we have a great team on both of those," Lord shared. "It's one movie broken in two parts, and it's all happening. It's exciting. It's scary. We're pushing ourselves."
Lord revealed that their protagonist is going to have a lot to grapple with in the sequels, teasing, "We're pushing poor Miles [Morales] into challenging directions."
Lord and Miller are doing their best to create two films that deliver on the promise of "Into the Spider-Verse" while creating something fresh and unique. "It's fun and hard because you have to top yourself and you have to think of things that you haven't tried before," Lord said. "If we just ran it back, I think it wouldn't deliver what people are expecting."
The shared style of Across the Spider-Verse and The Afterparty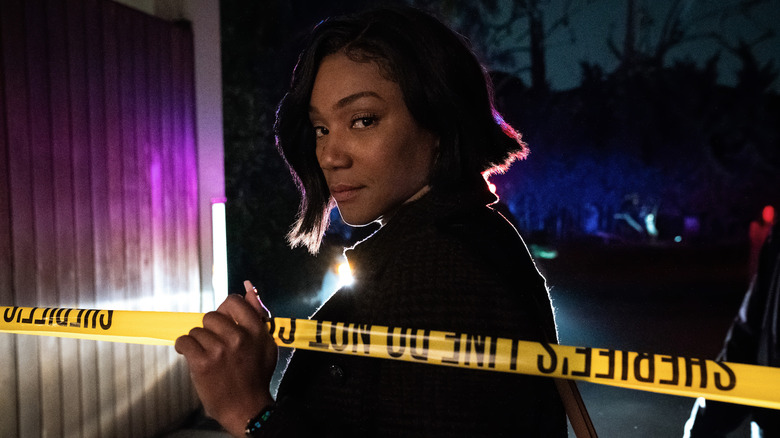 Apple TV+
Miller added that the long-time collaborators always want to get bigger and better with every project they work on. "We always feel like we have to do the most ambitious, hardest-to-execute version of whatever it is that we're making," Miller admitted. "This 'Spider-Verse' is even more ambitious than the first one."
Miller also observed that there are some noteworthy similarities between "Across the Spider-Verse (Parts One and Two)" and the series "The Afterparty," which Miller created and directed. "We're going to all these different worlds [in 'Across the Spider-Verse'] that each have their own art style, and it's a massive challenge," Miller explained. "It's not unlike 'The Afterparty' where each episode is its own movie [and] you have to have your own separate lighting, and camera, and costumes, and music, and everything about it is different. In one episode, you're making a musical, [and] in [another] episode, you're making an action movie. ['Across the Spider-Verse' is the] same sort of thing where you're like, 'Let's do the most difficult, hardest to accomplish, most ambitious thing that hasn't been done before' [Laughs]."
New episodes of "The Afterparty" premiere on Apple TV+ on Fridays, and "Spider-Man: Across the Spider-Verse (Part One)" hits theaters on October 7, 2022.