The Most Heartbreaking Hodges Moment From CSI
"CSI: Crime Scene Investigation" is one of the most beloved, long-running procedural crime dramas of the 21st century. It follows a forensics team that solves murders by closely examining evidence from crime scenes. The main show has been on the air since 2000, and it has an 81% audience approval score on Rotten Tomatoes, so it isn't so surprising that CBS created a number of spin-offs for different cities and departments. The first spin-off, "CSI: Miami," arrived back in 2002 and audiences tuned in for 10 seasons. "Miami" also led to another show in 2004: "CSI: NY," which lasted for nine seasons.
In 2014, CBS debuted another entry in the franchise with "CSI: Cyber." "Cyber" takes place in the FBI Cyber Crime division in Washington D.C., and it wasn't nearly as successful — it holds a 34% critics score and an equally dismal 36% audience score on Rotten Tomatoes, but that failure wasn't enough to keep the series down for long. The main show continues to keep fans hooked with the recent revival series "CSI: Vegas," which finds veterans Gil Grissom (William Petersen) and Sara Sidle (Jorja Fox) returning to the lab to stop a conspiracy involving David Hodges (Wallace Langham).
Hodges is one of the most dedicated members of the Las Vegas crime lab, and although he irritates his colleagues at times, he's an invaluable asset to the team. He joined the original show back in Season 3, Episode 11 "Recipe For Murder," in which he transfers over from Los Angeles.
Here's the Hodges moment from "CSI" that really tugs at the heartstrings.
Wendy tells Hodges she's leaving the lab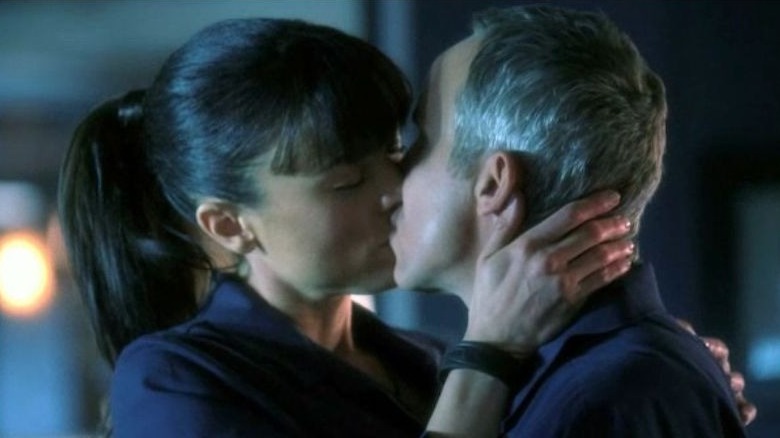 CBS
In the later seasons of the main "CSI" series, Hodges falls for lab technician Wendy Simms (Liz Vassey) — although he often misreads certain situations and lets his arrogance get the better of him. In Season 9, Episode 20, entitled "A Space Oddity," they almost start a relationship after bumping into each other at a fan convention for the show-within-the-show, "Astro Quest." But Hodges' arrogance ruins things, and they call off their date. Their relationship takes another step in Season 10 when Wendy chooses Hodges when another lab technician asks her out — and she kisses him in what is a genuinely triumphant moment for long-time fans.
Alas, it was not to last. In Season 11, Episode 2, entitled "Pool Shark," Wendy reveals that she's leaving the lab to become a full CSI in Portland, Oregon. It's an understandable move, because it lets her be closer to her sister — but it's an incredibly sad scene. Fans were heartbroken when she told Hodges the bad news, with @RobinBC tagging Liz Vassey in a tweet saying, "I've just seen #CSI 11x02 when you're telling Hodges you're leaving ! Soooo Sad."
@DVDSmith echoed the sentiment, adding, "Goddamnit CSI, Hodges and Wendy were meant to be together! Why'd you have to go and write her out of the series?! Not pleased." 
Meanwhile @cashewhope thinks they deserved better, saying, "i'm honestly still so disappointed with how dirty csi did wendy & hodges."
Even all these years later, the departure still hurts.