15 Shows Like Outlander That Are Definitely Worth Your Time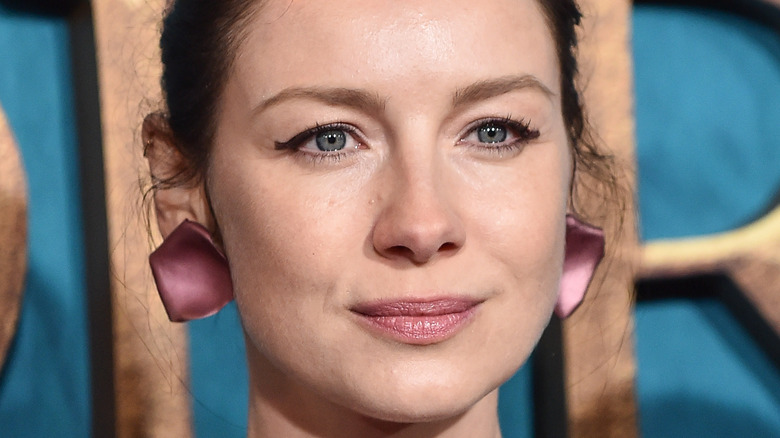 DFree/Shutterstock
Starz period drama "Outlander" has romance, swashbuckling, men in kilts, historical intrigue, and oh yeah, a bit of time travel as well. Based on the novels by Diana Gabaldon, "Outlander" tells the story of Claire (Caitriona Balfe), an English World War II nurse who finds herself thrust back in time to 18th-century Scotland, where the brawny Scots don't take too kindly to English folks. Out of convenience (basically so she doesn't get kidnapped by the Brits), the Scottish clan she joins marries her off to the young Jamie Frasier (Sam Heughan) and the two actually fall in love.
"Outlander" follows the epic romance between Jaime and Claire over decades, through time, and via many a great sex scene. Eventually, Claire makes her way back to the 1940s, then back to the 18th century again. Their travels bring them from Scotland to France, the Caribbean, and America when the young nation is in its infancy. The show is really addicting and offers some nice period pleasures. If you're an "Outlander" fan and need something to warm your kilt for while we wait for the next season, check out these 15 shows that are worth a peek. Some have magical elements like "Outlander," others are just straight-up historical dramas or romances, but they're all worth your time.
Bridgerton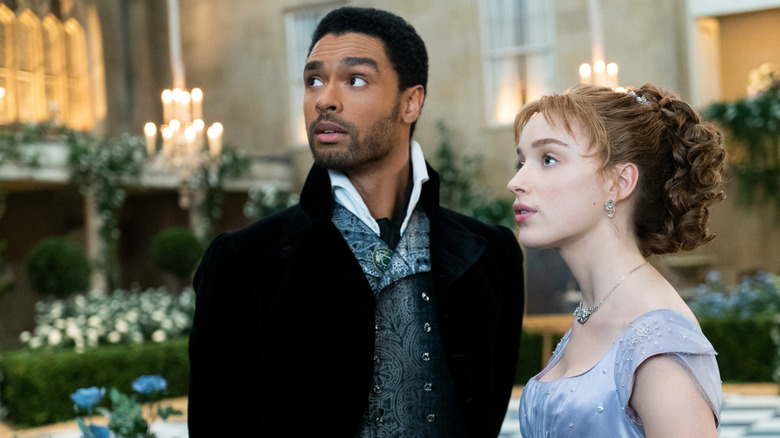 Liam Daniel/Netflix
If you love "Outlander" for the sex scenes and the romance, there's really no reason not to check out "Bridgerton" on Netflix. The steamy show is based on the romance novels by Julia Quinn and follows the wealthy Bridgerton family in Regency Era (early 1800s) London. The first season revolves around the romance between eldest daughter Daphne (Phoebe Dynevor) and Duke Simon Basset (Regé-Jean Page) as rumors of scandals and affairs swirl via the famed Lady Whistledown, the city gossip who publishes a juicy newsletter, appropriately voiced by Julie Andrews.
The second season will focus on oldest brother Anthony (Jonathan Bailey) and his reluctant turn from his anti-marriage, bachelor-for-life, free-wheeling lifestyle to absolutely falling for Kate Sharma (Simone Ashley). You can bet we're in for more sex set to instrumental pop songs, more juicy scandals, and some pretty gorgeous costumes to swoon over. With eight Bridgerton children, there were eight books, which means we're likely in for eight seasons of the sexy show. 
The Crown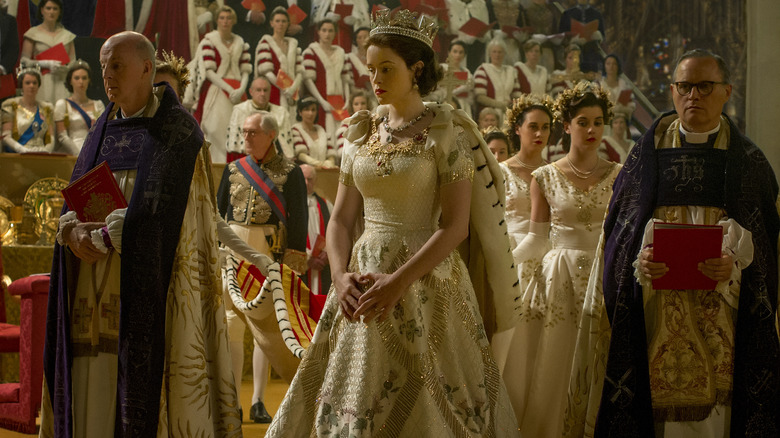 Netflix
OK, so there's not so much sex in this one. Actually, it's quite stuffy and prudish, but still filled with interesting historical events, intrigue, and some pretty awesome costumes. Netflix's "The Crown" begins with Queen Elizabeth II's coronation and early reign, as well as her marriage to Prince Philip. It shows how she became a post-war Queen for the modern era, sort of. In the first two seasons, Elizabeth is played by Emmy winner Claire Foy, after which Oscar winner Olivia Colman takes over for Seasons 3 and 4. Prince Philip was portrayed by "Doctor Who" alum Matt Smith, with "Outlander" actor Tobias Menzies taking over in Seasons 3 and 4. 
In the upcoming final two seasons, Imelda Staunton dons the crown with Jonathan Pryce at her side. Seasons 3 and 4 introduced the beloved Princess Diana, played then by Emma Corrin, and the final two seasons will dive more into the post-breakup years, with Elizabeth Debicki playing the former Princess of Wales. There's no magic or sex in the very proper "The Crown," but the tension between family members and the real-world historical events keep your eyes glued to the screen. 
Poldark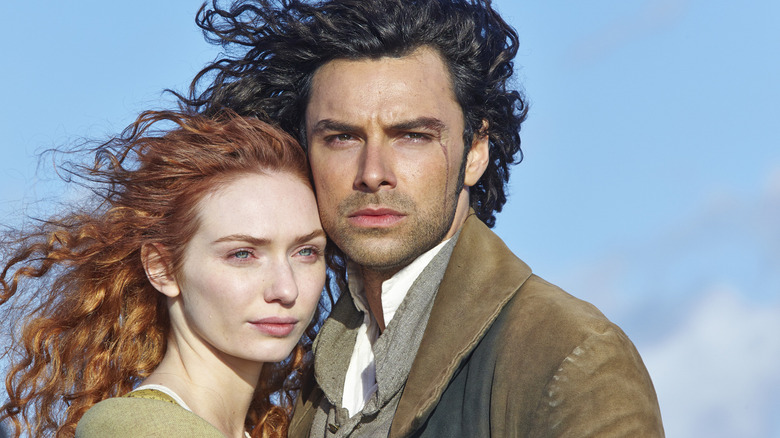 PBS
If you'd rather stay relatively close to the era of "Outlander," check out "Poldark." Based on the books by Winston Graham, "Poldark" doesn't have a sci-fi twist, but does share a feisty heroine and gruff leading man. The show revolves around Captain Ross Poldark (Aidan Turner), who returns home from fighting in the American Revolution (for the British, of course). Once home, he has to face numerous hurdles: the ruin of his estate, in shambles after his father's death; the embarrassment of losing to the Americans; and the loss of his childhood sweetheart, who has gone off to marry someone else.
Ross hires a local town girl Demelza (Eleanor Tomlinson) as a maid to help him clean up his house and lands, which are in disrepair. The two have a spark from day one, and the romantic tension is palpable. As Demelza scrubs and cleans, and Ross broods and plans, they fall in love and eventually get married. There are five seasons of "Poldark" to watch. Over the course of the series, their relationship grows, as do the romances and scandals of other characters involved. 
A Discovery of Witches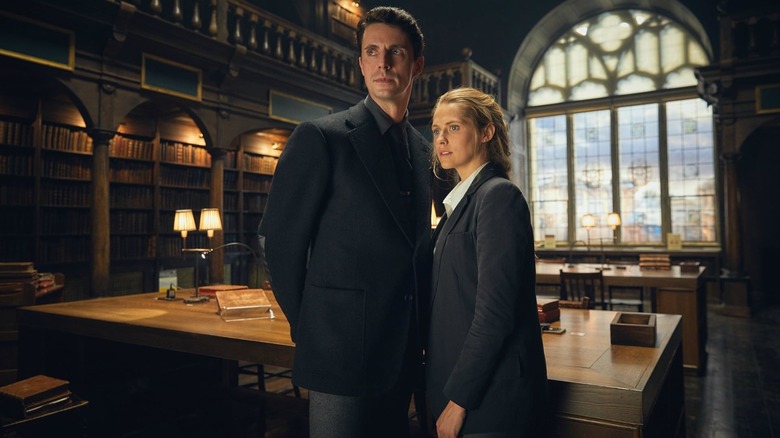 Sky
It seems all the best shows are based on books—especially novel series that have multiple installments from which to mine multiple seasons worth of story. That's the case here with "A Discovery of Witches," the fantasy series based on the "All Souls" trilogy by Deborah Harkness. Set in a world where witches and vampires coexist but avoid one another, Diana Bishop (Teresa Palmer), a witch with a Ph.D., works as a history professor at Yale while also studying alchemy at Oxford. But Diana has all but rejected her background as a witch, refusing to learn how to wield her magic and choosing to live life as a regular person.
Enter Matthew Clairmont (Matthew Goode), a centuries-old vampire working at Oxford who enlists her help in finding the ancient Book of Life. Matthew helps Diana uncover her dormant abilities, but that's obviously not the only thing going on with their intense chemistry. Matthew and Diana working together, let alone falling for one another, is taboo in their communities. We've got a case of magical forbidden love here, and much like "Outlander," "A Discovery of Witches" also includes a bit of time travel along with its magical romance.
Black Sails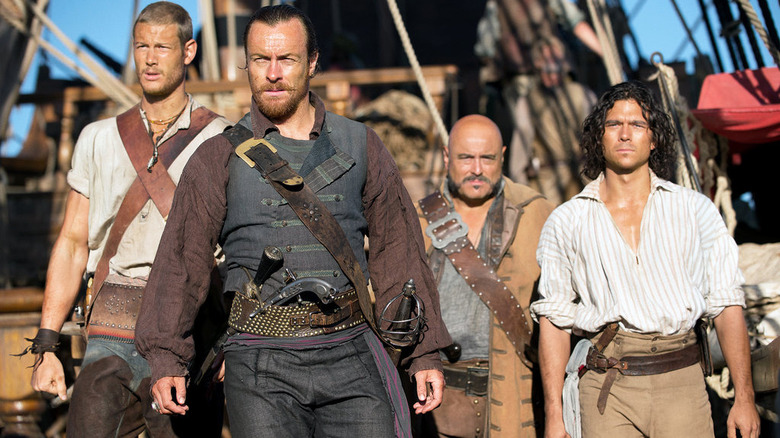 Starz
If the parts of "Outlander" you loved most involved Jaime Fraser sailing across the sea, "Black Sails" might be for you. The series is set up as a prequel of sorts to Robert Louis Stevenson's "Treasure Island," and follows pirate James McGraw, AKA Captain Flint (Toby Stephens), whose buried treasure is what's being hunted in Stevenson's original novel. Other characters and famous pirates appear in "Black Sails" before they've made names for themselves. Long John Silver, for example, is just a budding con artist named John Silver (Luke Arnold). 
"Black Sails" definitely leans more into bawdy territory than "Outlander." Its "intimate" scenes are more in line with "Game of Thrones" and much less on the romance end of things. But it also offers up some inspiring female characters in the form of lady pirates, who are just as brave and brutal as the men. "Black Sails" is definitely more action-heavy as well, with explosions on the sea and swashbuckling swordfights that would give any action period film a run for its money. 
Versailles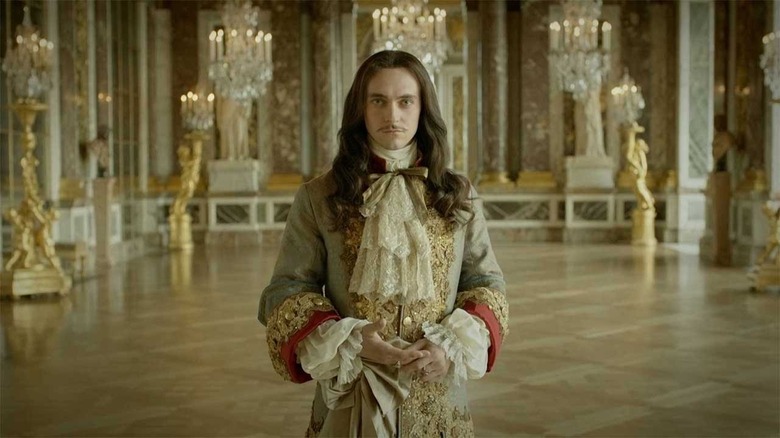 Canal+/YouTube
If salaciousness is what you're after, look no further than the French series "Versailles." The show is set during the reign of King Louis XIV, the French king who built the opulent Palace of Versailles and whose extravagance came to epitomize the image of French royalty as out of touch with the common man (which eventually led to the French Revolution a few of Louis' descendants later). The costumes, sets, wigs, and storylines here are as extravagant as its characters, and while the show can certainly be seen as a "guilty pleasure," there shouldn't be anything guilty about something so fun.
As actor Alexander Vlahos, who plays the king's brother Phillipe, told The LA Times, "The whole idea of opulence is a big-ticket item in our present-day culture because of the whole 1% thing... So 'Versailles' gave people an opportunity to sort of invest in that culture without shame... A lot of people got into the show thinking that it would be a guilty pleasure, and then they got hooked on everything else there." Three seasons of guilt await.
Victoria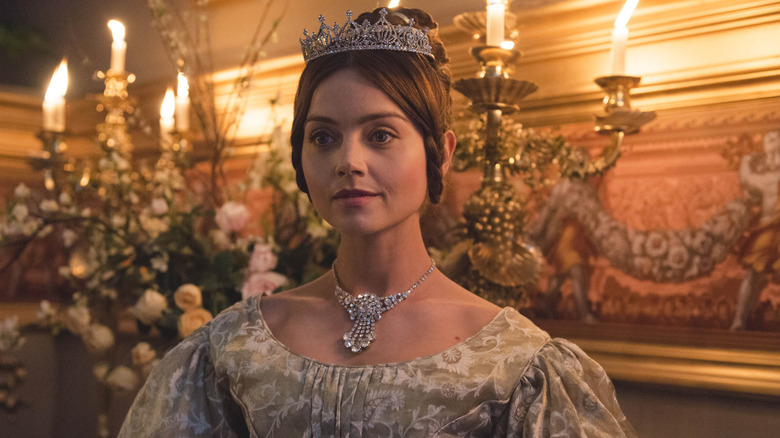 PBS
For something a little more proper, head to Masterpiece on PBS for "Victoria." The drama tells the story of the young Queen Victoria, one of Britain's longest-reigning monarchs, played here by Jenna Coleman. The show starts with Victoria inheriting the throne at 18 and setting about finding a husband to help her have a bunch of little princes and princesses. Tom Hughes plays Albert, her eventual spouse, whose difficulty with playing second fiddle to a beloved queen echoes some of the same plot points in "The Crown."
"Victoria" ran for three seasons, ending with Prince Albert collapsing while ill (we won't spoil anything for you here if you don't know the story of Prince Albert). Though Season 3 ended in something of a cliffhanger, it doesn't look like a fourth season is on the way any time soon. In July 2021, a spokesperson for the show said, "There are no plans presently to film Victoria, but that's not to say we won't revisit the series with the production team at a later date," Town & Country Magazine reports. Even so, the series is intriguing, and the abrupt ending isn't much of a deterrent. 
The Great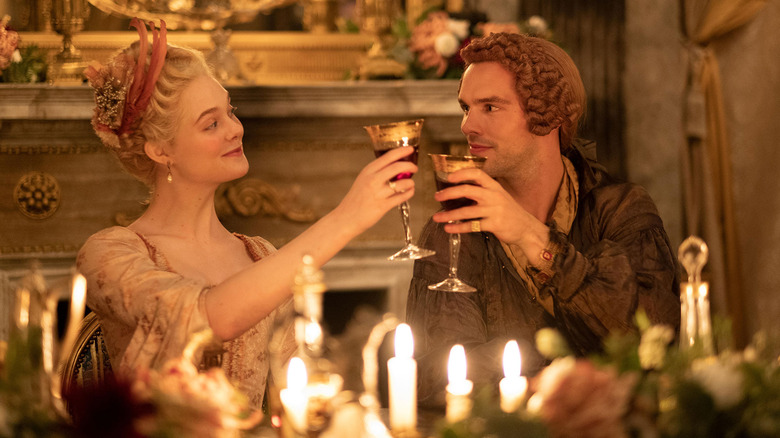 Hulu
For something on the opposite end of the spectrum, Hulu's "The Great" takes a period piece and turns it into something decidedly unorthodox. The show follows Russian Empress Catherine the Great (Elle Fanning) as a young ruler alongside her Emperor husband, Peter III (Nicholas Hoult). But "The Great" describes itself as positively "un-historical." That is, everything is exaggerated, there's heavy satire, and nothing can really be believed as actual history while watching the show. 
There's plenty of comedy, and it's quite bawdy, with a rousing yell of the anachronistic and anatopic word "Huzzah!" shouted just about every episode. If you're looking for something a little silly and fun with your costume series, "The Great" might be great for you. There's also a bit of a feminist twist to your usual period pieces, as we watch Catherine grow into her own ruler as a young queen and manipulate her stupid brute of a husband. 
Reign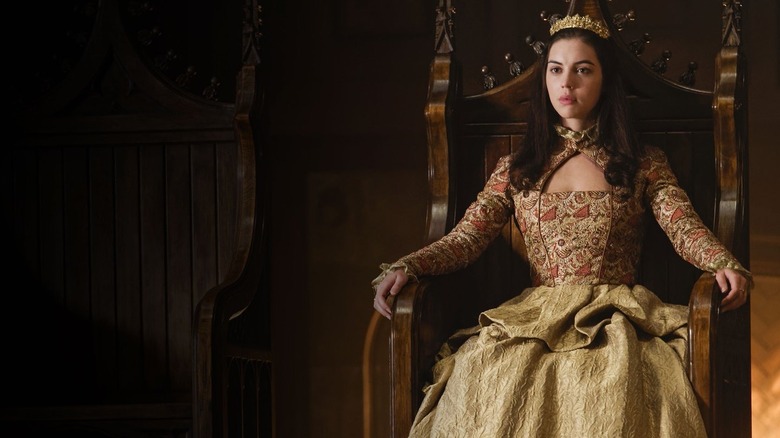 The CW
If you like a little bit of a teen twist with your period pieces, check out The CW's "Reign," which tells the story of Mary, Queen of Scots and her early years as the Queen of France. Adelaide Kane stars as the young Mary, whose betrothal to the Prince of France opens the series. It wouldn't be a CW show without a little bit of a love triangle via an invented bastard brother to the Prince. Mary's future mother-in-law, Catherine de Medici (Megan Follows), plots and schemes in a medieval setting. Oh, and there's a little bit of magic and fortune telling via the seer Nostradamus.
"Reign" is, much like "The Great," a bit anti-historical and very anachronistic. The costumes worn by Mary's ladies-in-waiting look more like prom dresses rather than gowns appropriate for 1500s France. But that's what's part of the fun of turning history into a teen soap. Eventually, Mary makes her way back to Scotland, where she starts plotting against her cousin, Queen Elizabeth I. If you don't know how Mary's story ends, be prepared for an unhappy ending. 
The White Queen/The White Princess/The Spanish Princess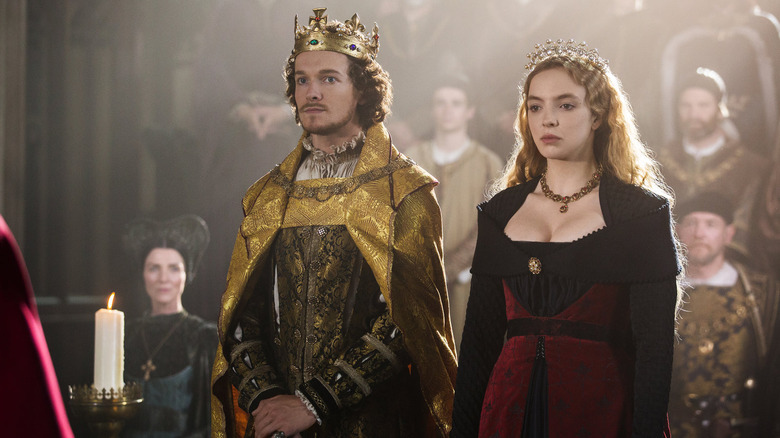 Starz
These Starz dramas are set up as sort of a trilogy. Based on the novels by Philippa Gregory, the author of "The Other Boleyn Girl," they track the creation of the Tudor dynasty from The Wars of the Roses to King Henry VIII. "The White Queen" stars Rebecca Ferguson as Elizabeth Woodville, the young woman who married King Edward IV and became queen before her husband's throne was usurped by his own brother, Richard III. "The White Princess" follows Elizabeth Woodville's daughter, Princess Elizabeth of York (Jodie Comer), and her marriage to Henry Tudor in a move that would unite the houses and end the Wars of the Roses. Elizabeth and Henry Tudor's son would become Henry VIII, and his marriage to Catherine of Aragon forms the backbone of "The Spanish Princess."
Binged in order, these shows offer up a pretty decent history lesson of the time before Queen Elizabeth and how the Tudor dynasty was formed. The costumes are glorious, the scheming and devious plots are addicting, and there's a bit of magic and sex too. 
Shadow and Bone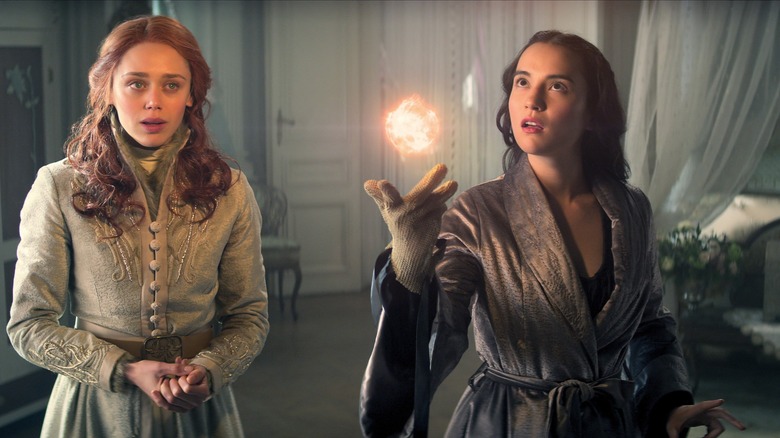 Netflix
And now for something completely made up! Netflix's "Shadow and Bone," based on the novel series by Leigh Bardugo, is set in a fantasy world with cultural elements similar to our own. The story follows Alina Starkov (Jessie Mei Li), an orphan who learns to be a cartographer but who discovers that not only is she a "Grisha," someone born with magical gifts, but she may also be the prophesied Sun Summoner who can bring light strong enough to destroy the Shadow Fold, a dark and dangerous territory that divides their nation. 
The world of "Shadow and Bone" consists of six countries: Ravka, Fjerda, Shu Han, Kerch, Novyi Zem, and the Wandering Isle. Each of them has similarities to cultures and nations in the real world. For example, Ravka closely resembles Russia, while Fjerda is similar to Scandinavian countries like Sweden and Norway. It's a pretty interesting world, and the magic and mystery, as well as a good old-fashioned good guys vs. bad guys plot, makes for a fun show. "Shadow and Bone" has only had one season on Netflix so far, so it's an easy binge that will leave you wanting the inevitable more to come.
The Magicians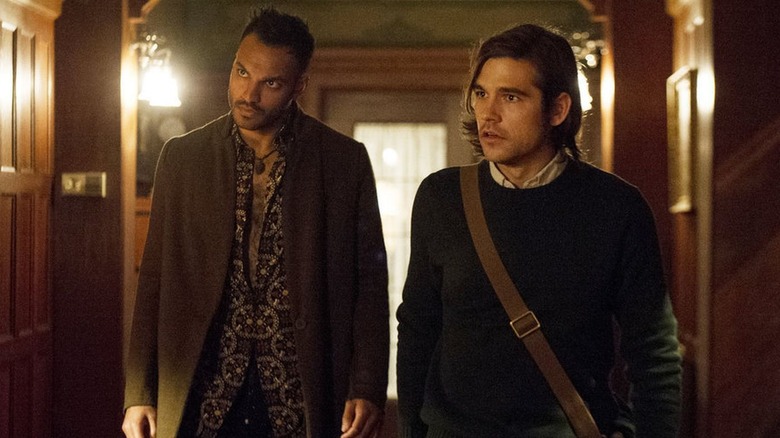 SyFy
SyFy's "The Magicians" offers up magic in the modern era. Based on the novel of the same name by Lev Grossman, the series' main protagonist is Quentin Coldwater (Jason Ralph), a typical brainy kid headed for an Ivy League education. But Quentin soon learns that he is actually a magician and is recruited to Brakebills University for Magical Pedagogy. There he meets a gaggle of other witches and magicians who come from varying backgrounds and have varying abilities. It's all kind of very Harry Potter, except they're all adults and can have sex. The show can get a bit gory at times, and often even a little scary, adding some horror elements to the magical drama.
And Quentin is just the entryway here into a fantastic ensemble cast of characters. Much like, say, "Buffy the Vampire Slayer," there's no lack of magical monsters, fairies, spells, or problems that the show can throw at these young magicians, so despite there being only one novel, SyFy managed to make " The Magicians" five fun seasons long.
Sleepy Hollow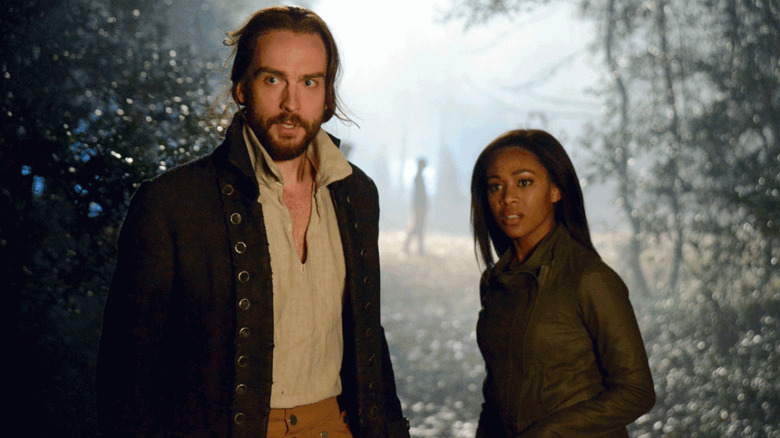 FOX
"The Legend of Sleepy Hollow" by Washington Irving is a childhood Halloween favorite. The story tells of Ichabod Crane, a schoolmaster from Connecticut who comes to Sleepy Hollow unaware of its legendary Headless Horseman, the ghost of a beheaded Revolutionary War-era Hessian soldier who haunts the town. 
This FOX drama series picks up where the story leaves off, but hundreds of years later. Ichabod Crane (Tom Mison) wakes up in 2013 after being struck with the Horseman's severed head. He learns that the Horseman is also in the future, and teams up with Sheriff's Lt. Abigail Mills to prevent the apocalypse. "Sleepy Hollow" gets very Biblical, so brush up on your Revelations. Crane carries around George Washington's Bible while fighting demons and trying to release his wife from purgatory. This is your standard network mystery drama here, so there's limited violence and sex to make it more suitable for general audiences, but it's still a fun, historical, magical show. 
Lucifer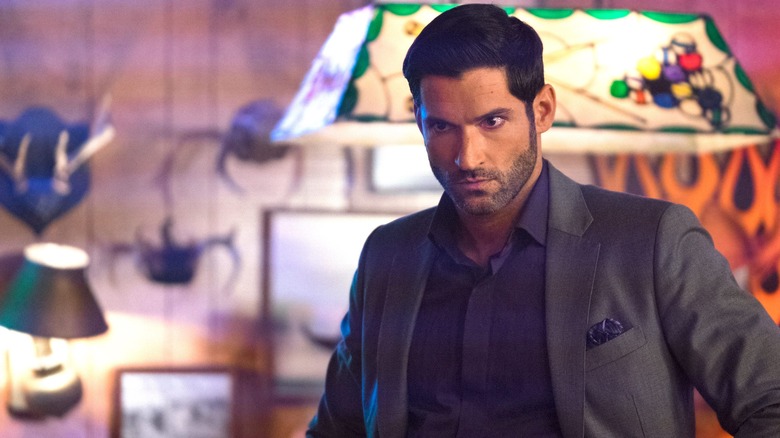 John P. Fleenor/Netflix
Speaking of the Bible, what if the Devil lived in Los Angeles and ran a nightclub? "Lucifer" stars Tom Ellis as Lucifer Morningstar, the DC Comics universe's version of the Devil from Neil Gaiman's "The Sandman" comics who then was spun off into his own comic series. Tired of living in Hell and running the damnation of souls, Lucifer gives up his throne, moves to Los Angeles, starts a nightclub, and becomes a consultant for the LAPD. The show follows a procedural setup, with Lucifer using his powers to help detectives solve crimes that may or may not have to do with demons and other supernatural characters.
"Lucifer" is another show that did some network jumping after cancelation. It started out on FOX and has ended up on Netflix, where all six seasons are available for your viewing pleasure. And believe us when we say Lucifer is very concerned with pleasure. 
Mercy Street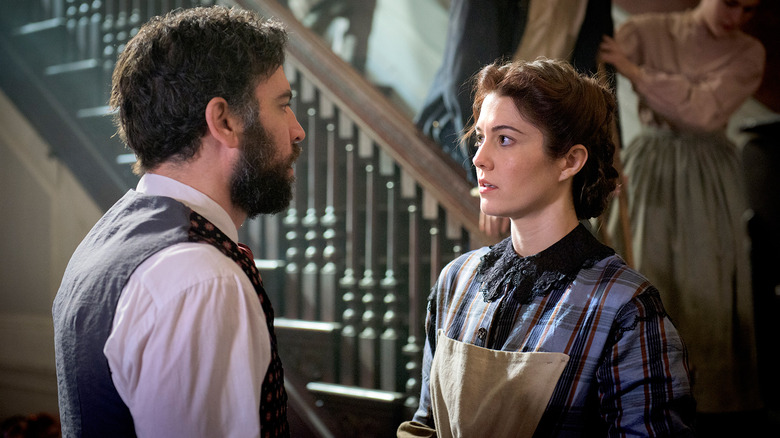 PBS
Back to reality with some more PBS Masterpiece. While most Masterpiece shows are set in England, this one sails across the pond to America. Set during the Civil War, "Mercy Street" takes place in the Mansion House Hospital in Alexandria, Virginia. Being in a central location, the hospital treats both Confederate and Union soldiers in a setup that's sure to cause the two sides to clash. Mary Elizabeth Winstead plays Mary Phinney, a New England widow who comes to the hospital fully enmeshed in the ideologies of the northern states. Alongside her is Emma Green (Hannah James), whose Confederate family owns the mansion that now houses the hospital. Josh Radnor plays the doctor who heads the hospital.
According to PBS, the drama is based on actual letters from doctors and nurses at the Mansion House Hospital. One of the show's creators, David Zucker, said, "These are rich, personal stories that are based on the real experience of the horror of war combined with the drama, excitement and energy of what it is like to work in a trauma ward, especially given the limited state of medicine at the time. But equally, the series will explore what life was like in this occupied city, for the female nurses—of the North and South—the transient soldiers and the former slaves who were either heading north to freedom, into battle or trying to figure out, like others, what the war would ultimately mean for them."