The Staggering Number Of NCIS Episodes Cote De Pablo Actually Filmed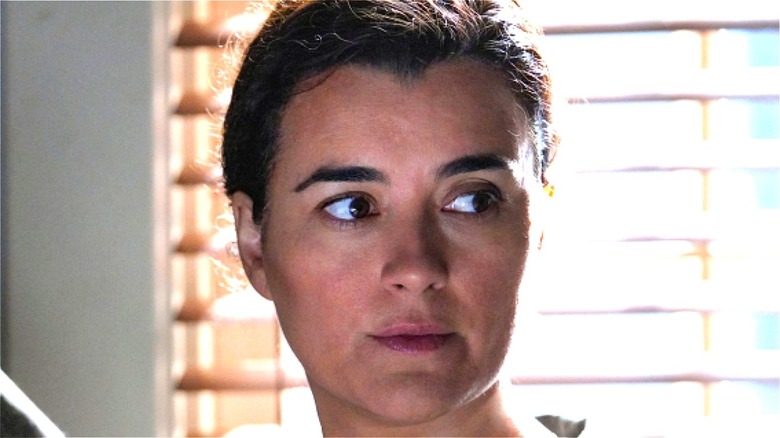 Cliff Lipson/CBS
People love to marvel about how long shows like "The Simpsons" and "Law & Order: Special Victims Unit" have been on the air. While the seemingly never-ending small screen runs of those iconic series are set to renew for the foreseeable future, so too does the "NCIS" train continue to quietly chug along. And even though it gets considerably less fanfare than other long-running dramas, the military-themed procedural has been on the air now for almost two decades.
Over that span, "NCIS" has aired a head-spinning 426 episodes (per IMDb). While Mark Harmon anchored the show for the bulk of its run, like any series that might be described as "long in the tooth," "NCIS" has seen its share of actors and characters come and go. But there was one character who — to the delight of the "NCIS" fandom — popped in and out of the action throughout much of the series' run. That character was Ziva David, who was portrayed by the wonderful Cote de Pablo for the entirety of her "NCIS" tenure. And yes, even series die hards may be surprised to know just how many episodes of "NCIS" that tenure covered.  
Cote de Pablo appeared in nearly 200 episodes of NCIS
Cote de Pablo made her first appearance as Ziva David on "NCIS" during the show's third season (per IMDb). She did so as a resourceful Mossad agent tasked with working as a liaison to the NCIS team on a tricky case involving her half-brother, and soon became a regular player in the team's various cases. A few seasons later, and after barely surviving being kidnapped by Somali terrorists, Ziva would resign her Mossad post, and apply to join the "NCIS" gang full time. 
Cote de Pablo joined the series full time as well, and held that gig for several more seasons, with Ziva becoming a fan favorite character prior to her unexpected Season 11 departure. As unexpected as that departure was, so too was her Season 17 return, particularly as Ziva had apparently been killed off-screen a couple of seasons prior. Nonetheless, de Pablo's return was marked by great fanfare, and led to a thrilling multi-episode arc which brought her "NCIS" episode count to a whopping 194 — which is seriously impressive for a cast member who was late to the party and made a pair of early series exits.
As it was, the Season 17 arc also brought a suitably complicated, and surprisingly heartfelt end to Ziva's "NCIS" run that felt more final than her fake death. Of course, since the character made it out of the action alive, a return is far from out of the question.