The International American Pickers Adaptation You Never Knew Existed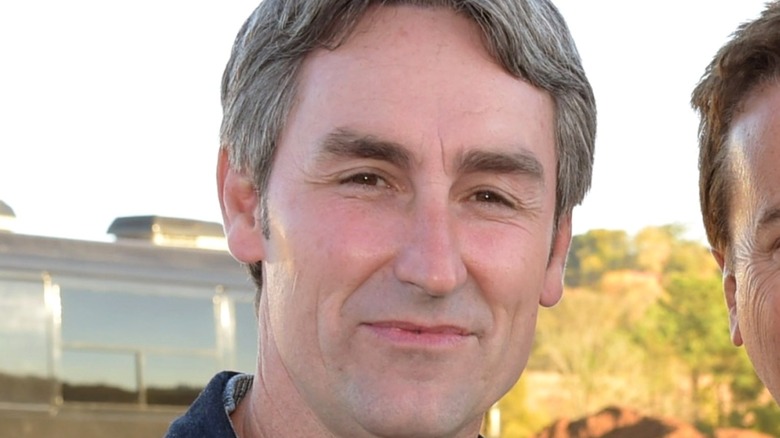 Rick Diamond/Getty
The hit History reality show "American Pickers" has been going strong for more than 20 seasons. The simple, yet engaging premise follows Mike Wolfe and Frank Fritz – at least before Fritz departed the show in 2020 — as they hit the open roads of America in search of treasures in people's personal belongings. The items they collect then go to their shop, Antique Archaeology in LeClaire, Iowa. Later, a second location in Nashville, Tennessee, was opened as well. 
The show has been successful because not only is it fun to see what rare and sometimes odd things people collect, but also because it makes you think that you too might have something in your possessions that is now considered valuable. Not to mention, the show does a great job at providing the historical context behind the items showcased. With any successful show, similar adaptations and spinoffs are bound to happen, and "American Pickers" is no exception. 
Some examples of similar shows include 2011's short-lived Lifetime series "Picker Sisters" and History's one-season game show, "Picked Off." However, there is one adaptation that many fans of "American Pickers" are totally unaware of.
There's antique picking down under
Part of the charm of "American Pickers" is getting a better understanding of how American history and pop culture shaped this nation, thanks to the many items that are picked. This helps give the show's viewers a glimpse into different aspects of American life and lifestyles. For all these reasons, it seems only fitting that this concept would get an international adaptation with hopes of matching the original show's success.
Commissioned by Foxtel (owner of A&E), "Aussie Pickers" follows the same format as its U.S. counterpart. It stars Lucas Callaghan and Adam McDonald as they travel throughout Australia looking for valuable items. Callaghan and McDonald gained a respect among antique collectors, with the general manager of A&E stating, "Lucas and Adam have impeccable expertise in their field and incredible chemistry as hosts. 'Aussie Pickers' is as much about the personalities as the picks they find and we think our audience is going to fall in love with their down to earth, authentic charm" (via IF.com.au). 
Some of the noteworthy picks featured on the show included an Indian Trail bike and a highly sought-after Featherston chair (via TheTVDB). Despite the solid chemistry and similar premise to the hit U.S. program, the writing seemed to be on the wall from the start, with an initial 10-episode run that was trimmed to just eight (via TVTonight). Though a second season did happen, "Aussie Pickers" was not renewed for a third (via IMDb). 
This is, in fact, not the first international twist on "American Pickers," as "Canadian Pickers" ran from 2011 to 2013.