Why Emily Foster From Chicago Fire Looks So Familiar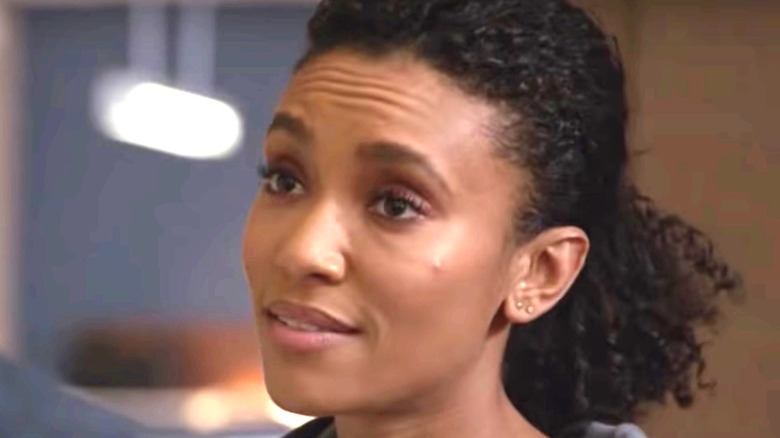 NBC/YouTube
For many fans, "Chicago Fire" is the proverbial jewel in the crown that is NBC's "Chicago One" franchise of shows. Focusing on the various personal and professional exploits of Chicago firefighters based in the fictional Firehouse 51, the series is known for its high-stakes drama, nerve-wracking action and lovable cast of characters including Jesse Spencer's Lieutenant Matthew Casey and Taylor Kinney's Lieutenant Kelly Severide.
Over the near-decade since the show began, fans have seen plenty of arrivals and departures from the main cast. However, there is one character who recently departed the show that likely had many viewers scratching their heads and wondering why they looked so familiar. 
The character in question is Emily Foster, the charismatic paramedic who joined the Firehouse 51 crew for the show's 7th and 8th seasons. Foster was played by Annie Ilonzeh and one look at her list of acting credits makes it easy to see why many fans would find her to be a familiar face. As it happens, Ilonzeh has appeared in some extremely popular TV properties throughout her career.
Annie Ilonzeh worked out on How I Met Your Mother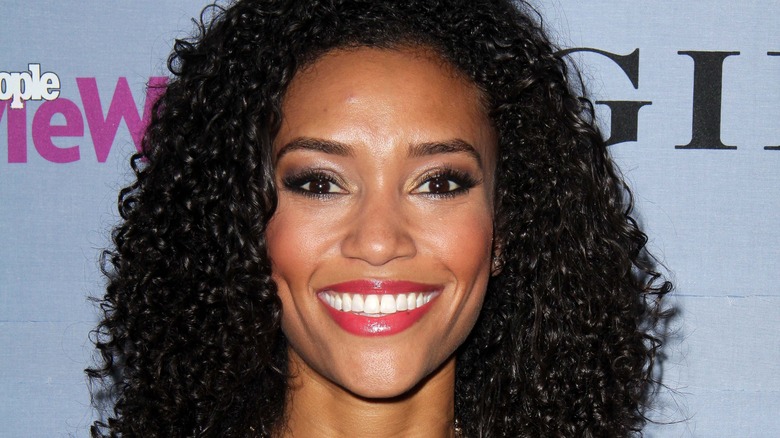 Kathy Hutchins/Shutterstock
Ilonzeh was already making appearances on some pretty notable shows around the time that her career began. In fact, one of her earliest credits was as a guest star on the fan favorite sitcom "How I Met Your Mother," which chronicled the romantic exploits of bachelor Ted Moseby (Josh Radnor) and his group of colorful friends in New York. Ilonzeh appeared in Season 3, Episode 10, titled "The Yips," as Becky, a woman who works out at the gym of main character and infamous womanizer Barney Stinson (Neil Patrick Harris). 
In a sequence where Barney explains to Ted how he "invests" in women at the gym by complimenting them before they get fit, the character greets Becky and gives her a compliment before turning back to Ted and smugly saying that his investment is going to pay off soon. It's a joke that certainly hasn't aged well at all, but it's cool that Ilonzeh made an appearance on such a major show, nonetheless.
Annie Ilonzeh also worked a stint at General Hospital
Fans of the long-running soap opera "General Hospital," which has followed the dramatic lives of the various residents of the fictional town of Port Charles, New York for nearly a whopping 60 years, may be surprised to learn that Ilonzeh also had a sizable stint on that show. She appeared for 78 episodes between the years of 2010 and 2011 as Maya Ward, a new intern at the titular General Hospital. She develops an antagonistic relationship with another character named Ethan Lovett (Nathan Parsons) that quickly turns into flirtation and eventually romance. 
Things went pretty off-the-rails from that moment onward, however. In a twist so wacky that it could only come from a soap opera like "General Hospital," Ward and Lovett accidentally ended up getting married. Their relationship past this point didn't last for too long though, as Ethan soon caught Maya cheating on him and the two decided to get a divorce and part ways. Not the most conventional love story, by any means.
Annie Ilonzeh aided a couple superheroes on Arrow
Longtime fans of The CW's DC Comics-based "Arrowverse" franchise of shows may find that Ilonzeh looks especially familiar to them, but they may have trouble remembering when and where exactly the actress cropped up in the universe. As it turns out, one must rewind back to the very beginning of the multi-show universe, as Ilonzeh actually had a recurring role throughout the first two seasons of "Arrow," which followed Oliver Queen (Stephen Amell) on his journey from ruthless vigilante to beloved icon of justice.
During this initial chapter of the show, Ilonzeh played lawyer Joanna de la Vega, the coworker and best friend of attorney and future hero Laurel Lance (Katie Cassidy). Ilonzeh quickly found herself wrapped up in the green-hooded vigilante's brutal quest to clean up crime in Starling City when her brother was killed at the hands of the pyromaniac supervillain Firefly, though her character quietly exited the show after the end of Season 2.
Annie Ilonzeh also investigated the Lyon family in Empire
Ilonzeh also held a recurring role throughout the second season of the recently-concluded music-centric drama "Empire," which saw different members of the fictional Lyon family battling against each other for control of the massively successful music company Empire Entertainment. In a sea of secret dealings, betrayals, and alliances between the show's cast of characters, Ilzoneh entered the scene as Harper Scott, an investigative reporter who aimed to uncover the dark secrets of the Lyon family. 
Scott only further complicated the show's central dynamics, as main character and family patriarch Luscious Lyon (Terrence Howard) eventually learned that she had been feeding secret information to his son Andre (Trai Byers). Scott was then kidnapped and taken away on orders from Luscious, leaving her ultimate fate somewhat ambiguous. All things considered, it's probably safe to say that things didn't work out too well for her.
Annie Ilonzeh joined the cause on Person of Interest
Surprisingly, "Empire" was not the only series in the 2010s where Ilonzeh would play a character named Harper. The actress also had a stint on the acclaimed series "Person of Interest," which focused on a team of investigators led by scientist Harold Finch (Michael Emerson) who covertly use a super-intelligent machine to solve or prevent deadly crimes. Ilonzeh recurred on the show as a mysterious con artist going by the alias of Harper Rose. 
Rose was quickly identified by the Machine as a person of interest and though her personal loyalties and motivations appeared extremely murky at first, she eventually got recruited to fight against the Brotherhood criminal organization in an adjacent role to Finch's team. Later on in the show, she returned to form a secondary team along with several other past characters in order to identify and track persons of interest that the Machine identified around the Washington, D.C. area.
Ilonzeh helped Ally find new romance on American Horror Story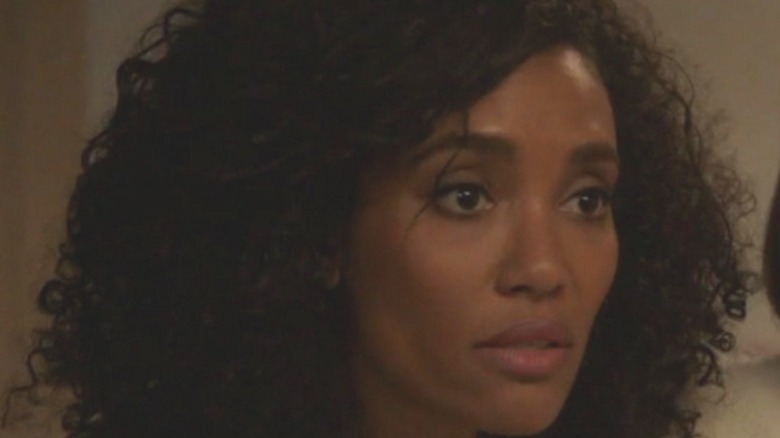 FX
One of Ilonzeh's most notable recent credits was on the horror anthology series "American Horror Story." She guest starred for just one episode during the show's controversial "Cult" season, which focused a woman named Ally (Sarah Paulson) struggling with trauma brought to the surface by the rise of an insidious cult in the wake of the 2016 American presidential election. Despite the briefness of the role, Ilonzeh's arrival on the show signified a fairly major development for its central character at the time.
Ilonzeh's only appearance in the season came partway through the finale episode, as she was revealed to be Ally's new girlfriend, named Erika, following the fallout between Ally and her villainous ex-wife Ivy. Actors on "American Horror Story" have a way of continuing to crop up on the show, whether as a character they've previously portrayed or a new persona entirely, so only time will tell if Ilonzeh makes a return to the show in the future.