The Unexpected Way Better Call Saul Writers Found Inspiration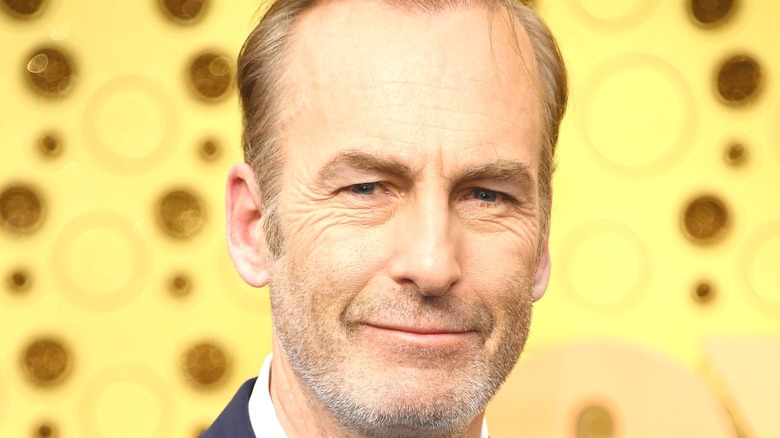 Kevin Mazur/Getty Images
We may receive a commission on purchases made from links.
Almost 10 years after concluding its five-season run, AMC's "Breaking Bad" is still considered by many to be one of the greatest shows in TV history. Following the journey of Walter White (Bryan Cranston) from timid chemistry teacher to megalomaniacal drug lord, "Breaking Bad" garnered a stunning 16 wins and 58 nominations at the Emmys. Undoubtedly much of the credit for the show's success goes to its writing, which was singled out for recognition with six awards and thirteen nominations from the Writers' Guild of America (via IMDb).
When creator and head writer Vince Gilligan followed "Breaking Bad" with the spinoff prequel "Better Call Saul," the show's writers were faced with the tantalizing challenge of telling a brand new story within the "Breaking Bad" universe. The show details the origins of lawyer Jimmy McGill as he transforms into Saul Goodman (Bob Odenkirk), who audiences first saw in Season 2 of "Breaking Bad." "Better Call Saul" also explores the past lives of some of the more dangerous "Breaking Bad" regulars, including Mike Ehrmantraut (Jonathan Banks), Gus Fring (Giancarlo Esposito), and Hector Salamanca (Mark Margolis).
When it came to finding inspiration for "Better Call Saul," the writing team turned to a surprising creative outpouring from the international fanbase of "Breaking Bad."
Better Call Saul's writers were inspired by Breaking Bad fan art
Apparently, a clean and clinical office space isn't the most conducive environment to immerse oneself in the colorful, edgy, and often deadly world of the "Breaking Bad" universe. This was certainly the case for the "Better Call Saul" writing team, whose members looked for visual inspiration to get them in the right mood, according to The Washington Post. Fortunately, such is the global cultural impact of "Breaking Bad" that creatives from all across the world have been inspired to make visual art based on the show. The "Better Call Saul" staff started downloading images that struck a chord with them, and soon enough, the writers' room was festooned with them.
The collection of international "Breaking Bad" fan art became so huge that Vince Gilligan eventually asked, "How do we share this? How do we curate this — the very best broadest cross-section of this?" The result is now available for all to enjoy, in the form of a 232-page hardcover art book "99.1% Pure: Breaking Bad Art," featuring a diverse collection of works including oil paintings, collages, glass mosaics, digital art, and hand-painted sculptures. As it seems, the profound influence of "Breaking Bad" continues, not only for the writers of "Better Call Saul," but for creative minds everywhere.