Bob Odenkirk Finally Opens Up About His On-Set Heart Attack Filming Better Call Saul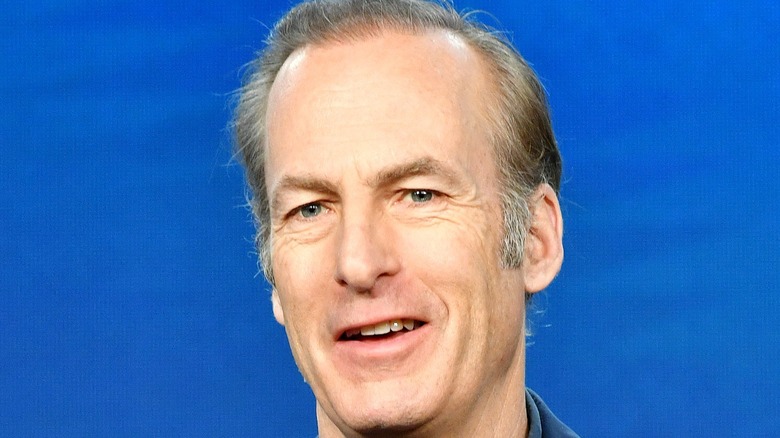 Amy Sussman/Getty Images
Television and comedy fans were given a scare on July 27, 2021, when Variety reported that "Better Call Saul" star Bob Odenkirk was hospitalized after a heart attack while filming Season 6 of the show for AMC. Thankfully, Odenkirk recovered, and he described the incident as a "small heart attack" on Twitter just three days later. It's unclear how much Odenkirk's heart attack and subsequent break from production affected filming "Better Call Saul" Season 6 — while Odenkirk returned in September 2021, actor Tony Dalton, who plays Lalo Salamanca, said in August during Odenkirk's absence that the show was still filming scenes that did not feature the main character (via Quien).
"Better Call Saul" is one of the many television shows that experienced a longer-than-expected hiatus due to the COVID-19 pandemic — its Season 5 finale aired all the way back in April 2020. Fortunately, it appears that the show's final season, which promises to wrap up Saul Goodman's story, will air in the near future. The show recently released a short teaser trailer showing the Salamanca twins arriving at a nondescript crime scene without a specific air date attached to the final season, but the clip implored fans to "mark [their] calendar." Some viewers even theorized that a release date of April 18 is hidden in the teaser (via Digital Spy).
With the end of the road approaching for Vince Gilligan and Peter Gould's drug-fueled, fictional Albuquerque, New Mexico, Odenkirk is talking about "Better Call Saul" in interviews, and he recently opened up about the details of his heart attack.
Bob Odenkirk says he doesn't remember his heart attack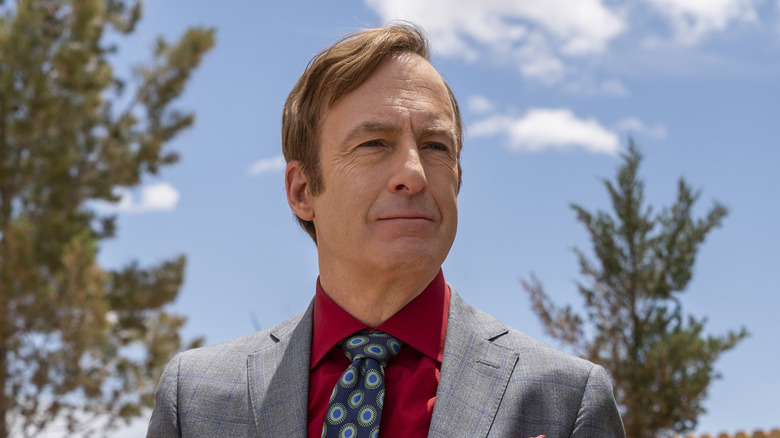 Greg Lewis/AMC/Sony Pictures Television
Odenkirk told The New York Times that he doesn't remember anything about his heart attack last July, and he was mostly told what happened by costar Rhea Seehorn and those who helped save his life. Odenkirk said he first learned about plaque buildup in his heart in 2018, seeing two doctors at Cedars-Sinai Medical Center in Los Angeles about what to do. The actor said that "the doctors disagreed," as one wanted him to start treatment then, while the other said it was fine to wait. Ultimately, Odenkirk chose to wait, and he told The New York Times that he hadn't experienced any further health issues before the heart attack. 
The 59-year-old actor said the heart attack came after a long day of shooting "Better Call Saul" and he was thankful he didn't return to his trailer alone, instead opting to relax with Seehorn and another costar, Patrick Fabian. "I went to play the Cubs game and ride my workout bike, and I just went down," Odenkirk said. "Rhea [Seehorn] said I started turning bluish-gray right away."
According to the Times, the health safety supervisor for "Better Call Saul," Rosa Estrada, and assistant director Angie Meyer quickly came to Odenkirk's aid and got his heart beating steadily again. Odenkirk was then brought to Presbyterian Hospital in Albuquerque to receive treatment, with the actor describing how the doctors "knocked out that plaque and left stents in two places." By Sept. 8, 2021, Odenkirk told the Los Angeles Times that he had returned to work.