The Most Heartbreaking Moment Of The Book Of Boba Fett Chapter 7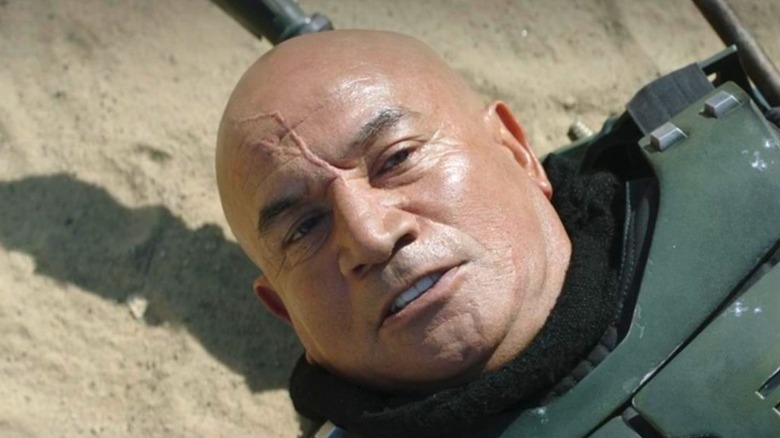 Lucasfilm/Disney+
The finale of "The Book of Boba Fett" was action-packed, as Boba Fett (Temuera Morrison) and Fennec Shand (Ming-Na Wen) worked to maintain control over Mos Espa, while fighting off a variety of enemy factions. Luckily, Din Djarin (Pedro Pascal) stuck around to help out Boba and his loyal group. But he had a lot riding on the fact that the people of Freetown would come and help them, and when Cad Bane (Corey Burton) told Boba that he'd taken down sheriff Cobb Vanth (Timothy Olyphant), Boba's ragtag team weren't so sure they were going to make it out alive.
As the lookouts Boba placed around the city get attacked, it seems that things aren't looking good for the group. Drash (Sophie Thatcher) and the mods, who were in charge of the Aqualish District, are shot at and cornered. Meanwhile, Black Krrsantan (Carey Jones), who was in charge of monitoring the Trandoshan territory, is taken down by a group of Trandoshans. And that's not even to mention the Gamorrean guards (Collin Hymes and Frank Trigg), who were pushed off a cliff while watching over the Klatooinian territory. 
While most of the group ultimately came out unscathed, many fans were upset with the anticlimactic deaths of the Gamorrean guards.
Fans wanted to see Boba Fett pay his respects to the Gamorrean guards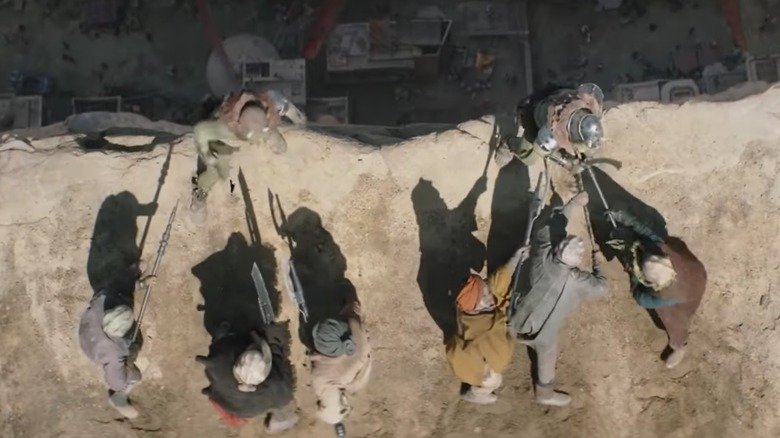 Disney+/LucasFilm
Since the final chapter of "The Book of Boba Fett" Season 1 streamed on Disney+, fans have been all over social media complaining about the deaths of the Gamorrean guards. In a "Book of Boba Fett" Reddit thread dedicated to Chapter 7, fans and viewers expressed their heartbreak, with u/Hank_The_Hebrew summing it up the most succinctly by writing, "The Gamoreans were the real ones. RIP homeboys." Meanwhile, u/KingOfAwesometonia replied by adding, "I was hoping one would at least survive with the other sacrificing himself for the other. I wanted an oddly emotional ending for those guys."
Given the lack of screen time the guards have had since being taken in by Boba Fett — not to mention they never even got names — it's not entirely surprising that the Gamorreans didn't live to see another season of "The Book of Boba Fett." What is surprising is that, despite not having any dialogue except for some grunts, many viewers are devastated that they died without more fanfare. No truer words were spoken than by u/ZiggyBlunt, who opined, "We needed a scene of Boba pouring one out for them." RIP to the Gamorrean guards.