The Secret Pedro Pascal Knew About The Mandalorian Before Anyone Else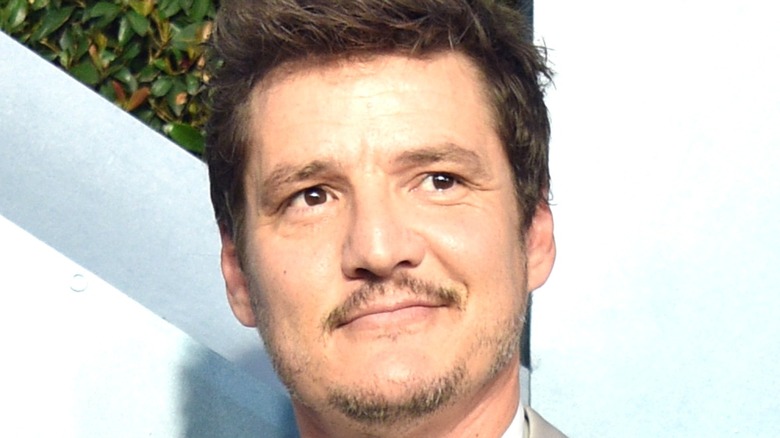 Gregg Deguire/Getty Images
Since its initial airing in 2019, "The Mandalorian" has quickly become a flagship show for Disney, making way for projects like "The Book of Boba Fett." Starring Pedro Pascal, the series takes inspiration from samurai tales, most notably "Lone Wolf and Cub" (via Den of Geek). Pascal's titular Mandalorian finds purpose when he becomes the sole protector for a vulnerable child. The two embark on a journey to get Grogu back to his people, but along the way form a heart-warming and significant attachment to each other.
Pascal's portrayal of Din Djarin is a selling point for the series. He rarely takes off his helmet, but that does not take away the emotional weight of the series. Critics and fans alike bonded with the quiet protagonist and are heartbroken when he must part ways with Grogu (via Cinema Blend). Pascal brings prestige acting to the role, coming from projects like "Game of Thrones" and "Narcos." He was the exact man for the job, which is perhaps why the creatives behind "The Mandalorian" felt safe in trusting him with one secret.
Pedro Pascal knew the name of The Child early on
During an interview for the promotion of "Wonder Woman 1984", Pascal was pressed on details regarding "The Mandalorian." Rachel Smith for Entertainment Tonight specifically asked if Pascal knew what The Child's name was before the reveal in one particularly highly ranked episode of "The Mandalorian." Pascal gave a knowing smile and admitted, "I did know." 
The actor went on to elaborate that when Season 2 began, he was given several scripts that detailed The Child's true name was Grogu. Because of how prepared the scheduling and storytelling process is on "The Mandalorian," executive producers Dave Filoni and Jon Favreau allow Pascal to "observe and contribute" far in advance. "Jon Favreau and Dave Filoni, they get me the scripts before we get into shooting. So ... I know it all," Pascal teased.
Pascal may have revealed that exciting tidbit, but knows when to keep his lips sealed as well. When pressed for further information, he playfully refused. Many are hoping for any indication of when "The Mandalorian" will return for Season 3. Esquire reports that for now, fans will have to wait.