The Clerks Nod In Cruel Summer Has A Deeper Meaning Than You Even Realize
"Cruel Summer" became a breakthrough hit, with its premiere episode being the most-watched debut episode for Freeform ever (via The Hollywood Reporter). With its novel time-hopping mystery story approach set against a pop culture background drenched in '90s nostalgia, it's little wonder why the series has won over so many fans. "Cruel Summer" is a thriller that focuses on the connected lives of Jeanette Turner (Chiara Aurelia) and Kate Wallis (Olivia Holt) within three years in a small Texas town. The show deals with high school cliques, a missing person case, and a scandalous lawsuit, all within the summers of 1993, 1994, and 1995.
Already renewed for an upcoming second season, "Cruel Summer" features a stellar cast, including Harley Quinn Smith as the outsider teen Mallory Higgins. Straightforward in nature, Mallory starts as Jeanette's friend before becoming Kate's friend as Season 1 runs, and we learn more about what happens. However, fans may already know outside of the show that Harley is the daughter of writer, director, and actor Kevin Smith. And in Episode 5, during her character's conversation with Kate, a clever nod to Kevin's breakout debut film "Clerks" is actually made.
Harley Quinn Smith references her father's breakout film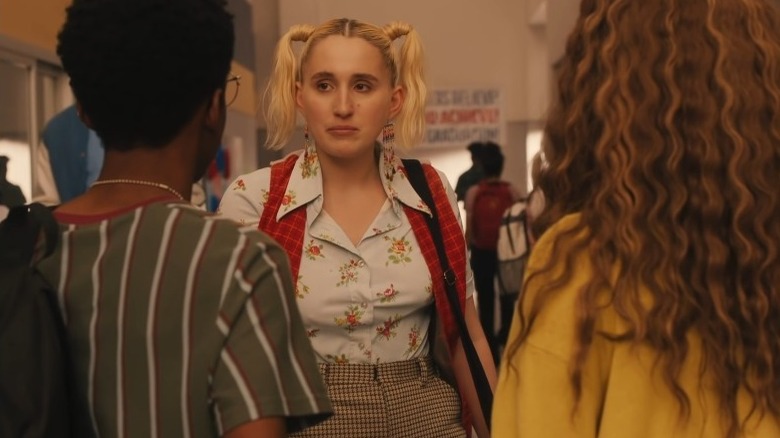 Freeform
"Cruel Summer" isn't afraid to wear its '90s settings on its tattered flannel sleeve. And Episode 5, titled "As The Carny Gods Intended," is the perfect example of this trend. For instance, the episode prominently features the Spin Doctors hit song, "Two Princes," and it's arguable that you cannot get more '90s than that. However, the episode also deserves recognition for its meta joke involving Harley and her father, Kevin. In 1995, during a talk with her friend Kate, Harley's character Mallory suggests the two leave the annual carnival they're at for a re-watch of "Clerks." The reference is surprisingly time accurate, as "Clerks" came out in 1994.
The sly reference comes thanks to "Cruel Summer" producer showrunner Tia Napolitano, who told CinemaBlend she was initially warned against it as she was told Harley probably wouldn't say the line. Yet as she recalled in the interview, Harley loved it and delivered the line with no problem. Still, it's understandable why Tia thought she could have received a little pushback from Harley. After all, the actress is trying to blaze her own career past her father's looming shadow. Harley talked a bit about this during an interview with Collider, where she explained her desire to portray Courtney Love in a biopic. Harley expressed in the interview how she understood Courtney on the level of trying to exist past someone's shadow, comparing Courtney's link to Kurt Cobain to her and Kevin. Still, the "Clerks" reference is a nice Easter Egg, and it doesn't diminish how vital Harley's role on "Cruel Summer" has become, especially as we learn just how central her character is between Kate and Jeanette.